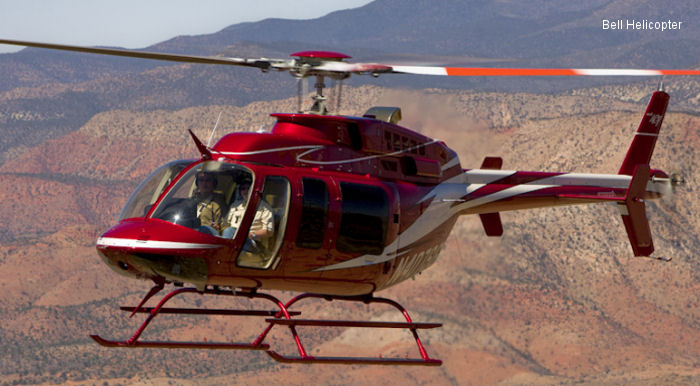 The Bell 407 is a four-blade, single-engine, civilian utility helicopter. It is based on the Bell 206L-4 LongRanger but with the rigid rotor with composite hub that was developed for the US Army OH-58D Kiowa Warrior (
Bell 406
)
First Flight was June 29, 1995 and the 1,000th helicopter was delivered on June 15, 2010. As of December 2017, more than 1400 Bell 407 of all variants were delivered.
Upgrades:
407GX
: Rolls Royce 250-C47B and Garmin G1000H glass cockpit
407GXP
: Rolls Royce 250-C47B/8 and Garmin G1000H
407GXi
: Rolls Royce 250-C47E/4 and Garmin G1000H NXi
As of 2023, there are 1,590 Bell 407 helicopters operating around the world, 109 located in Europe.
Derivatives & Versions of 407
Model
Year
History
427

1997
1997
First announced at the Heli Expo 1996 in Dallas, the Bell 427 is a twin engine helicopter developed in partnership with Samsung Aerospace Industr ...

ARH-70 Arapaho

2006
2006
The Bell 445, military designation ARH-70A Arapaho, was designed for the US Army Armed Reconnaissance Helicopter (ARH) program in order to replac ...

Fire-X

2010
2010
Launched in 2010, the Fire-X was a Vertical Unmanned air System ( VUAS ) developed by Northrop Grumman Corporation and Bell Helicopter. Based on ...

407AH

2011
2011
Announced at Heli-Expo 2011, an armed version of the civil 407 equipped with nose FLIR, weaponry 7.62mm M134T minigun and M260 2.75in seven-shot ...

407GX

2011
2011
The GX features a Garmin G1000 H-model glass cockpit with two 10.4-inch high-resolution LCD screens and improved flight controls. Innovative su ...

407GT

2013
2013
Armed version of the Bell 407GX introduced in Heli-Expo 2013 at Las Vegas

Eagle Copters 407HP

2013
2013
Eagle Copters conversion of the Bell 407 by replacing the existing Rolls-Royce 250-C47B engine with a 1,021-shafthorsepower Honeywell HTS900-2 ma ...

N-G MQ-8C Fire Scout

2013
2013
Based on the Bell 407 Fire-X provide greater endurance, range and payload capacity than the previous MQ-8 A/B variants. Modifications to the ...

407GXP

2015
2015
First unveiled at Heli-Expo 2015 in Orlando, incorporates the reliability and advanced technology of the Bell 407GX platform, and introduces perf ...

407GXi

2018
2018
First announced at Heli-Expo 2018 in Las Vegas, the Bell 407GXi incorporates the new Garmin's G1000H NXi Integrated Flight Deck, an upgraded ...

407M

2023
2023
A military variant based on the Bell 407GXi first unveiled in April 2023 at the US Army Aviation Association of America Mission Solutions Summit ...