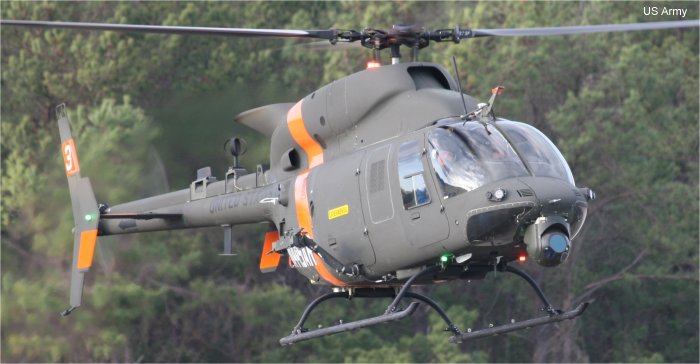 The
Bell 445
, military designation ARH-70A Arapaho, was designed for the US Army
Armed Reconnaissance Helicopter
(ARH) program in order to replace the aging OH-58D Kiowa Warrior with a commercial off-the-shelf (COTS) already existing model.
Based on the
Bell 407
, the ARH will used a more powerful engine, the all composite main rotor of the
Bell 430
and the
Bell 427
tail assembly. The only other contender was an upgraded version of the Hughes/
McDonnell Douglas
/Boeing H-6, the MH-6M Mission Enhanced Little Bird (MELB).
Bell s demonstrator first flew on July 20 2006 and was awarded with a contract to build 368 aircraft but after excessive delays and growth costs the program was cancelled on October 16 2008.
Many of the Arapaho features will be later applied to the
OH-58F
upgrade
More News ...


Specifications ARH-70 Arapaho
List of Operators of ARH-70 Arapaho
Global Distribution of ARH-70 Arapaho