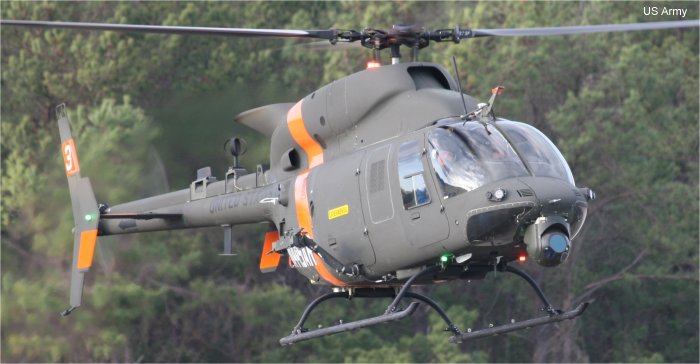 The
Bell 445
, military designation ARH-70A Arapaho, was designed for the US Army
Armed Reconnaissance Helicopter
(ARH) program in order to replace the aging OH-58D Kiowa Warrior with a commercial off-the-shelf (COTS) already existing model.
Based on the
Bell 407
, the ARH will used a more powerful engine, the all composite main rotor of the
Bell 430
and the
Bell 427
tail assembly. The only other contender was an upgraded version of the Hughes/
McDonnell Douglas
/Boeing H-6, the MH-6M Mission Enhanced Little Bird (MELB).
Bell s demonstrator first flew on July 20 2006 and was awarded with a contract to build 368 aircraft but after excessive delays and growth costs the program was cancelled on October 16 2008.
Many of the Arapaho features will be later applied to the
OH-58F
upgrade
ARH program halted, 17-Oct-08 : On Oct. 16 the Department of Defense notified the Congress and the contractor, Bell Helicopter, that it will not certify the U.S. Army Armed Reconnaissance Helicopter (ARH) program for continuation. As a result the Army Acquisition Executive Office for Aviation is directing that the program's contract be terminated completely for the convenience of the government.
ARH Program Exceeds 1,000 Flight Hours in 15 Months, 01-Nov-07 : Fort Worth, TX - Bell Helicopter Armed Reconnaissance Helicopter Program achieved another milestone while preparing for a Limited Users Test (LUT) at Yuma Proving Grounds. The program surpassed 1,000 flight test hours in under 15 months of flying.
ARH-70A Continues Development, 10-May-07 : Atlanta, GA - The ARH Program continues to accomplish critical events during the System Development and Demonstration (SDD) phase. Commenting on the progress of the program, President and CEO of Bell, Dick Millman noted, "We recently completed two significant events in support of a Milestone C (Low Rate Initial Production) decision. These are critical paths to the successful fielding of the ARH-70A. The Bell and Army Teams have worked closely over the life of the ARH Program to bring it to this point. Overall the aircraft is performing well and receiving many positive comments from the Army/Bell test pilot team."
ARH-70A First Flight, 20-Jul-06 : Farnborough Air Show, England - Bell Helicopter, a Textron Inc. company today announced that the Bell ARH-70A completed its first two flights Thursday, July 20, 2006. The aircraft took off from Bell XworX in Arlington, Texas and flew multiple handling maneuvers, flew in a hover for both in and out of ground effect, and flew in a traffic pattern reaching 80 knots, 500 ft. altitude, with banks up to 30 degrees for a little more than 1.5 hours of flight. The flights delineate the ARH program as one of the fastest 'contract to flight' programs ever completed and set a new standard for such acquisitions.
Bell awarded Army contract to build 368 ARH, 29-Jul-05 : Fort Worth, Texas, USA - Bell Helicopter, a unit of Textron Inc., was awarded a $2.2 billion contract by the United States Army to build its next generation Armed Reconnaissance Helicopter, or ARH. The ARH will replace the Army's OH-58D Kiowa Warrior Helicopter also produced by Bell. The contract calls for Bell Helicopter to build 368 aircraft for delivery during fiscal years 2006 through 2013.
List of Operators of Bell ARH-70 Arapaho
From
Organisation with model ARH-70 Arapaho






Construction Numbers on database of ARH-70 Arapaho





6 C/N.