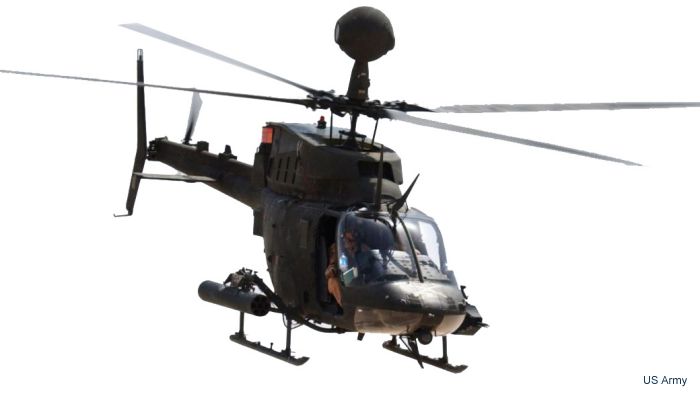 The Bell 406 resulted from the US Army Helicopter Improvement Program (AHIP). Airframes received a upgraded transmission and engine, a four-bladed main rotor and the distinctive Mast-Mounted Sight (MMS) above the rotor system. The Kiowa Warrior distinguishes from the original AHIP model when carries the weapons pylon mounted on both sides of the aircraft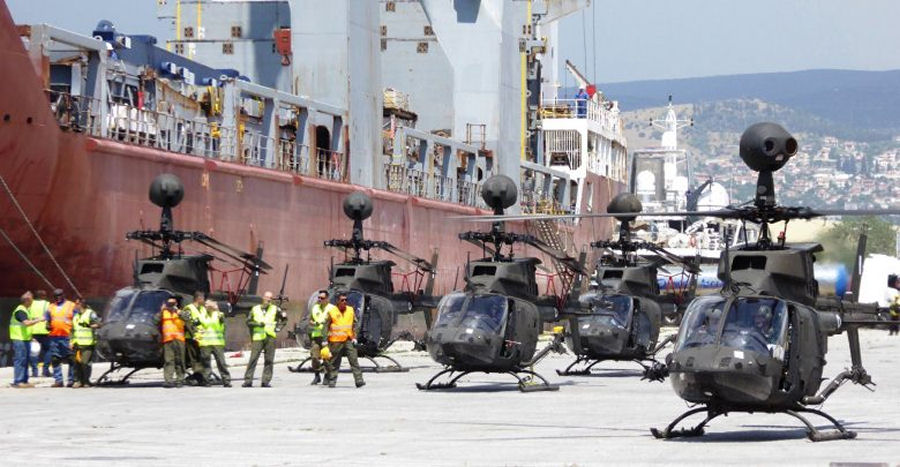 Greece Receives 70 OH-58D and Last Chinook, 21-May-19 : #Kiowa Cargo ship transporting ex US army helicopters arrived to Greece. The Hellenic Army received 70 OH-58D Kiowa Warrior valued €44M and the last of 10 CH-47D Chinook.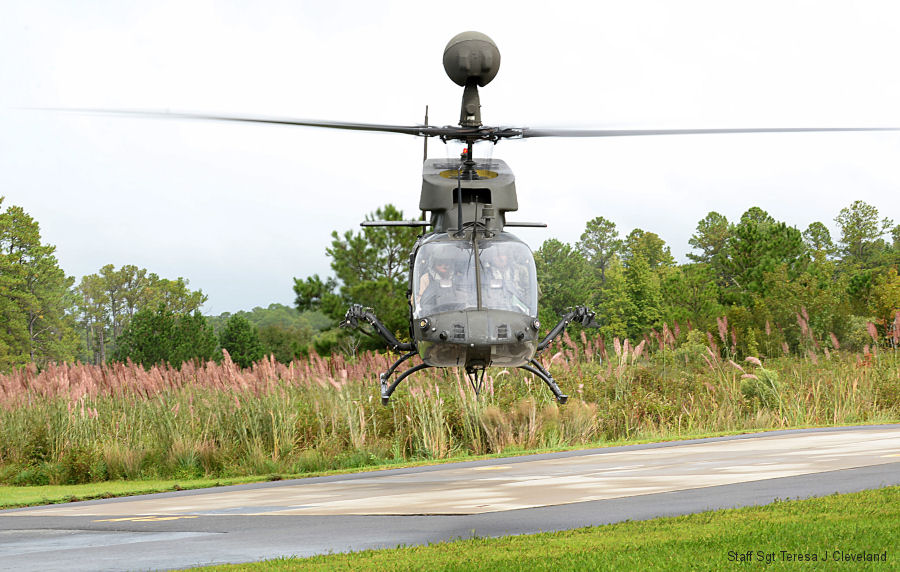 US Army OH-58D Kiowa Warrior Final Flight, 19-Sep-17 : The US Army Aviation Development Directorate flew the Army's final OH-58D Kiowa Warrior flight from Felker Army Airfield at Joint Base Langley-Eustis on September 19, 2017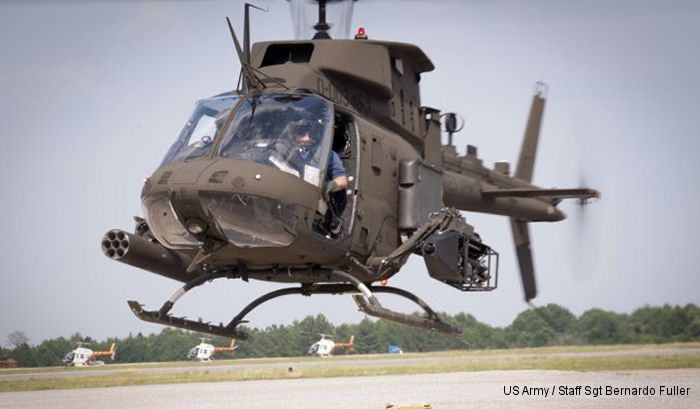 Last OH-58D Kiowa Aviator class to graduate, 25-Aug-14 : FORT RUCKER, Alabama By Nathan Pfau - A legacy decades in the making is coming to an end, as eight students from Fort Rucker's last OH-58D Kiowa Warrior class prepare to graduate.
List of Operators of Bell OH-58D Kiowa Warrior
| | |
| --- | --- |
| From | Organisation with model OH-58D Kiowa Warrior |
| 1968 | |
| 1999 | |
| 2016 | |
| 2019 | |
Construction Numbers on database of OH-58D Kiowa Warrior


C/N
Year
History
Filter
43006
83-24129 : US Army cnvt. from ex OH-58A 69-16169
20aug90 w/o near air base Dharan

43007
83-24130 : US Army cnvt. from ex OH-58A 69-16317; 21mar92 w/o

43008
83-24131 : US Army cnvt. from ex OH-58A 69-16103

43009
83-24132 : US Army cnvt. from ex OH-58A 68-16868

43010
83-24133 : US Army cnvt. from ex OH-58A 68-16861

43011
83-24134 : US Army cnvt. from ex OH-58A 68-16922

43012
83-24135 : US Army cnvt. from ex OH-58A 70-15051

43013
83-24136 : US Army cnvt. from ex OH-58A 69-16348

43014
83-24137 : US Army cnvt. from ex OH-58A 68-16717

43015
83-24138 : US Army cnvt. from ex OH-58A 70-15102

43016
83-24139 : US Army cnvt. from ex OH-58A 70-15103
cnvt. to OH-58D(R) 93-0990

43017
83-24140 : US Army cnvt. from ex OH-58A 69-16340

43018
83-24141 : US Army cnvt. from ex OH-58A 70-15232

43019
83-24142 : US Army cnvt. from ex OH-58A 68-16980

43020
83-24143 : US Army cnvt. from ex OH-58A 70-15111

43021
83-24144 : US Army cnvt. from ex OH-58A 69-16318

43030
85-24698 : US Army cnvt. from ex OH-58A 71-20681
1990s asg 1st CAV D-277 AVN; was in Desert Storm

43056
85-24724 : US Army, conv from ex OH-58A ???; 03jul93 pictured with+

43061
85-24729 : US Army cnvt. from ex OH-58A 69-16329. in 1995 1/1CAV.

43062
85-24730 : US Army cnvt. from ex OH-58A 70-15385. in 1995 1/1CAV.
1989-1992 with G co. 7-227 DASB (Task Force Viper) Flie+

43063
85-24731 : US Army cnvt. from ex OH-58A 69-16182. in 1995 1/1CAV.

43064
85-24732 : US Army cnvt. from ex OH-58A 72-21323. in 1995 1/1CAV.

43065
85-24733 : US Army cnvt. from ex OH-58A 71-20834. in 1995 1/1CAV.

43069
86-08904 : US Army cnvt. from ex OH-58A 70-15352. in 1995 1/1CAV.

43073
86-08908 : US Army, conv from OH-58A 71-20743
1991 4/17th CAV

43076
86-08911 : US Army, conv from OH-58A 70-15054

43081
86-08916 : US Army, conv from OH-58A 71-20436; conv to OH-58D(I) 9+
93-00991 : OH-58D(I) type
Jan17 wrapped in plastic at Davis Monthan AFB

43124
87-00744 : US Army cnvt. from ex OH-58A 70-15340. in 1995 1/1CAV.

43143
88-00287 : US Army cnvt. from ex OH-58A 69-16114; conv to OH-58D(I+

43144
88-00288 : US Army cnvt. from ex OH-58A 71-20696. in 1995 1/1CAV.

43146
88-00290 : US Army cnvt. from ex OH-58A ???. in 1995 1/1CAV.
1989-1992 asg 4-159 Aviation Regiment, Stuttgart, Germa+

43147
88-00291 : US Army cnvt. from ex OH-58A 68-16968. in 1995 1/1CAV.

43148
88-00292 : US Army cnvt. from ex OH-58A 69-16243. in 1995 1/1CAV.

43193
89-00098 : US Army 89-0098/90098; cnvt. from ex OH-58A 71-20686

43209
89-00114 : US Army; 1998 type:OH-58D(I) 1/1CAV.

43211
89-00116 : US Army; 1998 1/1CAV.

43212
89-00117 : US Army; 1998 type:OH-58D(I) 1/1CAV.

43215
90-00348 : US Army; cnvt. from ex OH-58A 71-20539.; 1998 type:OH-5+

43220
90-00353 : US Army cnvt. from ex OH-58A 70-15320; 1995 MTPC Cairns

43238
90-00371 : US Army; cnvt. from ex OH-58A 70-15266.; 1998 type:OH-5+

43241
90-00374 : US Army cnvt. from ex OH-58A 70-15378; 2001 asg 1-82nd +
: Jan14 with Coastal Helicopters at Panama City, FL

43255
91-00542 : US Army; 1995 MTPC Cairns

43257
91-00544 : US Army cnvt. from ex OH-58A 72-21205; 1998 1/1CAV.

43270
91-0557 : US Army 91-00557
91-00557 : Dec14 3rd-17th CAV.

43277
91-00564 : US Army; 1998 type:OH-58D(I) 1/1CAV.

43284
91-00571 : US Army 91-0571 cnvt. from ex OH-58A 68-16725
May07 1-14AVN./71G serial 10571

43285
92-00571 : US Army 92-0571 cnvt. from ex OH-58A 68-16799

43290
92-00576 : US Army 92-0576 cnvt. from ex OH-58A 71-20524
May07 1-14AVN /76B serial 20576

43296
92-00582 : US Army type:OH-58D(I) 92-0582; cnvt. from ex OH-58A 72+

43311
92-0597 : US Army 92-00597
92-00597 : Dec14 3rd-17th CAV.

43328
93-0942 : US Army 93-00942, conv from OH-58C 70-15057

43346
93-00960 : US Army, conv from OH-58A unk
oh-58f conv to OH-58F ?

43351
93-0965 : US Army 93-00965
93-00965 : Dec14 3rd-17th CAV.

43385
95-0085 : US Army 95-00085
95-00085 : Dec14 3rd-17th CAV.

43388
96-0113 : US Army 96-00113

43389
96-0114 : US Army 96-00114

43390
96-0115 : US Army 96-00115

43391
96-0116 : US Army 96-00116

43392
96-0117 : US Army 96-00117

43393
96-0118 : US Army 96-00118
01may15 final flight. Asg A Troop, 2-17 CAV, 101st Airb+

43394
96-0119 : US Army 96-00119

43395
96-0120 : US Army 96-00120

43396
96-0121 : US Army 96-00121

43397
96-0122 : US Army 96-00122

43398
96-0123 : US Army 96-00123

43399
96-0124 : US Army 96-00124

43400
96-0125 : US Army 96-00125; 25feb04 w/o

43401
96-0126 : US Army 96-00126

43402
96-0127 : US Army 96-00127

43403
96-0128 : US Army 96-00128 / 60128

43404
97-0124 : US Army 97-00124, OH-58D(R) type; w/o 25feb04 asg 4-3rd+

48403
94-00152 : US Army 94-0152; 1998 1/1CAV.

48404
94-00153 : US Army; OH-58D(I) type; cnvt. from ex OH-58A?; cnvt. f+

48409
94-00158 : US Army 94-0158; 2014 AFTD

48499
92-00518 : US Army; 1995 MTPC Cairns

48510
92-00529 : US Army; 1998 type:OH-58D(I) 1/1CAV.

48513
92-00532 : US Army; 1995 MTPC Cairns

48526
92-00545 : US Army; 1998 type:OH-58D(I) 1/1CAV.

48531
93-00976 : OH-58D to US Army
to AMARC by Sep 2015


93-00976

: to Pima Air and Space Museum, AZ by Oct 2017

48546
93-00990 : US Army 93-0990 OH-58D(r) type; cnvt.from ex OH-58D 83-+

48548
93-0992 : US Army 93-00992
93-00992 : Dec14 3rd-17th CAV.

48575
94-00178 : US Army; 1998 type:OH-58D(I) 1/1CAV.

48576
94-00179 : US Army; 1998 type:OH-58D(I) 1/1CAV.

48577
94-00180 : US Army; 1998 1/1CAV.

48584
95-0007 : US Army 95-00007, OH-58D(I) type, conv from 88-00287

48617
96-0009 : US Army 96-00009

48618
96-0010 : US Army 96-00010

48619
96-0011 : US Army 96-00011

48620
96-0012 : US Army 96-00012
96-00012 : Dec14 3rd-17th CAV.

48621
96-0013 : US Army 96-00013; 26may99 w/o

48622
96-0014 : US Army 96-00014

48623
96-0015 : US Army 96-00015; 08aug04 w/o

48624
96-0016 : US Army 96-00016

48625
96-0017 : US Army 96-00017; 17mar98 w/o

48626
96-0018 : US Army 96-00018; 2014 AFTD

48627
96-0019 : US Army 96-00019

48628
96-0020 : US Army 96-00020

48629
96-0021 : US Army 96-00021

48630
96-0022 : US Army 96-00022
96-00022 : Dec14 3rd-17th CAV.

48631
96-0023 : US Army 96-00023