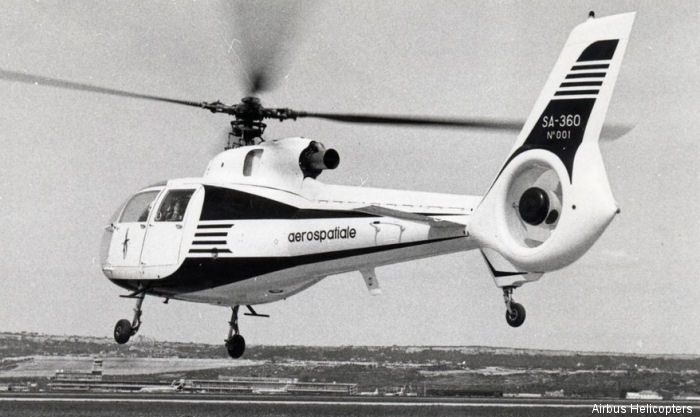 The single engine
Dauphin 1
(sic) ( sometimes
Dauphine
and English
Dolphin
) first flew on June 1, 1972 and broke 3 world speed records in 1973. The SA360 was developed as a replacement for the
Alouette III
but offered little advantage over its predecessor and production was cancelled after 34
SA360C
production aircraft were built since April 1975.
Further developments includes (all conversions) 1
SA360A
naval helicopter and 3
SA361
hot and high version with a more powerful engine.
Deliveries started in January 1976 but in the meantime a twin-engine derivative, the
SA365 Dauphin 2
completed its maiden flight. This new model proved to be very successful in both civil and military market and its last offspring, the
EC155
, first flew 25 years later.
Model
Year
History
SA361 Dauphin
1973
Three hot and high SA360C conversions fitted with more powerful engine Astazou XX of 1300 shp. One of them converted to military variant SA361HCL ...

SA365 Dauphin 2
1975
Developed as a twin-engine version of the previous SA.360/1 Dauphin, the SA.365 first flew on January 24, 1975 entering production in 1978. Was s ...
Construction Numbers 001 & 2 SA360 prototypes 01jun72 1... 35 aircraft SA360 003 & 4 Aerospatiale SA365C prototypes ...



List of Operators of Aerospatiale SA360 Dauphin
From
Organisation with model SA360 Dauphin
1972
1978




Construction Numbers on database of SA360 Dauphin or its versions