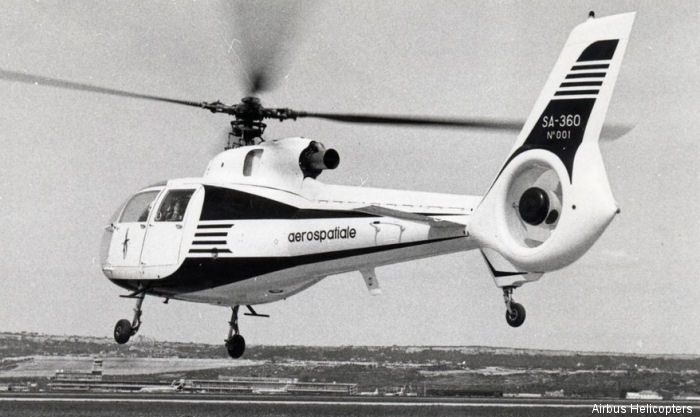 The single engine
Dauphin 1
(sic) ( sometimes
Dauphine
and English
Dolphin
) first flew on June 1, 1972 and broke 3 world speed records in 1973. The SA360 was developed as a replacement for the
Alouette III
but offered little advantage over its predecessor and production was cancelled after 34
SA360C
production aircraft were built since April 1975.
Further developments includes (all conversions) 1
SA360A
naval helicopter and 3
SA361
hot and high version with a more powerful engine.
Deliveries started in January 1976 but in the meantime a twin-engine derivative, the
SA365 Dauphin 2
completed its maiden flight. This new model proved to be very successful in both civil and military market and its last offspring, the
EC155
, first flew 25 years later.
Model
Year
History
SA361 Dauphin
1973
Three hot and high SA360C conversions fitted with more powerful engine Astazou XX of 1300 shp. One of them converted to military variant SA361HCL ...

SA365 Dauphin 2
1975
Developed as a twin-engine version of the previous SA.360/1 Dauphin, the SA.365 first flew on January 24, 1975 entering production in 1978. Was s ...
Construction Numbers 001 & 2 SA360 prototypes 01jun72 1... 35 aircraft SA360 003 & 4 Aerospatiale SA365C prototypes ...



List of Operators of Aerospatiale SA360 Dauphin
From
Organisation with model SA360 Dauphin
1972
1978




Construction Numbers on database of SA360 Dauphin or its versions


C/N
Built as
Year
History
001
1972
F-WSQL : SA360 001 f/f 01jun72
in open storage at Aérospatiale by 1986 until at least+

002
1973
F-WSQX : Aerospatiale SA360 2nd prototype f/f 29jan73
Sep74 pictured at Farnborough airshow, UK
F-BSQX : conv to SA.360C, reg 11jun76
F-ZWVF : conv to SA.361H f/f 12jul76; to CEV (French test cente+

1001
1975
F-WVKJ : Aerospatiale SA360A, 1975
001 : FN 1978-1983, asg 35F

1002
F-OBUP : Aerospatiale; w/o 06mar76 demo flight near Panamint Spr+

1003
1003 : ALAT for GAMSTAT Valence /BSR; 1990 wfu; 1993 preserved+

1004
N47284 : Island Helicopter Corporation at Garden City, NY Aug82-+

1005
N47287 : USA, canc May88
D-HAAH : Arcus-Air Logistic GmbH Nov88-2003; Meravo Luftreederei+

1006
N49505 : Island Helicopter Inc at Dover, DE Jan81-Apr92
F-GIHL : Héli Inter; w/o 23jan98 at Chantelle

1008
JA9166 : Toho Koku (?); w/o 05jun91 during sling load at Haguro

1010
1976
N49513 : SA360C Dauphin; USA 1977
G-BRMP : Sep89-Oct90 Autair Helicopters Ltd at Luton Airport
F-GHXR : Heli Union Jun92-Mar98; F-GHXQ ntu


F-GHXR

: Heli Inter at Heliport De Cergy, Saint Ouen lAumone fro+
16jun08 pictured preserved at Musee Aeronautique d Oran+

1016
F-BZAQ : sa365 Present at Paris Air Show, 9 Jun 1979

1023
1978
C-GVWD : SA360C; Canada
N8479U : 03nov81, I flew on this helicopter N8479U New York JFK +
2011 pictured preserved at the Centre d Etudes et de Lo+
G-BRMR : Autair Helicopters Ltd Sep89-Oct90

12 C/N.