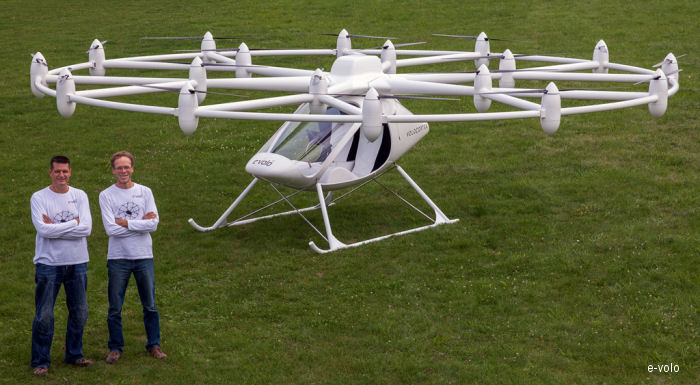 Also known as
MultiCopter
, the Volocopter is a personal aerial vehicle made of fiber composite material in light-weight design. It runs on an all-electric propulsion system for its 18 rotors powered by 9 independent batteries. Developed from the
VC1
, a radio controlled
VC200
performed a first flight on November 17, 2013. The first manned flight took place on March 30, 2016
Development history of the Volocopters:
- October 2011: Manned first flight with an electric multicopter writes aviation history. The Volocopter inventors succeed in performing the world's first manned flight with an electric multicopter. The flight with the VC1 lasts precisely 90 seconds. The global media response overwhelms the team of inventors but already provides an indication of the economic potential of the Volocopter. Inquiries and application ideas from all round the world reaffirm the e-volo team in its undertaking to develop an aircraft that is eligible for approval.
- January 2013: The innovative concept of the electric VTOL aircraft was able to so convince the German Federal Ministry of Transport that it resolves upon a trialing scheme spanning a period of several years for the creation of a new aviation category for the Volocopter. The DULV (The German Ultralight Association) is commissioned with drafting a manufacturing specification, operating regulations and the training scheme for the future pilots in cooperation with e-volo.
- November 2013: The unmanned maiden flight of the VC200 as well as the first test flights are successfully completed in the dm-arena in Karlsruhe. Following several indoor-flights of several minutes' duration with a number of gentle starts and landings, all the expectations upon the Volocopter are exceeded.
- March 2016: On March 30th, 2016, the premiere of manned flights with the world's first certified Multicopter, e-volo's Volocopter VC200, marks a step forward in urban mobility. The Volocopter VC200 received the
permit-to-fly
as an ultralight aircraft from German aviation authorities in February 2016. In the context of the commenced test program, e-volo has started to conduct manned flights.
- April 2017: e-volo celebrates world premiere of the first series model of a passenger multicopter. The
Volocopter 2X
is the consequent evolution of the VC200 prototype towards everyday use. Its battery replacement system makes it ready for operation again in only a few minutes. The sporty design includes a delicate rotor plane and a cockpit that comfortably seats 2 adults.
- August 2019: Volocopter unveils
VoloCity
, 8-rotor eVTOL with a range 35 km (22 miles) and a top speed of 70 mph.
- 2021: eVTOL
VoloConnect
announced
List of Operators of E-Volo Volocopter VoloCity
From
Organisation with model Volocopter VoloCity






Construction Numbers on database of Volocopter VoloCity or its versions


C/N
Built as
Year
History
2016
D-MYVC
I-PTFE


2 C/N.