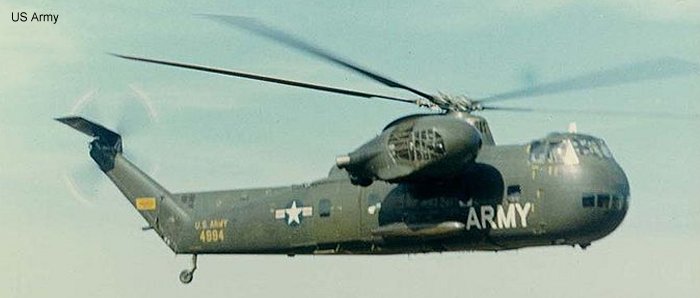 ---
My commanding officer Major Fredrick Dawson, 90th Transportation Company, 8th Bn. set many records in these H-37, among them was the amount of fully equipped troops(48) plus extras and lifting off highest mountain heaviest load(another H-37). I served as his company clerk for two and a half years at Illeshiem Army Airfield, Illeshiem, Germany. June 1962 thru December 1964. Walter Kern (Zych)

My father was a CH-37 pilot at Illsheim, Germany from 1962-1964. CW3 Clarence (Cal) Gatewood. I remember the airfiled and base. Does anyone know my father? He passedaway in 2005. Donald Gatewood, Virginia Beach.

The H-37 was a powerful twin engine with 5 main rotor blades capable of carrying 26 at a speed of 150 mph (240 km/h). This was a large hellicopter, the size of a DC-3 aircraft. Known as the
Mojave
, the US Army used them in the late 50s because of their carrying capacity of troops and easy load through the two front clam shell doors. The engines were two Pratt and whitney double Wasp 2800 piston engines. They were used by the US Army and Marines pretty much exclusive and they had the ability to load or unload while hoovering which made them very universal. At the time of delivery the H-37 was the larger hellicpter in the western world. Steve Barusso 101st Airbourne div.

C/N
Mod
Built
ID In this Org
In other Org


56-117
h-37a
1959
N469: Aircraft Engineering Section, Atlantic City, NJ Feb/Nov 1963

N51905: Aircrane Inc, West Chester, PA 1978

56-022
h-37a
1957
54-0998: Sep66 to Jan69 with 4th Avn.Co in Germany at Oberschliesshei+

N50253: Aircrane Inc, West Chester, PA 1978

56-028
h-37a
1957
54-1000: Sikorsky S-56, c/n 56-028, ff:?; del US ARMY as H-37A, 54-10+

N51891: Aircrane Inc, West Chester, PA 1978

56-030
h-37a
1957
54-1001: Sikorsky S-56, c/n 56-030, ff:?; del US ARMY as H-37A, 54-10+

56-006
h-37a
1956
54-993: Sikorsky S-56, c/n 56-006, ff:?; del US Army as H-37A, 54-99+

56-010
h-37a
1956
54-994: Sikorsky S-56, c/n 56-010, ff:?; del US ARMY as H-37A, 54-99+

- N50119: ex 54-994, DM XK028

56-012
h-37a
1956
54-995: Sikorsky S-56, c/n 56-012, ff:?; del US Army as H-37A, 54-99+

56-014
h-37a
1956
54-996: Sikorsky S-56, c/n 56-014, ff:?; del US ARMY as H-37A, 54-99+

- N50174: ex 54-996, DM XK...

56-012
h-37a
1956
54-996: w/o 20mar66

56-018
h-37a
1957
54-997: Sikorsky S-56, c/n 56-018, ff:?; del US ARMY as H-37A, 54-99+

N50226: Aircrane Inc, West Chester, PA 1978

56-022
h-37a
1957
54-998: Sikorsky S-56, c/n 56-022, ff:?; del US ARMY as H-37A, 54-99+

N50253: Aircrane Inc, West Chester, PA 1978

56-025
h-37a
1957
54-999: Sikorsky S-56, c/n 56-025, ff:?; del US ARMY as H-37A, 54-99+

56-033
h-37a
1957
55-610: Sikorsky S-56, c/n 56-033, ff:?; del US ARMY as H-37A, 55-61+

56-036
h-37a
1957
55-611: Sikorsky S-56, c/n 56-036, ff:?; del US ARMY as H-37A, 55-61+

56-037
h-37a
1957
55-612: Sikorsky S-56, c/n 56-037, ff:?; del US ARMY as H-37A, 55-61+

56-039
h-37a
1957
55-613: Sikorsky S-56, c/n 56-039, ff:?; del US ARMY as H-37A, 55-61+

56-040
h-37a
1957
55-614: Sikorsky S-56, c/n 56-040, ff:?; del US ARMY as H-37A, 55-61+

56-042
h-37a
1957
55-615: Sikorsky S-56, c/n 56-042, ff:?; del US ARMY as H-37A, 55-61+

56-043
h-37a
1957
55-616: Sikorsky S-56, c/n 56-043, ff:?; del US ARMY as H-37A, 55-61+

N51892: Aircrane Inc, West Chester, PA 1978

56-044
h-37a
1957
55-617: Sikorsky S-56, c/n 56-044, ff:?; del US ARMY as H-37A, 55-61+

56-045
h-37a
1957
55-618: Sikorsky S-56, c/n 56-045, ff:?; del US ARMY as H-37A, 55-61+

56-047
h-37a
1957
55-619: Sikorsky S-56, c/n 56-047, ff:?; del US ARMY as H-37A, 55-61+

56-048
h-37a
1957
55-620: Sikorsky S-56, c/n 56-048, ff:?; del US ARMY as H-37A, 55-62+

56-049
h-37a
1957
55-621: Sikorsky S-56, c/n 56-049, ff:?; del US ARMY as H-37A, 55-62+

56-050
h-37a
1957
55-622: Sikorsky S-56, c/n 56-050, ff:?; del US ARMY as H-37A, 55-62+

56-051
h-37a
1957
55-623: Sikorsky S-56, c/n 56-051, ff:?; del US ARMY as H-37A, 55-62+

N51893: Aircrane Inc, West Chester, PA 1978

56-052
h-37a
1957
55-624: Sikorsky S-56, c/n 56-052, ff:?; del US ARMY as H-37A, 55-62+

56-053
h-37a
1957
55-625: Sikorsky S-56, c/n 56-053, ff:?; del US ARMY as H-37A, 55-62+

56-054
h-37a
1957
55-626: Sikorsky S-56, c/n 56-054, ff:?; del US ARMY as H-37A, 55-62+

56-056
h-37a
1958
55-627: Sikorsky S-56, c/n 56-056, ff:?; del US ARMY as H-37A, 55-62+

56-057
h-37a
1958
55-628: Sikorsky S-56, c/n 56-057, ff:?; del US ARMY as H-37A, 55-62+

56-058
h-37a
1958
55-629: Sikorsky S-56, c/n 56-058, ff:?; del US ARMY as H-37A, 55-62+

56-061
h-37a
1958
55-630: Sikorsky S-56, c/n 56-061, ff:?; del US ARMY as H-37A, 55-63+

56-063
h-37a
1958
55-631: Sikorsky S-56, c/n 56-063, ff:?; del US ARMY as H-37A, 55-63+

56-064
h-37a
1958
55-632: Sikorsky S-56, c/n 56-064, ff:?; del US ARMY as H-37A, 55-63+

56-066
h-37a
1958
55-633: Sikorsky S-56, c/n 56-066, ff:?; del US ARMY as H-37A, 55-63+

56-067
h-37a
1958
55-634: Sikorsky S-56, c/n 56-067, ff:?; del US ARMY as H-37A, 55-63+

56-068
h-37a
1958
55-635: Sikorsky S-56, c/n 56-068, ff:?; del US ARMY as H-37A, 55-63+

56-071
h-37a
1958
55-636: Sikorsky S-56, c/n 56-071, ff:?; del US ARMY as H-37A, 55-63+

N51894: Aircrane Inc, West Chester, PA 1978, MASDC-XK0031

56-072
h-37a
1958
55-637: Sikorsky S-56, c/n 56-072, ff:?; del US ARMY as H-37A, 55-63+

56-073
h-37a
1958
55-638: Sikorsky S-56, c/n 56-073, ff:?; del US ARMY as H-37A, 55-63+

56-074
h-37a
1958
55-639: Sikorsky S-56, c/n 56-074, ff:?; del US ARMY as H-37A, 55-63+

56-077
h-37a
1958
55-640: Sikorsky S-56, c/n 56-077, ff:?; del US ARMY as H-37A, 55-64+

56-078
h-37a
1958
55-641: Sikorsky S-56, c/n 56-078, ff:?; del US ARMY as H-37A, 55-64+

N50086: Aircrane Inc, West Chester, PA 1978, MASDC-XK0018

56-079
h-37a
1958
55-642: Sikorsky S-56, c/n 56-079, ff:?; del US ARMY as H-37A, 55-64+

56-080
h-37a
1958
55-643: Sikorsky S-56, c/n 56-080, ff:?; del US ARMY as H-37A, 55-64+

N51896: Aircrane Inc, West Chester, PA 1978, MASDC-XK0024

56-082
h-37a
1958
55-644: Sikorsky S-56, c/n 56-082, ff:?; del US ARMY as H-37A, 55-64+

56-083
h-37a
1958
55-645: Sikorsky S-56, c/n 56-083, ff:?; del US ARMY as H-37A, 55-64+

56-084
h-37a
1958
55-646: Sikorsky S-56, c/n 56-084, ff:?; del US ARMY as H-37A, 55-64+

56-085
h-37a
1958
55-647: Sikorsky S-56, c/n 56-085, ff:?; del US ARMY as H-37A, 55-64+

N51897: Aircrane Inc, West Chester, PA 1978, MASDC-XK0020

56-088
h-37a
1958
55-648: Sikorsky S-56, c/n 56-088, ff:?; del US ARMY as H-37A, 55-64+

56-089
h-37a
1958
55-649: Sikorsky S-56, c/n 56-089, ff:?; del US ARMY as H-37A, 55-64+

56-090
h-37a
1958
55-650: Sikorsky S-56, c/n 56-090, ff:?; del US ARMY as H-37A, 55-65+

N51899: Aircrane Inc, West Chester, PA 1978, MASDC-XK0014

56-094
h-37a
1958
57-1642: Sikorsky S-56, c/n 56-094, ff:?; del US ARMY as H-37A, 57-16+

56-097
h-37a
1958
57-1643: Sikorsky S-56, c/n 56-097, ff:?; del US ARMY as H-37A, 57-16+

56-098
h-37a
1958
57-1644: Sikorsky S-56, c/n 56-098, ff:?; del US ARMY as H-37A, 57-16+

56-101
h-37a
1958
57-1645: Sikorsky S-56, c/n 56-101, ff:?; del US ARMY as H-37A, 57-16+

56-104
h-37a
1958
57-1646: Sikorsky S-56, c/n 56-104, ff:?; del US ARMY as H-37A, 57-16+

N93017: Aircrane Inc, West Chester, PA 1978, MASDC-XK0013


---

- 57-1646: Nov13 at Classic Rotors Museum Ramona, CA www.rotors.or+

56-105
h-37a
1958
57-1647: Sikorsky S-56, c/n 56-105, ff:?; del US ARMY as H-37A, 57-16+

56-108
h-37a
1958
57-1648: Sikorsky S-56, c/n 56-108, ff:?; del US ARMY as H-37A, 57-16+

56-109
h-37a
1958
57-1649: Sikorsky S-56, c/n 56-109, ff:?; del US ARMY as H-37A, 57-16+

56-112
h-37a
1959
57-1650: Sikorsky S-56, c/n 56-112, ff:?; del US ARMY as H-37A, 57-16+

56-113
h-37a
1958
57-1651: Sikorsky S-56, c/n 56-113, ff:?; del US ARMY as H-37A, 57-16+

- N14462: private Fort Eustis, VA, canc 2011, rtn Army

56-116
h-37a
1959
57-1652: Sikorsky S-56, c/n 56-116, ff:?; del US ARMY as H-37A, 57-16+

N51901: Aircrane Inc, West Chester, PA 1978, MASDC-XK0017

56-117
h-37a
1959
57-1653: Sikorsky S-56, c/n 56-117, ff:?; del US ARMY as H-37A, 57-16+

N51905: Aircrane Inc, West Chester, PA 1978

56-119
h-37a
1959
57-1654: Sikorsky S-56, c/n 56-119, ff:?; del US ARMY as H-37A, 57-16+

56-120
h-37a
1959
57-1655: Sikorsky S-56, c/n 56-120, ff:?; del US ARMY as H-37A, 57-16+

56-121
h-37a
1959
57-1656: Sikorsky S-56, c/n 56-121, ff:?; del US ARMY as H-37A, 57-16+

56-122
h-37a
1959
57-1657: Sikorsky S-56, c/n 56-122, ff:?; del US ARMY as H-37A, 57-16+

N51907: Aircrane Inc, West Chester, PA 1978, MASDC-XK0025

56-124
h-37a
1959
57-1658: Sikorsky S-56, c/n 56-124, ff:?; del US ARMY as H-37A, 57-16+

N51908: Aircrane Inc, West Chester, PA 1978, MASDC-XK0027

56-125
h-37a
1959
57-1659: Sikorsky S-56, c/n 56-125, ff:?; del US ARMY as H-37A, 57-16+

N51910: Aircrane Inc, West Chester, PA 1978

56-126
h-37a
1959
57-1660: Sikorsky S-56, c/n 56-126, ff:?; del US ARMY as H-37A, 57-16+

- N7069: Keystone Helicopter Corp 1972-2011

56-127
h-37a
1959
57-1661: Sikorsky S-56, c/n 56-127, ff:?; del US ARMY as H-37A, 57-16+

56-145
h-37a
1960
58-1000: Sikorsky S-56, c/n 56-145, ff:?; del US ARMY as H-37A, 58-10+

N51925: Aircrane Inc, West Chester, PA 1978, MASDC-XK0008

56-146
h-37a
1960
58-1001: Sikorsky S-56, c/n 56-146, ff:?; del US ARMY as H-37A, 58-10+

56-147
h-37a
1960
58-1002: Sikorsky S-56, c/n 56-147, ff:?; del US ARMY as H-37A, 58-10+

N51926: Aircrane Inc, West Chester, PA 1978

56-148
h-37a
1960
58-1003: Sikorsky S-56, c/n 56-148, ff:?; del US ARMY as H-37A, 58-10+

56-149
h-37a
1960
58-1004: Sikorsky S-56, c/n 56-149, ff:?; del US ARMY as H-37A, 58-10+

N51927: Aircrane Inc, West Chester, PA 1978, MASDC-XK0021

56-150
h-37a
1960
58-1005: Sikorsky S-56, c/n 56-150, ff:?; del US ARMY as H-37A, 58-10+

56-151
h-37a
1960
58-1006: Sikorsky S-56, c/n 56-151, ff:?; del US ARMY as H-37A, 58-10+

56-128
h-37a
1959
58-983: Sikorsky S-56, c/n 56-128, ff:?; del US ARMY as H-37A, 58-98+

56-129
h-37a
1959
58-984: Sikorsky S-56, c/n 56-129, ff:?; del US ARMY as H-37A, 58-98+

N51917: Aircrane Inc, West Chester, PA 1978, MASDC-XK0003

56-130
h-37a
1959
58-985: Sikorsky S-56, c/n 56-130, ff:?; del US ARMY as H-37A, 58-98+

56-131
h-37a
1959
58-986: Sikorsky S-56, c/n 56-131, ff:?; del US ARMY as H-37A, 58-98+

N51914: Aircrane Inc, West Chester, PA 1978, MASDC-XK0004

56-132
h-37a
1959
58-987: Sikorsky S-56, c/n 56-132, ff:?; del US ARMY as H-37A, 58-98+

- N51918: ex 58-987, DM XK009

56-133
h-37a
1959
58-988: Sikorsky S-56, c/n 56-133, ff:?; del US ARMY as H-37A, 58-98+

56-134
h-37a
1959
58-989: Sikorsky S-56, c/n 56-134, ff:?; del US ARMY as H-37A, 58-98+

N51915: Aircrane Inc, West Chester, PA 1978, MASDC-XK0029

56-135
h-37a
1959
58-990: Sikorsky S-56, c/n 56-135, ff:?; del US ARMY as H-37A, 58-99+

N51919: Aircrane Inc, West Chester, PA 1978

56-136
h-37a
1959
58-991: Sikorsky S-56, c/n 56-136, ff:?; del US ARMY as H-37A, 58-99+

N51921: Aircrane Inc, West Chester, PA 1978, MASDC-XK0012

56-137
h-37a
1959
58-992: Sikorsky S-56, c/n 56-137, ff:?; del US ARMY as H-37A, 58-99+

N51916: Aircrane Inc, West Chester, PA 1978, MASDC-XK0002

56-138
h-37a
1959
58-993: Sikorsky S-56, c/n 56-138, ff:?; del US ARMY as H-37A, 58-99+

56-139
h-37a
1959
58-994: Sikorsky S-56, c/n 56-139, ff:?; del US ARMY as H-37A, 58-99+

56-140
h-37a
1959
58-995: Sikorsky S-56, c/n 56-140, ff:?; del US ARMY as H-37A, 58-99+

56-141
h-37a
1959
58-996: Sikorsky S-56, c/n 56-141, ff:?; del US ARMY as H-37A, 58-99+

56-142
h-37a
1960
58-997: Sikorsky S-56, c/n 56-142, ff:?; del US ARMY as H-37A, 58-99+

56-143
h-37a
1960
58-998: Sikorsky S-56, c/n 56-143, ff:?; del US ARMY as H-37A, 58-99+

56-144
h-37a
1960
58-999: Sikorsky S-56, c/n 56-144, ff:?; del US ARMY as H-37A, 58-99+

N51923: Aircrane Inc, West Chester, PA 1978


---

- 58-999: 19may13 pictured preserved at Evergreen Air and Space M+