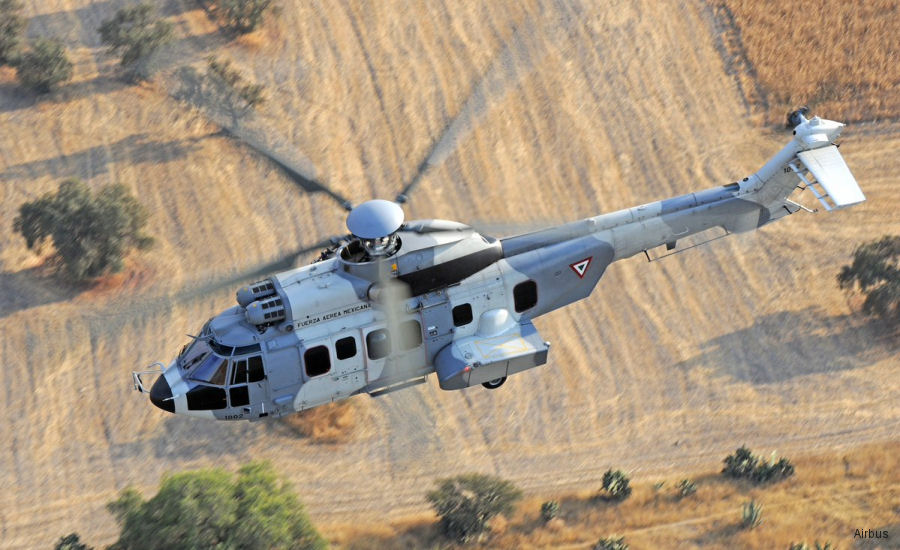 Six EC725 transports were ordered in 2009 following by other six in 2011. First two aircraft delivered to the Air Force on July 2011. Two civilian
EC225
already in use since 2008 by the presidential fleet (
CGTAP
) followed by two H225 in 2016.
By 2019, the
H225M Cougar
fleet achieved 11,000 flight hours.
Also used by
Mexican Navy
.
Mexico orders six additional EC725, 20-Sep-10 : Mexico City, The Mexican Ministry of Defense has signed an agreement with Eurocopter for the purchase of six EC725 helicopters. Together with the same number of rotary-wing aircraft ordered in March of last year, Eurocopter will now be supplying a total of 12 EC725s to Mexico's SEDENA (Secretaría de La Defensa Nacional) beginning in the second quarter of 2011 for use in transport and civil security missions.
C/N
Mod
Built
ID In this Org
In other Org


2776
1001: FAM Jun11, test serial F-ZWBU

2788
1002: FAM; Jun11, test serial F-ZWBG, pictured

2811
1003: FAM Jun11, test serial F-ZWDK, pictured

2805
1004: FAM Oct11, test serial F-ZWDH

2810
1005: FAM Oct11

F-ZWDJ: Eurocopter France, for Mexico

2836
1006: FAM Jul12, test serial F-ZWDS

2799
1007: FAM 2012

F-ZWBE: 19sep11 as Fuerza Aerea Mexicana 1007 at Kleine Brogel +

2829
1008: FAM Apr12

F-ZWDM: Eurocopter France, for Mexico

1009: FAM Mar13; w/o 01may15 shot down in Jalisco. 3 fatalities

F-ZWDP: Eurocopter France, for Mexico

2873
1010: FAM May13

1011: FAM Jan14, test serial F-ZWCO

2908
h225
1012: ec725 FAM Jan14