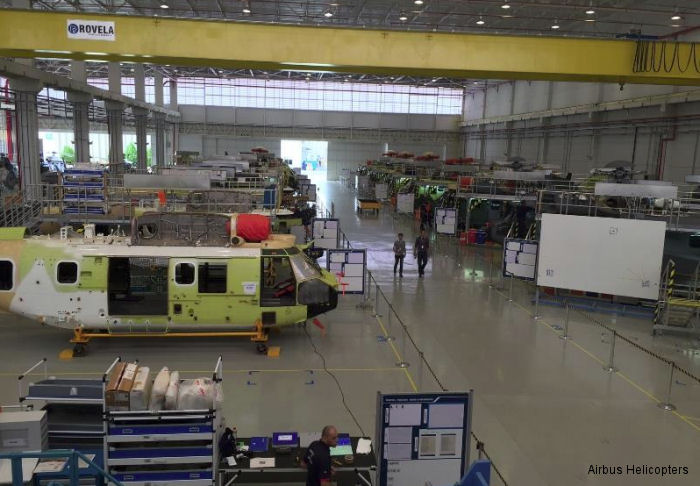 From 2002 Helibras assembled AS532 Cougars from french-made parts.
In 2008, the H-XBR Program was launched to provide 50
Super Cougar
to the Brazilian Armed Forces (18 to the Air Force and 16 each Navy and Army).
On November 21, 2013 took place the first flight of the brazilian-made
EC725
at Itajuba, Minas Gerais state.
By October 2018, Helibras has delivered 33 H225M (11 to Army)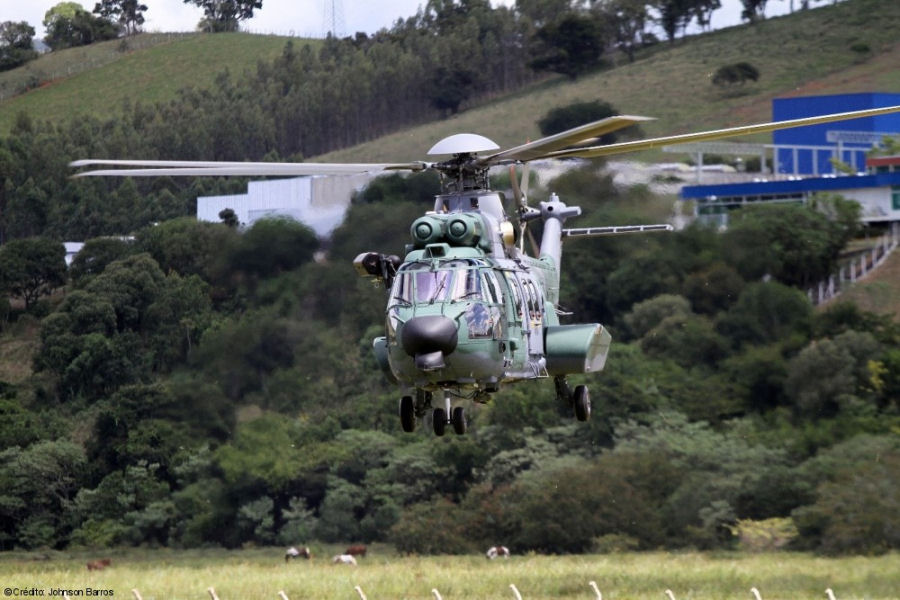 Helibras Delivers 31st Caracal of H-XBR Program, 03-Sep-18 : #H225M Helibras delivered the 31st of 50 Airbus H225M helicopters (or H-36 Caracal as is locally known) assembled in Brazil to the air force Puma squadron. First with Spectrolab Searchlight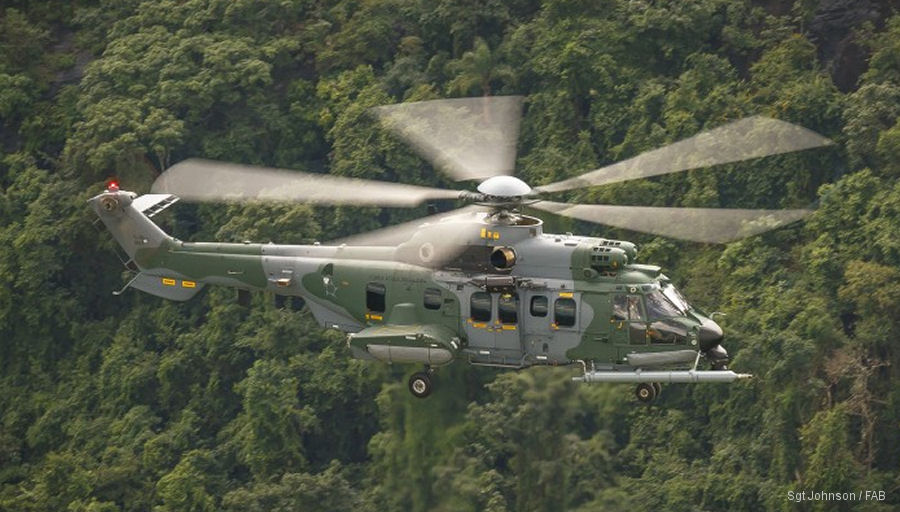 10,000 Flight Hours for Brazilian Air Force' Caracal, 27-Sep-17 : The Força Aérea Brasileira 10 Helibras EC725BR / H225M helicopters, called H-36 Caracal, reaches 10,000 flight hours in 6 years of operations. Eight more are scheduled to be delivered to the FAB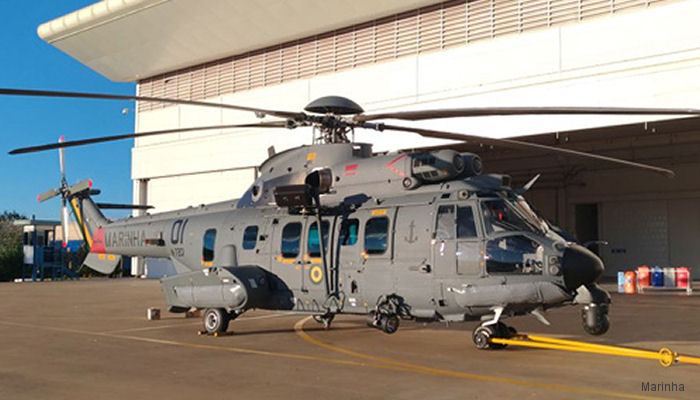 Brazilian Navy Received First CSAR H225M, 22-Jun-17 : Helibras delivered the first of three H225M/EC725, named UH-15A Super Cougar, in Combat Search and Rescue (CSAR) configuration to the HU-2 Squadron of the Brazilian Navy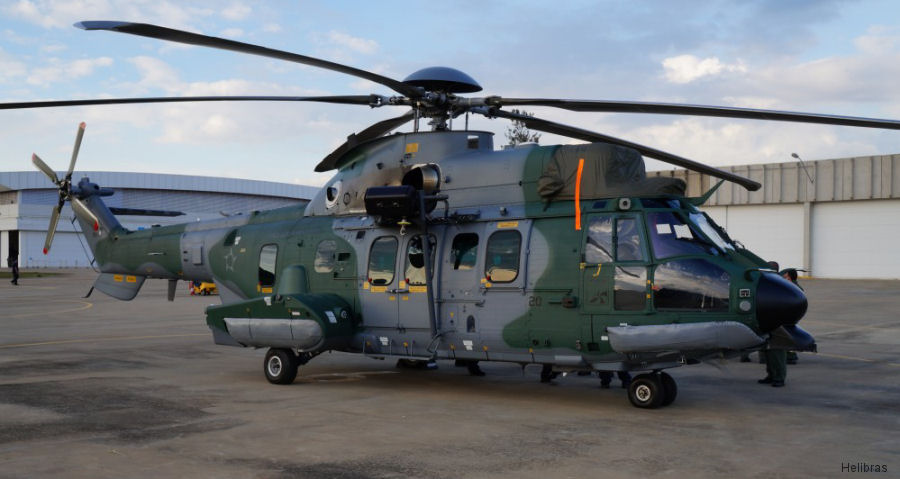 Helibras Delivers Two More Caracal, 23-May-17 : Helibras delivered 2 EC725BR / H225M to Brazilian Armed Forces, the 9th to the Army and the 12th to the Air Force. The Navy operates 7. Two more scheduled for this year and number 50 and last by 2022
C/N
Mod
Built
ID In this Org
In other Org


2819
ec725
2012
Helibras BRA008 Marinha UH-15 type

N-7102: Marinha /02 BRA008 UH-15 type d/d Sep12 HU-2

2529
as532ue
2002
Helibras c/n AVX001 Army HM-3 type

EB-4001: Exercito HM-3 type d/d may02; pictured

2596
as532ue
Helibras c/n AVX007 Army HM-3 type

EB-4007: Exercito HM-3 type

2607
as532ue
Helibras c/n AVX008 Army HM-3 type

EB-4008: Exercito HM-3 type

2579
as532ue
Helibras c/n AVX003 Army HM-3 type

EB-4003: Exercito HM-3 type

2532
as532ue
Helibras c/n AVX002 Army HM-3 type

EB-4002: Exercito HM-3 type


---

2008 2 BatAvEx

2586
as532ue
Helibras c/n AVX004 Army HM-3 type

EB-4004: Exercito HM-3 type; pictured

2588
as532ue
Helibras c/n AVX005 Army HM-3 type

EB-4005: Exercito HM-3 type


---

2011 Red Cross Colombia

2595
as532ue
Helibras c/n AVX006 Army HM-3 type

EB-4006: Exercito HM-3 type d/d 2003


---

2008 2 BatAvEx

ec725
Helibras BRA012 Marinha UH-15 type

N-7103: Marinha /03 BRA012 UH-15 type Jun14 HU-2

2891
ec725
Helibras BRA016 Marinha UH-15 type

N-7105: Marinha /05 BRA016 UH-15 type Jun14 HU-2


---

01may19 pictured during official ceremony asg new squad+

ec725
Helibras BRA017 Marinha UH-15 type

N-7106: Marinha /06 BRA017 UH-15 d/d 13jun14 HU-2; first fully +


---

pictured during flood humanitarian relief in northern R+

2867
ec725
Helibras BRA019 Marinha UH-15 type

F-ZWDS: seen at Marseilles Brazillian Navy registration N-7107+


---

c/n seems to be 2867, equiped with the APU Option by Ap+


---

used in Poland Armed Forces tests


---

11jun15 pictured arriving LeBourget for Paris airshow 2+


---

N-7107: Marinha /07 o/o

2771
ec725
?: Helibras

2806
ec725
?: Helibras

2812
ec725
?: Helibras