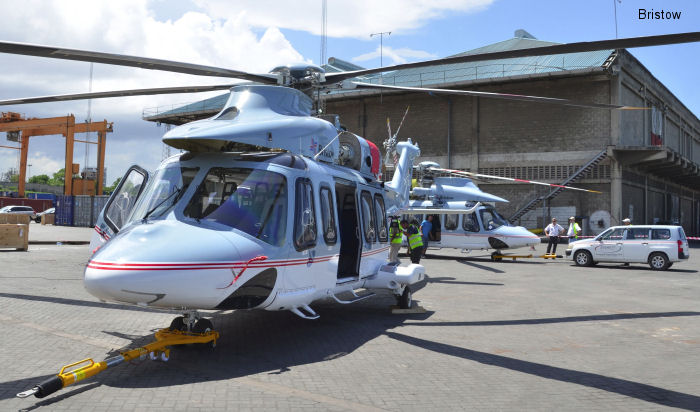 Bristow
leased helicopter for Statoil offshore operations (2) and 1 for SAR based at new hangar in Dar es Salaam.
Program terminated in 2015 after falling oil price. Transferred to
Bristow Nigeria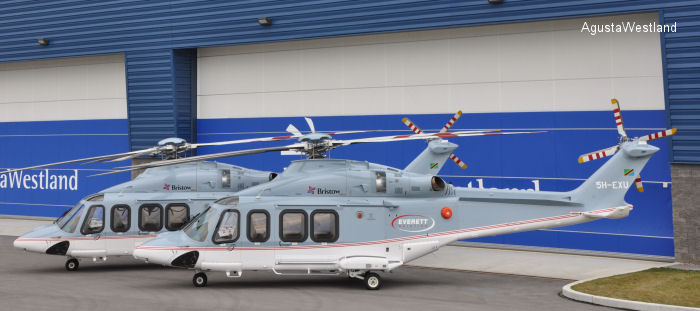 Everett Aviation certifies first AW139 in Tanzania, 02-Oct-13 : AgustaWestland, a Finmeccanica company, is pleased to announce that Bristow and Everett Aviation have taken delivery two AW139s and the aircraft have been the first to be certified for operations in Tanzania.
C/N
Mod
Built
ID In this Org
In other Org


41344
2013
5H-EXT : Everett Aviation Tanzania Oct13-Jul15
5H-EXT: noted at Redhill with Bristow Titles on engine cowlings. De+

N435SH: AgustaWestland, PA Jun/Sep 2013, to Bristow


---

N435SH: Bristow canc 13sep13, for Tanzania


---

G-CIPW: Bristow from Aug15


---

pictured at Norwich


---

Norwich to Aberdeen


---

pictured (pic2) at Norwich


---

pictured (pic4) at Norwich airport

41346
2013
5H-EXU: Everett Aviation Tanzania Oct13-Jul15

N438SH: AgustaWestland, PA Aug/Sep 2013, to Bristow


---

N438SH: Bristow canc 10sep13, for Tanzania


---

G-CIPX: Bristow from Aug15


---

as /BHL532 pictured at Norwich


---



41350
2013
5H-EXV: Everett Aviation Tanzania Dec13-Mar16; SAR

N449SH: AgustaWestland, PA Aug/Dec 2013


---

5N-BTW: Bristow Nigeria, Jun16-Oct17; SAR


---

12:51 CET Departed Almeria, Spain currently between Lo+


---

N739BG: Bristow Rescue from Oct17, pictured