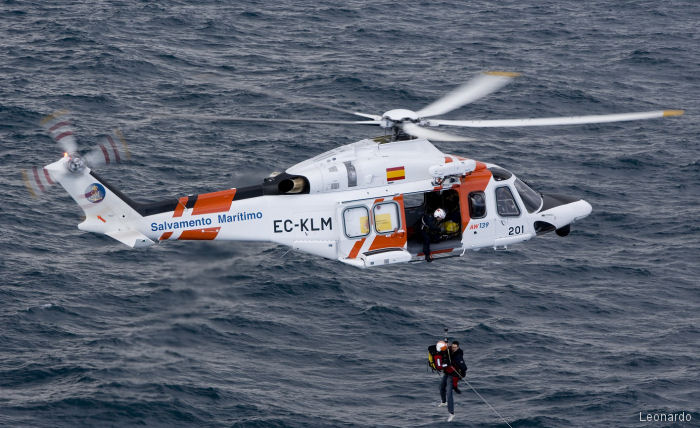 Originally announced at the Farnborough Air Show on 8 Sep 1998, as a joint venture between Agusta and Bell; to complement the
Bell 412
. A full-scale mockup was revealed at the Paris Air Show on 12 June 1999. The first pre-production airframe flew on 3 Feb 2001, followed by the second on 4 Jun 2001 and the third on 22 Oct 2001. Production versions began in Nov 2001. Bell withdrew from the AB139 venture in Nov 2005.

The AW139 is a medium, twin-engined, multi-role helicopter, having a 5 bladed main rotor driven by 2x 1679 shp Pratt & Whitney PT6C-67C turboshaft engines with FADEC software control. A fixed tailplane under a starboard mounted, canted 4 blade tail rotor, provides lateral stability and the main hull is supported by a tricycle undercarriage.

The first 52 aircraft were built by Agusta in Italy as the
AB139
.
c/n from
31055
built in Italy
c/n from
41001
built in
Philadelphia, USA
c/n from
60001
assembled and delivered by the
HeliVert
plant located in Tomilino, Russia
From c/n 31201 and 41201 are
long nose
variant with increased room for avionics
From c/n 31700 and 41501 are
7000kg MTOW
variant
- As of November 2012, 180 customers from more than 50 countries have ordered nearly 660 AW139.
- As of 2015, AW139 ordered are almost 900.
- As of March 2017, 250 customers from around 70 countries have ordered 1000 AW139 with 900 delivered and 1.7 million flight hours across the global fleet.
- As of June 2019, 1100 were in order
- September 2019, 1000th AW139 roll-out
- As of July 2020, 280 customers worldwide ordered +1200 AW139 with 1050 already in service. Fleet accumulated more than 2.8 million flight hours
- As of December 2022, the AW139 fleet accumulates over 3.3 million flight hours.
360 video - move mouse around
Derivatives & Versions of AW139
Model
Year
History
US139

2005
2005
The AgustaWestland/L-3 Communications US139 was the proposal entry for the US Army LUH programme. It was defeated by the Eurocopter UH-145 a vers ...

AW149

2009
2009
An enlarged version of the AW139 for military use, the prototype first flew on November 13, 2009. Second prototype took to the air on February 26 ...
In July 2017, Leonardo confirmed the AW149 assembly line will be established in Yeovil, UK if it is selected by the MoD as the RAF Puma Mk2 repl ...

AW139M

2011
2011
The AW139M designation was first used for the customized military version for the US Air Force Common Vertical Lift Support Program or CVLSP to s ...

B MH-139A Grey Wolf

2017
2017
First announced on March 2 2017, the MH-139 was Boeing proposal for the supply of up to 84 helicopters to replace the USAF UH-1N with a version ...