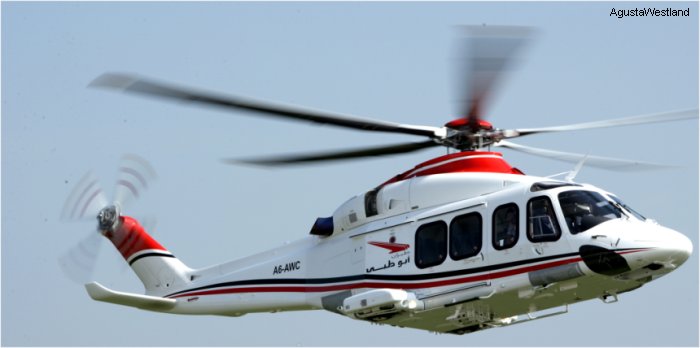 During Abu Dhabi Air Expo 2014 was announced a new Helicopter maintenance and spare parts company,
AWAS
, formed in a partnership between Abu Dhabi Aviation and AgustaWestland
Not listed here Agusta AB139
A6-AWA
Abu Dhabi Aviation provides support to the
Armed Forces
, operating a fleet of seven AgustaWestland AW139 helicopters, equipped for search and rescue (SAR) operations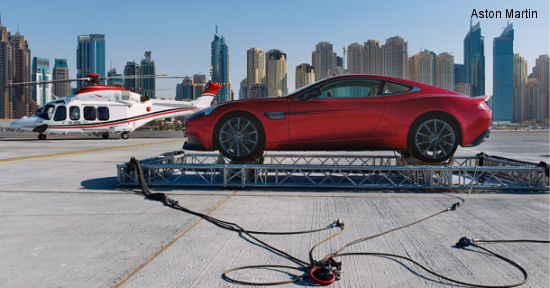 Aston Martin Centenary in Dubai, 17-Jan-13 :

As part of Aston Martin centenary celebrations, a GT Vanquish was airlifted to the top of the Burj Al Arab hotel in Dubai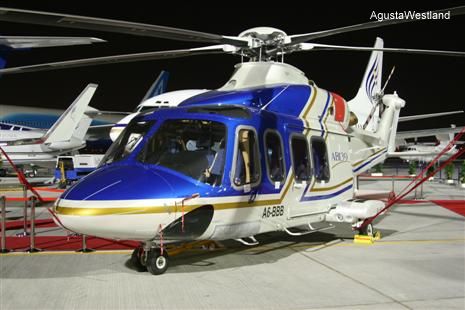 AB139 Delivered To Abu Dhabi Aviation And Marketed By Royal Jet, 22-Nov-05 : The new generation medium twin AB139 helicopter is making its first appearance at the Dubai Airshow. The aircraft on display was delivered last week to Abu Dhabi Aviation and is marketed by Royal Jet. It is the first offshore/VIP configured AB139 to be delivered in the Middle East region and will enter service immediately after the airshow. The aircraft is configured with a five passenger VIP interior cabin which can be easily reconfigured to a 15 passenger configuration for offshore transport operations.
C/N
Mod
Built
ID In this Org
In other Org


41018
2008
Abu Dhabi Aviation, to N342SH

N326SH: AgustaWestland,PA, to Abu Dhabi Aviation


---

- N342SH: Wells Fargo Bank 2009


---

A7-GHI: Gulf Helicopters 2010


---

ZS-HTF: Starlite from May14

31058
A6-AWC: Abu Dhabi Aviation d/d Oct.06

31095
A6-AWD: Abu Dhabi Aviation from Jun07; to Brazil unk

PR-OMP: Atlas Taxi Aereo

31106
2007
A6-AWE: Abu Dhabi Aviation d/d Sep.07; to VT-HLC

VT-HLC: Heligo from Aug09, lsd from Abu Dhabi Aviation; picture+


---

Nov12 operating from Rajahmundry, India

31118
A6-AWF: Abu Dhabi Aviation d/d Oct.07

PR-OMJ: Omni Taxi Aereo Oct08-Oct13


---

ZK-IHK: HNZ New Zealand from Sep13-2014; noted Sep14

41006
2007
A6-AWG: Abu Dhabi Aviation dec07-2011

N108AW: AgustaWestland,PA


---

PR-OMM: Omni taxi aereo from Aug11

41011
2008
A6-AWH: Abu Dhabi Aviation d/d jun08

N141AW: AgustaWestland, PA Apr/Jun 2008


---

A6-AWH: OAS Helicopters, pictured


---

HZ-RC03: Saudi Red Crescent Authority, Saudi Air Ambulance; /Red+

41017
2008
A6-AWI: Abu Dhabi Aviation d/d sep08

N325SH: AgustaWestland, PA, to A6-AWI


---

A6-ALM: Aerogulf d/d 2011

41204
A6-AWJ: Abu Dhabi Aviation, noted Aug11

N112YS: AgustaWestland, PA Dec08-Mar09

31150
A6-AWK: Abu Dhabi Aviation d/d Nov.08

31153
A6-AWL: Abu Dhabi Aviation d/d Nov.08

HZ-RC04: Saudi Red Crescent Authority, Saudi Air Ambulance; /Red+

41205
2008
A6-AWM: Abu Dhabi Aviation, Mar09

N114YS: AgustaWestland, PA Dec08


---

PR-OMN: Omni taxi aereo Jul09-Jul19, pictured


---

- 5B-SNA: Synesis Aviation Ltd at Cyprus from jul19


---

Cyprus

41213
2009
A6-AWN: Abu Dhabi Aviation d/d dec09; ex N225SM; long-nose version

N225SM: AgustaWestland,PA; to A6-AWN

41215
A6-AWO: Abu Dhabi Aviation from Dec10

N341SH: Agusta Aerospace Corp Apr09

31102
A6-AWP: Abu Dhabi Aviation 2011; ex M-ERIT

- M-ERIT: d/d 2007; 2011 to Abu Dhabi

31801
A6-AWT: Abu Dhabi Aviation Feb18, test serial I-EASS

31786
A6-AWW: Abu Dhabi Aviation 2018, test serial I-EAST

VP-CHF: canc;

41214
A6-AWY: Abu Dhabi Aviation Sep09-Jul10

N249SM: Agusta Aerospace Corp Mar09


---

JY-RSB: Jordan Royal Squadron from Aug10


---

Nov15 as /EMS-1 based at Marka

41218
A6-AWZ: Abu Dhabi Aviation Sep09-Jul10

N405SM: Agusta Aerospace Corp Jul09


---

JY-RSC: Jordan Royal Squadron from Aug10


---

Nov15 as /EMS-2 based at Amman-Marka