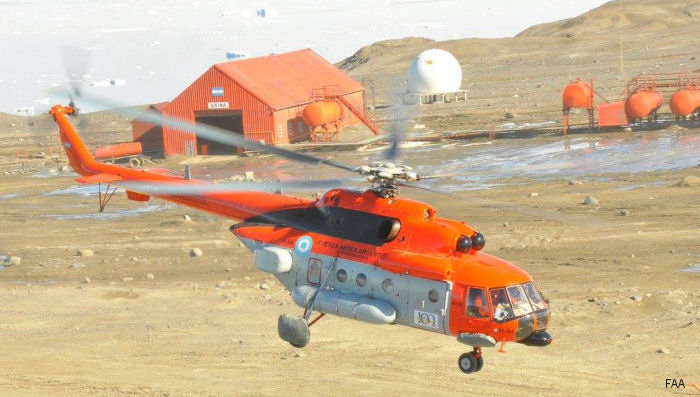 Two aircraft delivered on November 2011 for Antarctic duties. Three more are in option.
On December 20, 2013 and supported by the Argentine
Navy
,
Coast Guard
and the
Chilean Air Force
, they made their first crossing between
Ushuaia
in Tierra del Fuego and
Marambio
on the Antarctic peninsula ( ~ 767m / 1234km ) to participate in the 2014 Summer Campaign. They returned to mainland continent in March 2014. This mission is repeated every year since then. Previously Bell 212 transported by C-130 performed the resupply of the bases.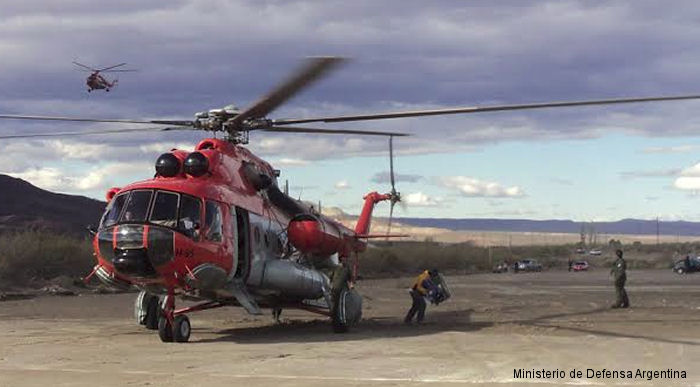 Argentina Wants More Mi-171E but Needs Financing, 19-Jan-15 : Argentine Defense Minister announced his interested in buying more Mi-171 helicopters but that will depend on the terms of financing. The Air Force currently operates two received in 2011.
C/N
Built
ID In this Org
In other Org


171E00032105701U
H-94: c/n 171E 00 032 10 5701U / 171E00032105701U; FAA d/d 25 by A+

171E00032105702U
H-95: FAA d/d 25 by Antonov An-124 RA-82047 from Volga-Dnepr