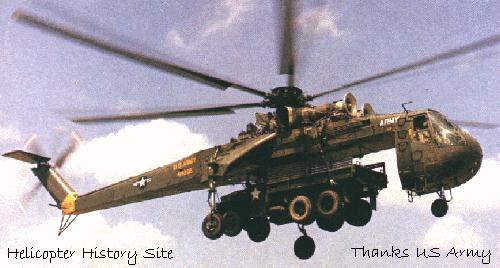 The US Army purchased 67
CH-54A Tarhe
and 25 CH-54B model Skycrane helicopters for use in heavy lift aviation units in the USA, Republic of Vietnam (RVN) and West Germany. Only the CH-54A was used in RVN first with the 478th Aviation Co (HH), then with the 273rd Aviation Co (HH) and the 355th Aviation Co (HH). Each company was authorized 9 CH-54s but there was usually an additonal float Skycrane which brought the units up to 10 Cranes each. A UH-1H was also found in each company for use as a general purposed utility aircraft, ie, supply and parts hauler. Each unit was also authorized 3 Universal Pods (people pods) which could be coupled to the CH-54 giving it 45 man internal capacity. The Vietnam mission seldom required the use of the pods so in units like the 101st Abn Div which contolled the 478th in 1970, pods were put into service as mobile tactical operations centers for the infantry brigades. Over the years several CH-54s were lost in RVN due primarily to accidents and even hurricane weather. Only one is known to have been shot down and destroyed - #205 lost in the AuShau Valley in 1968. All four crewmen perished when the aircraft was hit with 37mm canon fire while carrying equipment into a fire base.

BuNos 64-14202/14207 - ( c/n 64-004/009 ) -
YCH-54A
BuNos 66-18408/18413 - ( c/n 64-010/015 ) -
CH-54A
BuNos 67-18414/18431 - ( c/n 64-016/033 ) - CH-54A
BuNos 68-18432/18461 - ( c/n 64-034/066 ) - CH-54A
BuNos 69-18462/18484 - ( c/n 64-067/092 ) -
CH-54B
BuNos 70-18485/18490 - ( c/n 64-093/098 ) - CH-54B
BuNos 71-18491/18498 - cancelled CH-54B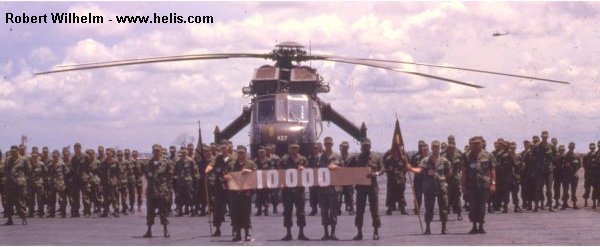 The 273rd Hvy Lift CO in Vietnam circa 1969 during a formation celebrating an unknown 10,000 milestone.
---
It must have been 10,000 accident free flying hours. The 273rd Aviation Company (Hvy Hel), was one of three such units in Vietnam during the mid 60s through 1972. The other two units were the 355th Aviation Co (HH), call sign Workhorse and the 478th Aviation Company (HH), call sign Hurricane.

This was 10,000 flight hours for the 273 sky cranes . There was a fly over at the same time