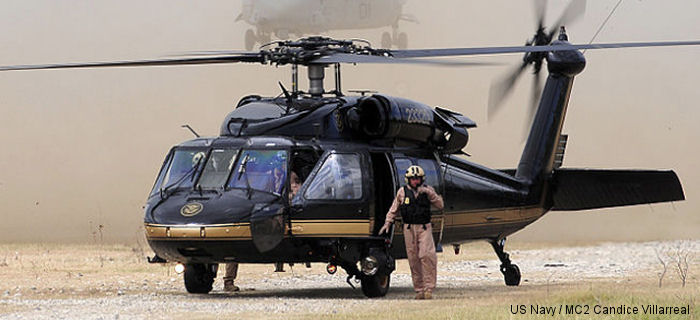 ---
As of February 2019, the US Dept of Homeland Security (DHS), Customs and Border Protection (CBP), Air and Marine Operations (AMO) has currently 16 UH-60M Black Hawks, (among over 260 other aircraft asets of 26 different types.) The US Customs Service Aviation, at the time under the US Treasury Dept, had been using different aicraft, both fixed wing and rotorcraft, since 1922. The UH-60 Blackhawk helicopter fleet program began in US Customs Service Aviaiton in 1986, initially with the transfer of 16 UH-60A variant models from the US Army.. Then, when the DHS was formed in 2003, US Customs Service was abolished and all its aircraft and its pilot/agents were transferred entirely from the US Treasury Dept into the new Dept of Homeland Security, Customs and Border Protection. Air and Marine Operations. Over the years the old UH-60A models were replaced with the UH-60M variant and they all got the characteristic black with gold stripe paint job.

Hoist Rescue Training fo CBP Black Hawk, 30-Mar-17 : Priority 1 Air Rescue (P1AR) to deliver Advanced Search and Rescue (SAR) Hoist Rescue Training to the U.S. Customs and Border Protection (CBP) UH-60 Black Hawk crews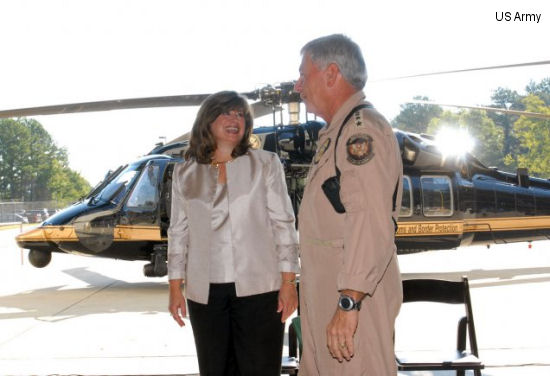 Black Hawk Helicopter Helps Reinforce Borders, 21-Sep-11 : REDSTONE ARSENAL, Ala. By Amy Guckeen Tolson, Staff Writer Redstone Rocket -- The United States and its borders are safer today thanks to the hard work of the Utility Helicopters Project Office.
Second UH-60 A-A to L for US Customs, 02-Feb-11 : BEEVILLE, Texas - Sikorsky Aerospace Services (SAS) today delivered the second UH-60 aircraft that has undergone "A-A" to "L" recapitalization for use by the U.S. Customs & Border Protection Agency (CBP). Distinguished as the fifth helicopter off the original BLACK HAWK helicopter production line, this fully upgraded UH-60L model will execute national security missions mandated by the CBP. Nicknamed "718" from the last three digits of its identification number, the rebirth of this more than 30-year-old aircraft marks the second U.S. Army recapitalization upgrade performed at SAS's Military Maintenance, Repair and Overhaul (MRO) facility. SAS is the aftermarket business of Sikorsky Aircraft Corp., a subsidiary of United Technologies Corp.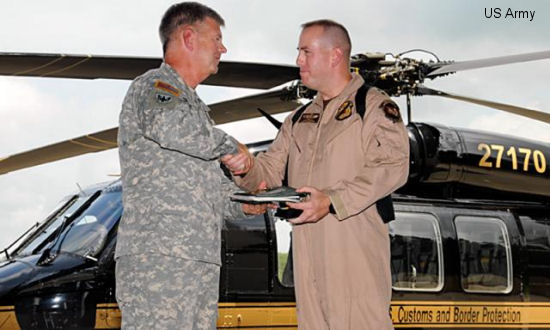 Army delivers state-of-art helicopter to patrol border, 19-Aug-09 : REDSTONE ARSENAL, Ala - By AMRDEC Public Affairs Office - With a handshake and the passing of a log book and keys, representatives from the Utility Helicopter Project Office to the U.S. Customs and Border Protection Agency marked the delivery of the first of four UH-60M aircraft that will enter CBP service by July 2010.
Years
Units
bold : Current base of the Unit

CBP