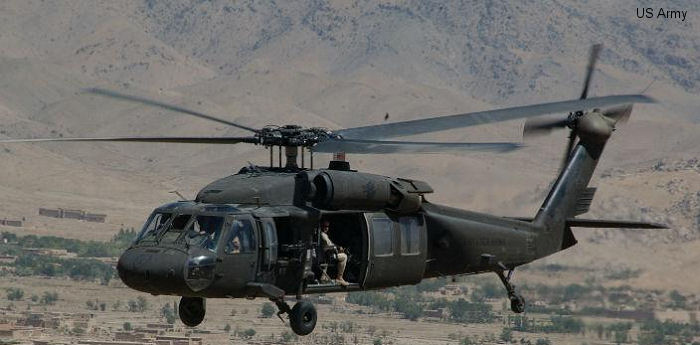 The S-70 is a medium-lift helicopter developed initialy for the US Army in the 1970s as a replacement for the Bell Huey spawning later a large family of both military and civilian variants
Derivatives & Versions of S-70 H-60
Model
Year
History
JUH-60A
At least 7 airframes converted for evaluation and several testing purposes. Another 20 or more as GUH-60A for ground instruction

UH-60A Black Hawk

1977
1977
First generation Black Hawk for the US Army. Produced 1977-1989. Certificated for commercial use in 2015. Succeeded by UH-60L

SH-60B Seahawk

1979
1979
The Sikorsky S-70B-1 is the US Navy LAMPS (Light Airbone Multipurpose System) Mk3 platform and is deployed aboard frigates, destroyers, and cruis ...

EH-60A QuickFix

1981
1981
US Army UH-60A modified for electronic warfare (EW) intended to locate, classify and disrupt enemy signal traffic. Prototype YEH-60A first flew S ...

MH-60G Pave Hawk

1982
1982
USAF Special Operations Command (AFSOC) variant for insertion and recovery of special forces fitted with long-range fuel tanks, air-to-air refuel ...

S-70B

1984
1984
The B is the foreign export version for naval duties based on the Seahawk Customized variants included: Spain Australia Greece Turkey ...

S-70C

1986
1986
Export version

HH-60G Pave Hawk

1987
1987
USAF variant. The Pave Hawk differs from the Army Black Hawk in its auxiliary fuel tanks, aerial refueling probe and forward-looking infrared. It ...

Mitsubishi S-70

1987
1987
S-70A-11 Black Hawk

1987
1987
export version for Jordanian Air Force

S-70A-14

1987
1987
export version for Brunei

S-70A-9 Black Hawk

1987
1987
Export version for Australia, assembled by Hawker de Havilland. First 8 delivered to the RAAF (then transferred to the Army) with remainder deliv ...

S-70B-2 Seahawk

1987
1987
SH-60B export variant for Royal Australian Navy assembled by ASTA in Australia

SH-60F Oceanhawk

1987
1987
The Sikorsky S-70B-4 was the US Navy carrier-borne variant of the Seahawk developed to replace the SH-3 Sea King. They were initially known ...

HH-60H Rescue Hawk

1988
1988
The Sikorsky S-70B-5 was developed in conjunction with the US Coast Guard HH-60J. Rescue Hawk main roles are combat search and rescue (CSAR), na ...

MH-60L Black Hawk

1988
1988
US Army special operations variant of the UH-60L produced as an interim version pending fielding of the ad-hoc MH-60K. Not all of the MH-60L hav ...

S-70A-17 Yarasa

1988
1988
UH-60A Black Hawk export variant for Turkey

S-70A-19 Black Hawk

1988
1988
A single aircraft known as Westland WS-70L

S-70B-1 Seahawk

1988
1988
SH-60B variant for Spanish Navy designated HS.23

UH-60L Black Hawk

1989
1989
Second generation Black Hawk for the US Army. To be upgraded as UH-60V

VH-60N White Hawk

1989
1989
Flown by USMC HMX-1 and supports the executive transport mission for the president of the United States. The Marines ordered nine of the $10.6-mi ...

Westland WS-70 Black Hawk

1989
1989
Just one WS.70 (registration ZG468) was used by Westland for sales promotion in Europe. It was sold to Bahrain in 1996.

HH-60L

1990
1990
The HH-60L is an US Army Black Hawk UH-60L modified for Medical Evacuation (MEDEVAC) or in military terms Casualty Evacuation (CASEVAC, callsign ...

S-70A-1 Desert Hawk

1990
1990
export version for the Royal Saudi Army. The S-70A-1L is the medevac variant

S-70A-18 Black Hawk

1990
1990
South Korea locally built variant. Army UH-60P and Air Force HH-60P. Based on UH-60L but with some improvements. Around 150 assembled by Korean ...

S-70A-21 Black Hawk

1990
1990
export version for Egypt

S-70A-5

1990
1990
Philippine Air Force presidential aircraft

S-70A-27 Black Hawk

1991
1991
export SAR version for the Hong Kong Government Flying Service

HH-60J Jayhawk

1992
1992
Sikorsky S-70B-5 / HH-60J for the United States Coast Guard. 42 delivered between 1990 and 1996. Redesignated MH-60J. All survivors converted ...
The HH-60J is a member of the Sikorsky S-70 family. Airframe is based on the US Navy SH-60 Seahawk variant and was developed in conjunction with ...

MH-60K Black Hawk

1992
1992
US Army special operations variant powered by uprated T700-GE-701C engines and inflight refueling probe. Specially designed for long-range low-le ...

S-70A-24 Black Hawk

1992
1992
Export version for Mexico air force based on UH-60L. Fitted with Battle Hawk External Stores Support System (ESSS) with stub wings each with two ...

S-70A-26 Black Hawk

1992
1992
export variant for Morocco

S-70A-28 Yarasa

1993
1993
UH-60L Black Hawk export variant for Turkey

S-70A-30 Black Hawk

1993
1993
export VIP version for Argentine Air Force

S-70B-6 Aegean Hawk

1994
1994
export variant for the Greek navy

S-70A-34 Black Hawk

1997
1997
S-70A-36 Black Hawk

1997
1997
export version for the Brazilian Army

S-70B-7 Seahawk

1997
1997
export version for the Royal Thai Navy

S-70A-39 Black Hawk

1998
1998
export VIP version for Fuerza Aerea de Chile

S-70A-50 Black Hawk

1998
1998
Export version for Israel, Peace Hawk program

S-92

1998
1998
The S-92 is a twin-engine medium-lift helicopter for the civil and military helicopter market developed from the S-70 Black Hawk. The military ve ...

MH-60R Seahawk

1999
1999
The MH-60R is the newest US Navy Seahawk replacing both the SH-60B and SH-60F as their primary antisubmarine helicopter in the also new HSM squad ...

S-70 Firehawk

1999
1999
Firefighting variant equipped with a 1,000-gallon tank to carry water and fire suppressant. The Oregon Army National Guard was the launching cust ...

S-70A-32

1999
1999
S-70A-33

1999
1999
Brunei VIP variant

AH-60L

2000
2000
export version for Colombia as COIN attack aircraft equipped with improved electronics and firing system. Developed by Elbit and designated Arpia

MH-60S Seahawk

2000
2000
The MH-60S Seahawk was developed for the US Navy as a multi mission helicopter undertaking roles of anti-surface warfare, vertical replenishment, ...
The MH-60S is based on the Army UH-60 Black Hawk but with the engines, drivetrain and rotors of the naval SH-60 Seahawk. A converted UH-60 proto ...

S-70A-41 Black Hawk

2001
2001
export version for Colombian Army

S-70A-55 Black Hawk

2001
2001
export version for Israel named Yanshuf

S-70B-28 Seahawk

2001
2001
SH-60B export variant for Turkish Navy

S-70A-42 Black Hawk

2002
2002
export version for Austria

S-70A-43 Black Hawk

2002
2002
export version for Royal Thai Army

UH-60M Black Hawk

2003
2003
Third generation Black Hawk for the US Army. Powered by the T700-GE-701D engine with 100 shp more than 701C of UH-60L and fitted with a full digi ...

HH-60M Black Hawk

2007
2007
US Army medical evacuation (MEDEVAC) version of the UH-60M Black Hawk to replace the HH-60L featuring full medical evacuation mission equipment ...

MH-60T Jayhawk

2007
2007
USCG modification of their Sikorsky model S-70B-5 / HH-60J. 41 Jayhawks modified to MH-60T standard under Deepwater program between 2007 and 20 ...
The MH-60T Jayhawk features a Common Avionics Architecture System (CAAS) glass cockpit, comprised of five multi-function displays that present a ...

S-70i Black Hawk

2010
2010
The S-70i is being produced for the international market at Sikorsky's PZL Mielec facility in Poland. In 2015, the S-70i competed (and ...

HH-60U

2011
2011
Lockheed-Martin proposal to replace the UH-1N Huey USAF fleet. First 4 get from the US Army UH-60M Black Hawk production line and converted at th ...

MH-60M Black Hawk

2011
2011
US Army special operations variant of the UH-60M used only by the 160th Special Operations Aviation Regiment ( 160 SOAR ). In addition to ...

OPV Black Hawk

2012
2012
The Optionally Piloted Vehicle (OPV) Black Hawk program was launched by the US Army Research, Development and Engineering Command (AMRDEC). A JUH ...

Harbin Z-20

2013
2013
First flew on December 23, 2013 the Z-20 is a 10-ton class transport helicopter comparable to the Sikorsky S-70C Black Hawk which entered service ...

Commercial UH-60

2014
2014
In 2015 the Federal Aviation Administration (FAA) issued a groundbreaking restricted-category type certification to BHI H60 Helicopters, allowing ...

UH-60V Black Hawk

2017
2017
The UH-60V is an Army upgrade of the UH-60L with Northrop Grumman / Curtiss-Wright glass cockpit comparable to the UH-60M First announced in ...

S-70M Black Hawk

2018
2018
First announced in 2018 as the commercial name for the S-70i assembled in Poland for the international military market. The S-70M has a weapons ...

TAI T70

2018
2018
Turkish variant of the S-70i Black Hawk under the TUHP, Turkish Utility Helicopter Program. Sikorsky will deliver the first 5 kits for assembly ...

HH-60W Jolly Green II

2019
2019
The Combat Rescue Helicopter, CRH, is the new US Air Force Combat Search and Rescue (CSAR) helicopter to replace the HH-60G Pave Hawk in the pers ...