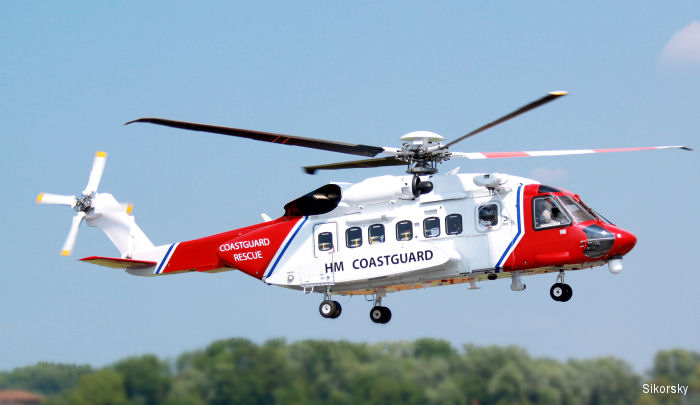 The S-92 is a twin-engine medium-lift helicopter for the civil and military helicopter market developed from the S-70 Black Hawk. The military version was marketed as the
H-92 Superhawk
. The naval variant
CH-148 Cyclone
was ordered by Canada.
The mockup was first unveiled in 1992 and the prototype first flew on December 23, 1998.
First deliveries of the S-92A production model took place in 2004 and Sikorsky rolls out their 200th S-92 on 2013.
The
S-92 GWE
(Gross Weight Expansion) with an extra 1200 lbs / 544 kgs of payload begun operations in October 2015.
In 2016, the global fleet of 275 helicopters, surpassed the one million flight hours.
In March 2019 was launched the second generation
S-72B
optimized for offshore missions.
Model
Year
History
S-92F
2001
Prototype military transport and civil freighter version of S-92 Superhawk, first flown 2001.

S-92A
2004
First production model

S-92A VVIP
2005
Head of State VIP version of S-92A. Several orders received and delivered. Submitted for competition for US VVX competion, but lost to EH-101 ( ...

CH-148 Cyclone
2008
Canadian Armed Forces shipboard helicopter to replace the Sea King

VH-92A
2014
US President VIP aircraft to be operated by HMX-1 from 2020. The basic S-92A from the production line at Sikorsky plant in Coatesville, Pennsy ...

S-92B
2019
First announced at Heli-Expo 2019, the second generation S-92 introduces CT7-8A6 engines, phase IV main gearbox. phase one MATRIX technology, ...