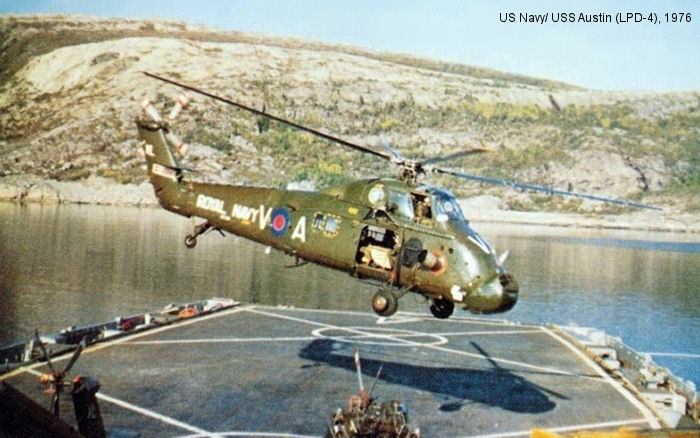 The Petters brothers began a small engineering company in Yeovil, Somerset in the early 1900s and it eventually grew into Westland Aircraft. Helicopter work had started as early as 1948, re-working and improving the Sikorsky S-51 design to produce the Dragonfly for the Royal Navy and the Royal Air Force, entering service in 1953. This same year saw the last fixed wing design (the Wyvern) and Westland had produced about 6000 aircraft before it decided to concentrate on excellence in rotary wing airframes.

A similar improvement approach produced the Whirlwind (from the
S-55
) and the Wessex (from the
S-58
), which was also re-engineered for gas turbine operations. Major rationalisation of the UK aircraft industry occurred during the 1960s. Westland acquired
Bristol Helicopters
, Fairey Aviation and
Saunders-Roe
to transform itself into Westland Helicopters with plants at Yeovil, Weston-super-Mare, Eastleigh and Hayes.

In July 2000, GKN and Finnemeccanica (of Italy) concluded a joint venture agreement and
AgustaWestland
came into being in 2001.

Collaboration with
Sikorsky
(a major shareholder) continued with the Sea King and new arrangements were made with
Aérospatiale
for the Puma, Gazelle and Lynx and their derivatives. The mid 1980s were a very difficult period. By the late 1980s an acrimonious political row, figure-headed by Michael Hesletine and Leon Brittain led Westland to adopt a more European focus and began collaboration with
Agusta
on the EH101 (to become the Merlin). By 1994, United Technologies (Sikorsky's parent company) sold its stock in Westland and this was snapped up by GKN as part of its take-over. GKN-Westland was born in 1995. The injection of capital helped secure the UK Apache production for the
British Army
.

List of Westland models
10-Dec-01 -

The Royal Danish Air Force orders 14 EH101 to replace the S-61 Sea King
More News ...