Westland WS-55 Whirlwind powered by Alvis Leonides Major engine and a 3 degree droop of the tail boom for increased main rotor clearance. 120 built for Royal Navy and some used as Commando transports for Royal Marines.

Early individuals of the HAS.7 were plagued by engine problems, principally with the centrifugal clutch mechanism of the Alvis Leonides Major Mk.155 engine. Failure rates became so high that the type was withdrawn from service for several months while intense work was put into solving the problem. In the meantime the type was grounded between Apr and Nov 1959 and some Units re-equipped with the older
HAR.3
until they could be replaced with rectified HAS.7s.

List of Operators of Whirlwind HAS.7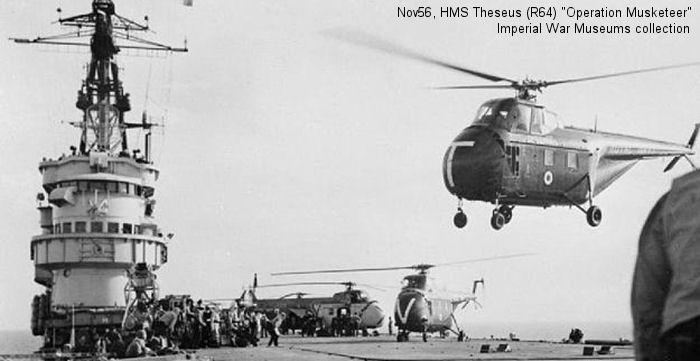 Global Distribution of Whirlwind HAS.7
C/N
Year
History
wa 84
1956
XG589
wa 85
1956
XG590
wa 86
1957
XG591
wa 87
1957
XG592
wa 88
1957
XG593
wa 89
1957
XG594
wa 90
1957
XG595
wa 91
1957
XG596
wa 92

scrapped 1994

1957
XG597
wa/h/167
1957
G-AYXT,XK940
wa153
1957
XK906
wa154
1957
XK907
wa155

w/o 1957

1957
XK908
wa156

w/o 1960

1957
XK909
wa157

w/o 1960

1957
XK910
wa158
1957
XK911
wa159
1957
XK912
wa160
1957
XK933
wa161

w/o 1958

1957
XK934
wa162

w/o 1962

1957
XK935
wa163
1957
XK936
wa164
1957
XK937
wa165

w/o 1960

1957
XK938
wa166

w/o 1963

1957
XK939
wa168

w/o 1959

1957
XK941
wa169

w/o 1960

1957
XK942
wa170

scrapped 1992

1957
XK943
wa171

scrapped 2002

1957
XK944
wa172

w/o 1959

1957
XK945
wa195

w/o 1958

1957
XL833
wa196

w/o 1958

1957
XL834
wa197

scrapped 1978

1957
XL835
wa198

scrapped 1993

1957
XL836
wa199

w/o 1959

1957
XL837
wa200

w/o 1958

1957
XL838
wa201

scrapped 1983

1957
XL839
wa202
1957
XL840
wa203
1957
XL841
wa204

w/o 1958

1957
XL842
wa205
1957
XL843
wa206

w/o 1964

1958
XL844
wa207

w/o 1964

1958
XL845
wa208

scrapped 1992

1958
XL846
wa209

scrapped 1998

1958
XL847
wa210

w/o 1958

1958
XL848
wa211

w/o 1960

1958
XL849
wa212

w/o 1960

1958
XL850
wa213

w/o 1960

1958
XL851
wa214

scrapped 1978

1958
XL852
wa215
1958
XL853
wa216

w/o 1961

1958
XL854
wa217

scrapped 1983

1958
XL867
wa218

w/o 1969

1958
XL868
wa219

w/o 1958

1958
XL869
wa220

w/o 1962

1958
XL870
wa221

w/o 1958

1958
XL871
wa222

w/o 1963

1958
XL872
wa223

w/o 1961

1958
XL873
wa224

scrapped 1981

1958
XL874
wa225
1958
XL875
wa226

w/o 1961

1958
XL876
wa227

w/o 1958

1958
XL877
wa228

w/o 1968

1958
XL878
wa229

w/o 1961

1958
XL879
wa230

scrapped 1996

1958
XL880
wa231

w/o 1969

1958
XL881
wa232

w/o 1966

1958
XL882
wa233
1958
XL883
wa234

w/o 1968

1958
XL884
wa235

w/o 1964

1958
XL896
wa236

w/o 1960

1958
XL897
wa237

scrapped 1992

1958
XL898
wa238

scrapped 1993

1958
XL899
wa239

w/o 1973

1958
XL900
wa251
1958
XM660
wa252

w/o 1960

1958
XM661
wa253
1958
XM662
wa254

w/o 1959

1958
XM663
wa255

w/o 1960

1958
XM664
wa256

w/o 1968

1958
XM665
wa257

w/o 1969

1959
XM666
wa258

w/o 1972

1959
XM667
wa259

w/o 1963

1959
XM668
wa260
1959
XM669
wa261

w/o 1961

1959
XM683
wa262
1959
XM684
wa263
1959
XM685
wa264

w/o 1966

1959
XM686
wa265

w/o 1968

1959
XM687
wa270
1959
XN258
wa271

w/o 1969

1959
XN259
wa272

w/o 1961

1959
XN260
wa273

scrapped 1985

1959
XN261
wa274

w/o 1964

1959
XN262
wa275

scrapped 2005

1959
XN263
wa276
1959
XN264
wa277
1959
XN297
wa278

scrapped 2011

1959
XN298
wa279
1959
XN299
wa280

w/o 1964

1959
XN300