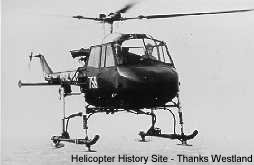 Development of the Westland Wasp / Scout family was the first general purpose light helicopter project that was completely British. Initiated by SARO in Nov 1957, the aim was to develop an improved airframe based on its earlier Skeeter helicopter, with a more modern design in general, but specifically for the powerplant. The result was the SARO P.531; two prototypes both powered by a 400shp Turbomeca Turmo 603 derated to 325 shp, had flown by Autumn 1958 from Eastleigh. Several Skeeter components were used in their construction, including the tailboom, short-legged undercarriage and rotor blades (the P.531 having a 4-blade assembly). In 1959, Westland acquired SARO (and Bristol Rotorcraft) and took development an important stage further by completing two more P.531/2 prototypes at Eastleigh with double the power and various other changes including a skid undercarriage. From these few airframes a successful and long-lived line of light helicopters was born.

The P.531 O/N version was also known by SARO as the H.AS/194D during its shipboard trials, which included suction-cup fittings to undercarriage legs from the flight deck of
HMS Undaunted
between 1959 and 1961 as part of the Westland
Wasp
HAS.1 development programme.

Model
Year
History
Westland Scout AH.1
1961
Westland Wasp
1962
Two seat (side by side), anti-submarine and anti-surface warfare helicopter. derived from the Saunders-Roe P531, after disappointing experience w ...
Pictorial
Built at Fairey (then Westland) factory at Hayes, Middlesex. Transported the 15 miles westward by road to White Waltham for first flight.
production wasps used the rolls-royce nimbus 503 engine.
Orginally designated Sea Scout, was known as Wasp HAS.1 in Royal Navy service. The f. in the c/n means that was built by Fairey.



List of Operators of Saunders Roe Saro P.531
| | |
| --- | --- |
| From | Organisation with model Saro P.531 |
| 1958 | |
| 1959 | |
| 1961 | |
Construction Numbers on database of Saro P.531 or its versions


C/N
Built as
Year
History
s2/5267
1958
G-APNU : P.531 O/N built at Eastleigh, ff 20 Jul 1958. 1st proto+
XN333 : d/d 20 Oct 1959 as 2nd trials airframe, bird strike 11 +
to Arbroath (A2519) by May 1962; Lee by Jan 1964; Middl+

s2/5268
1958
G-APNV : P.531-1 built at Eastleigh, ff 30 Sep 1958. 2nd prototy+
XN332 : dd into RN service 2 Oct 1959 as 1st trials airframe. S+
Moved to RNEC Manadon (HMS Thunderer) Plymouth as a gro+
To Yeovilton for preservation, still by Aug 1978, stil+
RNAY Wroughton for storage (by May 1990)
To Finningley for its 1991 Battle of Britain Airshow
Arrived FAA Museum (Yeovilton) 24 Sep 1991. Went elsew+

s2/5270
1958
XN334 : P.531 O/N built at Eastleigh, to UK Royal Navy for tria+


XN334

: Delivered into RN service 6 Oct 1959 as 3rd trials airf+
To AIU Lee-on-Solent; to Arbroath (A2525) by Sep 1962 s+
to Crawley Technical College by Mar 1990, still Jul 199+
Elsewhere ? Returned FAA Museum (Yeovilton) 22 Nov 1+

s2/5311
1959
G-APVL : P.531-2 as second tranche of prototype, with 1050shp Br+
XP166 : AAC Scout AH.1 prototype; 1960 reworked from P.531-2 to+
1968 Displayed at Farnborough Airshow
26feb75 damaged hit by flying wooden debris at Farnbor+
Aug 1975 noted on Farnborough dump; Recovered into stor+
G-APVL : Aug02-Aug10 2 private owners; pictured (pic1) at RNAS +
ZK-HJG : private at Wanaka, New Zealand from 17feb11; 13may11 ch+
pictured (pic2) at Wings Over Wanaka

s2/5312
1959
G-APVM : P.531-2 built at Eastleigh as second tranche of prototy+
ah.1 Converted to pre-production Scout AH.1 at Hayes in .
Westland Feb62-Oct68
XR493 : Reworked from P.531-2 to pre-production version Scout A+
Stored at Fleetlands by Jul 1974
from Fleetlands to Middle Wallop by Mar 1976
to AETW Middle Wallop by Sep 1979
8040M : preserved at Royal Air Force Oman Museum at Seeb

s2/8444
1961
XR436 : P.531-2 built at Hayes, for evaluation by Indian Govern+


XR436

: ah.1 Reworked from P.531-2 to pre-production version Scout A+

6 C/N.