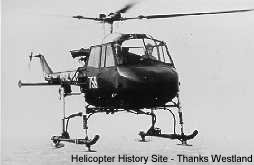 Development of the Westland Wasp / Scout family was the first general purpose light helicopter project that was completely British. Initiated by SARO in Nov 1957, the aim was to develop an improved airframe based on its earlier Skeeter helicopter, with a more modern design in general, but specifically for the powerplant.
The result was the SARO P.531; two prototypes both powered by a 400shp Turbomeca Turmo 603 derated to 325 shp, had flown by Autumn 1958 from Eastleigh, the first on 20 Jul. Several Skeeter components were used in their construction, including the tailboom, short-legged undercarriage and rotor blades (the P.531 having a 4-blade assembly).
In 1959, Westland acquired SARO (and Bristol Rotorcraft) and took development an important stage further by completing two more P.531/2 prototypes at Eastleigh with double the power and various other changes including a skid undercarriage. From these few airframes a successful and long-lived line of light helicopters was born.

The P.531 O/N version was also known by SARO as the H.AS/194D during its shipboard trials, which included suction-cup fittings to undercarriage legs from the flight deck of
HMS Undaunted
between 1959 and 1961 as part of the Westland
Wasp
HAS.1 development programme.

Model
Year
History
Westland Scout AH.1
1961
Westland Wasp
1962
Two seat (side by side), anti-submarine and anti-surface warfare helicopter. derived from the Saunders-Roe P531, after disappointing experience w ...
Pictorial
Built at Fairey (then Westland) factory at Hayes, Middlesex. Transported the 15 miles westward by road to White Waltham for first flight.
production wasps used the rolls-royce nimbus 503 engine.
Orginally designated Sea Scout, was known as Wasp HAS.1 in Royal Navy service. The f. in the c/n means that was built by Fairey.



List of Operators of Saunders Roe Saro P.531
| | |
| --- | --- |
| From | Organisation with model Saro P.531 |
| 1958 | |
| 1959 | |
| 1961 | |
Construction Numbers on database of Saro P.531 or its versions





6 C/N.