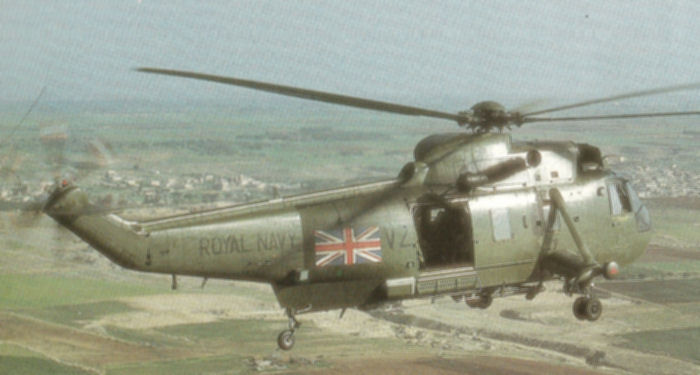 The Admiralty was not satisfied with arrangements for British anti-submarine warfare in the mid 1960s. The
Wessex HAS.3
was useful for hunting and finding submaines, but lacked the power to lift or capacity to deliver missiles or depth charges to engage with them. The latter role was that of the
Wasp HAS.1
, which whilst it could deliver the punch, could not also carry the equipment or have the endurance to find them. Thus two airframes, operating as a relay team were required to do the job.
The
US Navy HSS-2 (SH-3A)
provided this capability and would fit into hangars on board the 2 existing Tiger Class helicopter cruisers
HMS Blake (C99)
and
HMS Tiger (C24)
. In 1967, Westland obtained a licence to build a version of the HSS-2 in the UK with all British avionics, including the proven Ekco radar/ Type 195 sonar combination from the Wessex HAS.3 and replacing the US engines with twin Gnome H1400s.
An initial order for 60 Sea King HAS.1s was placed for the RN on 27 Jun 1966 and the first UK built machine flew on 7 May 1969 from Yeovil.

At least 7 main versions of the Sea King developed for the UK armed forces, plus a further 7 near derivatives for export and 3 versions in the
Commando
tactical assault (and VIP transport) role.

Also export versions for at least Australia, Belgium, Egypt, Germany, India, Norway, Pakistan and Qatar.

Derivatives & Versions of Sea King
Model
Year
History
Sea King HAS.1

1969
1969
First anti-submarine version for the Royal Navy. 56 built. Survivors upgraded as HAS.2A, HAS/HAR/HU.5,6,7 and AEWs

Sea King Mk.41

1969
1969
In 1969 Germany ordered 22 Sea Kings to replace H-34G and SH-34J Helicopters. The Mk 41s built for Germany were equipped with much the same navig ...

Sea King Mk.42

1970
1970
Anti-submarine warfare version of the Sea King HAS.Mk 1 for the Indian Navy

Sea King Mk.43

1972
1972
SAR variant similar to Mk.41 for Royal Norwegian Air Force on behalf of Norwegian Coast Guard.

Commando

1973
1973
Tactical assault derivative developed from the Sea King HAS.1, with all the AS gear removed (including the radome aft of the main rotor) fixed un ...
The Commando Mk.2 first flew January 16, 1975 (as G-17-12), was developed from the Sea King HAS.2, but with Anti-Submarine gear and sponsons remo ...

Sea King HAS.2

1974
1974
Improved anti-submarine version for the Royal Navy. Many upgraded from HAS.1 standard. Survivors upgraded as HAS.2A, HAS/HAR/HU.5,6,7 and AEW/ASA ...

Sea King Mk.45

1974
1974
Sea King HAS.Mk 1 variant for the Pakistan Navy. 6 built

Sea King Mk.50

1974
1974
Anti-submarine warfare version of the Sea King HAS.2 for the Australian Navy.

Sea King Mk.47

1975
1975
Anti-submarine warfare version of the Sea King HAS.Mk 1 for the Egyptian Navy, 6 built; one w/o in service; five returned to Westlands and curren ...

Sea King Mk.48

1976
1976
Search and rescue version for the Belgian Air Force. 5 built
When the UK cancelled an Eqyptian order for Sea Kings, 5 were available for Belgium to snap up, to replace its ageing S-58 / HSS-1 SAR fleet.

Sea King HAS.2A

1977
1977
Surviving 48x Sea King HAS.1 modified to HAS.2A standard (very close to new build HAS.2 with improved Gnome H.1400-1 engines, increased fuel capa ...

Sea King HAR.3

1978
1978
RAF search and rescue version

Sea King HC.4

1978
1978
Sea King HAS.5

1979
1979
Third anti-submarine warfare version production model for the Royal Navy with MEL Super Searcher radar in enlarged dorsal radome, new AQS902 acou ...

Sea King Mk.42A

1979
1979
Anti-submarine warfare version of the Sea King HAS.Mk 2 for the Indian Navy

Sea King Mk.43A

1979
1979
Sea King AEW.2

1982
1982
Airborne Early Warning variant rapidly brought into service during the Falklands/Malvinas conflict. The platform offered tactical control to the ...

Sea King Mk.50A

1982
1982
Sea King HAR.3A

1984
1984
Improved RAF search and rescue version, based on the HAR.3 but essentially a different aircraft to fly.

Sea King Mk.42B

1985
1985
Anti-ship warfare version for the Indian Navy

Sea King Mk.42C

1986
1986
Assault, Search and rescue and utility transport version for the Indian Navy

Sea King HU.5

1987
1987
Before the Royal Navy phased the Wessex out of SAR service, work began to identify Sea King HAS.5 airframes which would not be needed for the HAS ...

Sea King HAS.6

1990
1990
5 built of this type
more than 50 upgraded from other types

Sea King Mk.43B

1990
1990
Sea King Mk.45A

1995
1995
AW Sea King

2001
2001