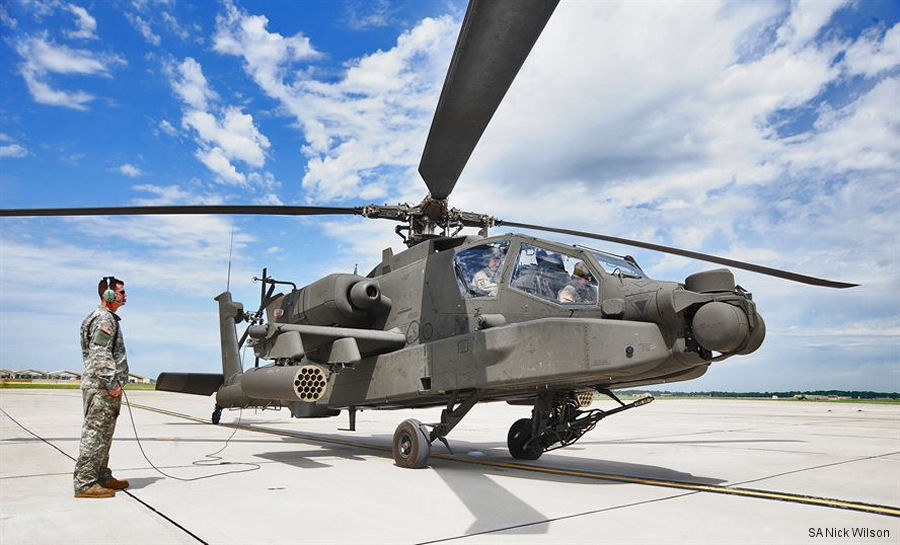 4 prototype AH-64D Longbow Apaches built in 1992/93, first flew 15 Apr 1992. Updated and improved AH-64 Apache for similar mission, with the Longbow attack radar added on top of the rotorhead (increasing its maximum height off the ground to 4.95m from 4.22m of the AH-64A) and improved twin General Electric T700-GE-701C turboshaft engines. US AH-64Ds have either been built new or are AH-64As reworked in an extensive conversion programme due (2003) to complete in 2010. Ordered by armed forces of Netherlands and in Jul 1995 British Government ordered 67 to be assembled by
Westland
(qv).

Boeing has a diverse supplier base, including taking fuselages for Block III AH-64D Apaches from
Korea Aersopace Industries
.

Model
Year
History
Westland WAH-64 Apache
1998
Licence-built version of the AH-64D Apache Longbow for the British Army. Selected in July 1995, contract for 67 helicopters signed in 1996 with t ...

Fuji AH-64DJP Apache
2006
AH-64E Apache
2011
The Block III Apache features a 701D engine, composite rotor blades, improved networking and communications avionics, and an Improved Drive Syst ...