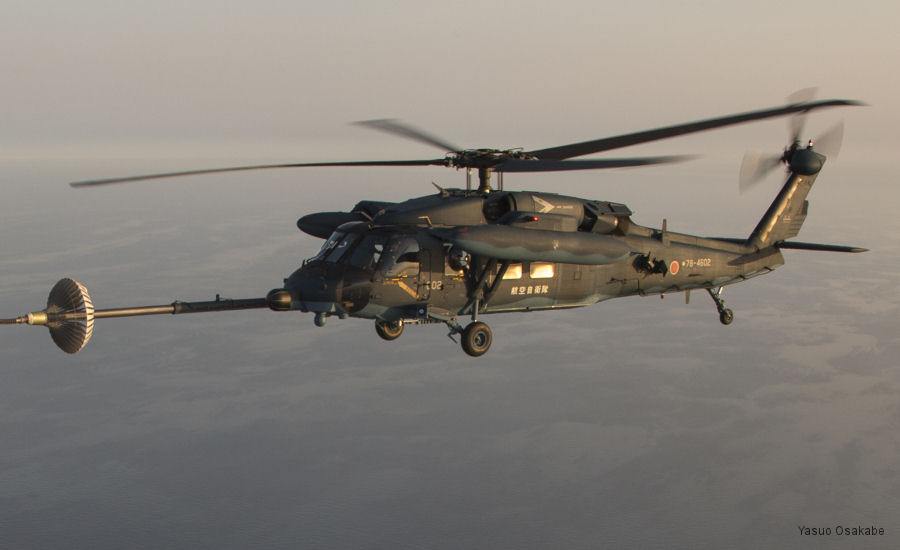 USAF MC-130 Refuels Japan UH-60J, 27-Jun-17 :

USAF 353rd Special Operations Group (SOG) from Kadena Air Base, Japan completed Exercise Teak Jet with Japan Air Self-Defense Force (JASDF) Hamamatsu rescue squadron UH-60J
Model
Year
History
SH-60J Seahawk
1991
Mitsubishi received two SH-60J from Sikorsky in knock-down form and built 101 under license for a total of 103 airframes. Roughly equivalent to ...

SH-60K Seahawk
1997
Mitsubishi developed improved SH-60J for JMSDF. 31 deliveries to date and still in production.

UH-60J
2005
SAR version of SH-60J for JMSDF for operation by 72 & 73 Kokutai, 19 built. Additional 40 SAR version built for JASDF Rescue Squadrons to replac ...

UH-60JA
2005
Mitsubishi license production of Sikorsky UH-60L for JGSDF. 29 deliveries to date and still in production.

List of Operators of Mitsubishi S-70
| | |
| --- | --- |
| From | Organisation with model S-70 |
| 1991 | |
| 2005 | |
Construction Numbers on database of S-70 or its versions