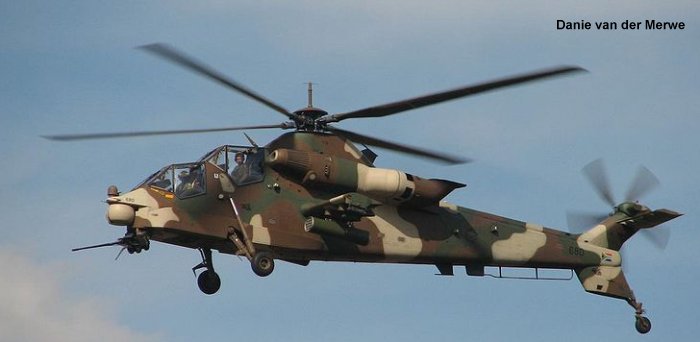 Twelve aircraft started to been delivered from 1999. One lost by hard landing in 2005
Eleven aircraft were upgraded to the Block 1F upgraded Rooivalk standard from 2011.
In 2013, three of them have been deployed with the United Nations Organization Stabilization Mission in the Democratic Republic of the Congo (
MONUSCO
) where they saw their first combat actions.
Two more upgraded Rooivalk delivered to SAAF, 14-Jun-12 : Two more Rooivalk helicopters have recently been handed over to the South African Air Force (SAAF). This brings the total of upgraded combat support helicopters that can be operationally deployed to eight – with the final three to be ready in the coming months.
C/N
Mod
Built
ID In this Org
In other Org


1001
670: SAAF 16 sqd d/d jan99

1002
671: SAAF

EDM-001
672: SAAF 1999

ADM-001
672: SAAF Experimental Development Model (EDM)

1003
673: SAAF

1004
674: SAAF

1005
675: SAAF; 10nov07 pictured at Overberg airbase, South Africa

1006
676: SAAF

1007
677: SAAF

1008
678: SAAF 16Sqn 2001

1009
679: SAAF 16Sqn; w/o 03aug05

1010
680: SAAF 16Sqn 2003; 2014 white UN livery

1011
681: SAAF 16Sqn 2003

1012
682: SAAF

ADM-001
683: 2012 preserved at SAAF museum
ZU-AHC: Atlas CSH-2 ADM-001; 13may94 pictured at Middle Wallop Inter+