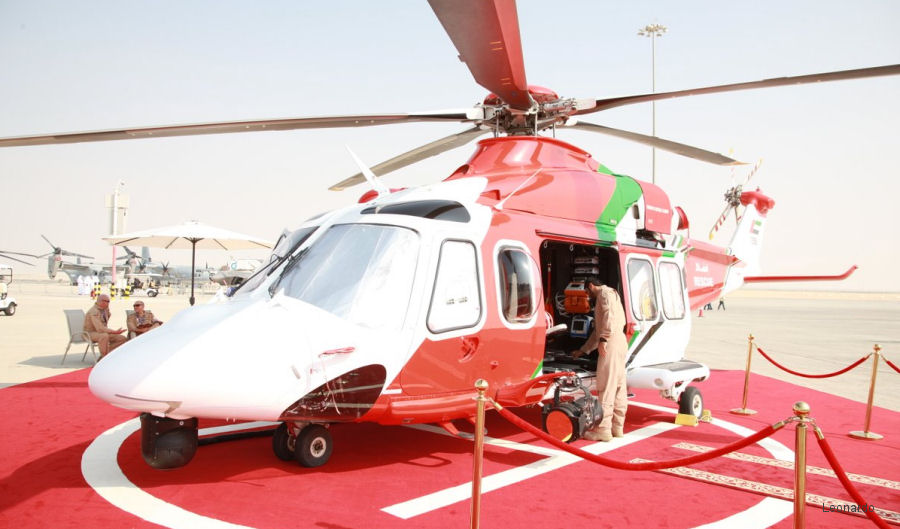 Used for VIP transport and by the Joint Aviation Command (JAC) for Search and Rescue (SAR).
Two earlier airframes are
AB139
and are listed separately.
Abu Dhabi Aviation
operates some SAR AW139 for the armed forces.
VIDEO
: On December 29, 2018 one of the SAR helicopters crashed in Ras Al Khaimah, killing the crew of four, after allegedly hitting a 2.8km zip line cable
---
AW139s Tail Numbers:- 350, 351, 352, 353(VIP) 354, 355, 356, 357. All except 353 used for Military SAR. Based at OMAD (Bateen) UAE.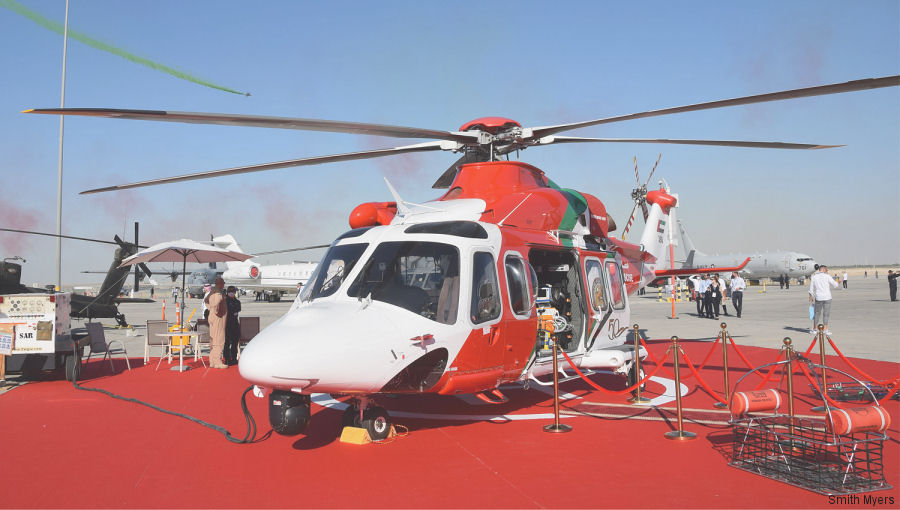 22-Nov-22 -

United Arab Emirates (UAE) National Search and Rescue Centre (NSRC) selected the Smith Myers Artemis mobile phone detection, location and communication system for its SAR helicopter fleet

#SmithMyers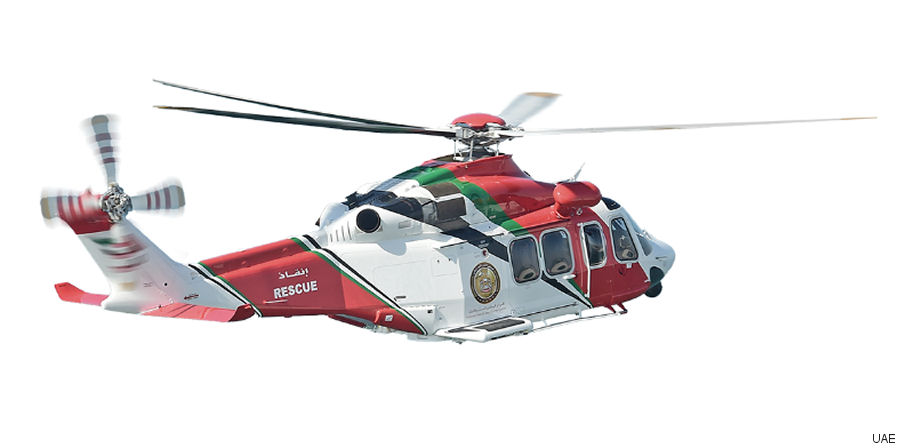 18-Nov-22 -

United Arab Emirates (UAE) selected Vita Aerospace Rescue System for its National Search and Rescue Center (NSRC) helicopter fleet
26-Feb-15 -

AgustaWestland announced during IDEX 2015 the delivery of the next batch of three SAR AW139 to the Joint Aviation Command of the United Arab Emirates (JAC).
| | C/N | Mod | Built | ID In this Org | In other Org |
| --- | --- | --- | --- | --- | --- |
| | 31577 | | | UAE air force from , test serial I-RAIO | |
| | 31580 | | | UAE air force from Jan15 | |
| | 31603 | | | UAE air force from Jun15 | |
| | 31213 | | | 2007 UAEAF VIP from Oct08 | |
| | 31215 | | | 2008 UAEAF VIP from Oct08 | I-EASD: AgustaWestland, to UAE |
| | 31253 | | | 2009 UAEAF VIP from Sep09 | |
| | 31256 | | | 2010 UAEAF VIP from Sep09 | |
| | 31286 | | | 2011 UAEAF VIP from Mar10 | |
| | 31299 | | | 2012 UAEAF VIP from Aug10 | |
| | 31302 | | | 2013 UAEAF VIP from Oct10 | |
| | | | | 2014 UAEAF VIP ? op by Dubai Air Wing | |
| | 31585 | | | 2018 UAEAF VIP from Dec14 | I-PTFT: AgustaWestland Italy, Dec14; due for delivery to UAE A... |
| | 31593 | | | 2019 UAEAF VIP Jun15 | |
| | 31056 | | | 350 UAEAF d/d Dec06 | |
| | 31064 | | | 351 UAEAF d/d Dec06 | |
| | 31075 | | | 352 UAEAF d/d May07 | |
| | 31080 | | | 353 UAEAF d/d 2007 | |
| | 31085 | | | 354 UAEAF d/d 2007 | |
| | 31088 | | | 355 UAEAF d/d 2007 | |
| | 31093 | | | 356 UAEAF d/d 2007 | |
| | 31098 | | | 357 UAEAF d/d Aug07 | |
| | 31568 | | | 358 UAE air force from , test serial I-RAIN | |
| | 31596 | | | 360 UAE air force from Nov15, white/red rescue camo | |
| | 31599 | | | 361 UAE air force from Jun15, test serial I-EASS, olive drab camo | |
| | 31600 | | | 362 UAE air force from Jun15, olive drab camo | |