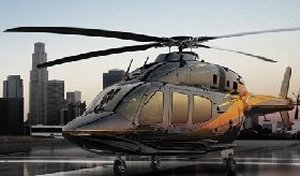 Bell Helicopter, November 09, 2005 - ORLANDO, FL, USA - The worldwide helicopter industry is anxiously awaiting first flight of the Bell 429 by Bell Helicopter, a Textron Inc. company. Word of this versatile, powerful new light twin helicopter is on the street, and the industry is buzzing. With 136 orders for the Bell 429 on the books, Bill Stromberg, Executive Director of Commercial Program Management and program manager for Bell's 429, reports that the helicopter is meeting all performance, weight, and schedule commitments

"With this helicopter, we really listened to what the customer wanted and needed in a light twin helicopter, and the customers have responded favorably" Stromberg said. "The voice of the customer is reflected in every aspect of this aircraft from increased safety, reliability and payload capabilities to state-of-the-art glass cockpit, mission flexibility and a large, open cabin capable of easier loading and unloading of passengers or patients."

The Bell 429 offers the volume of an intermediate sized aircraft with the operating costs of the light twin. It has several industry leading characteristics designed to satisfy our customers needs including:


Wide, unobstructed, best in class cabin volume—200 cu ft

Flat, open cabin to optimize mission flexibility

Seating for 7 passengers plus1 pilot—allowing for a wide variety of applications

Integrated sliding doors and optional clamshell doors for EMS operations

SPIFR/Cat A/Optional NVG configuration (will require USG export license)

Program development is proceeding on schedule with TCA and FAA certification expected to be in the 3rd quarter of 2007. Modified 427 Prototypes are flying various 429 components with first flight of the 429 airframe scheduled for the 3rd quarter of 2006.

Bell has successfully completed concept demonstration tests, wind tunnel tests and inlet and exhaust testing. Detail design is near completion and parts and tooling are being built to construct the first prototype.

Preliminary information indicates the following flight performance characteristics


Range—350 nm / Endurance—3.8 hours

HOGE—9,300 ft.

Empty Weight—4,300 lb / Useful Load—2,700 lb

The following kits are among a long list of optional equipment that are expected to be offered in the 429


Cargo Hook Capacity—3,000 lb

600 lb retractable hoist, outside skids

2-patient capability with both attendants at patients head

High and low skid gear

Optional retractable-wheeled landing gear

Tail rotor guard

High density seating (9 plus one pilot)


Bell Helicopter is a leading producer of commercial and military helicopters and the pioneer of the revolutionary tilt rotor aircraft. Globally recognized for customer service, innovation and superior quality, Bell's global workforce of over 8,000 employees serves customers flying Bell aircraft in over 120 countries.

Textron Inc. is a $10 billion multi-industry company with 44,000 employees in 40 countries. The company leverages its global network of aircraft, industrial and finance businesses to provide customers with innovative solutions and services. Textron is known around the world for its powerful brands such as Bell Helicopter, Cessna Aircraft, Jacobsen, Kautex, Lycoming, E-Z-GO and Greenlee, among others.
Bell 429