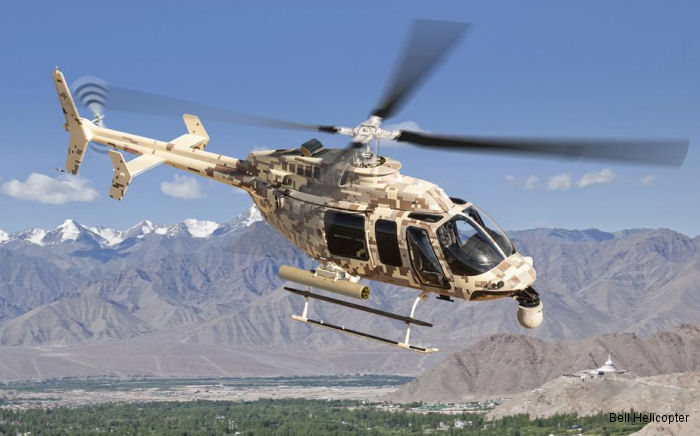 Bell Helicopter, February 11, 2015
- NEW DELHI, INDIA – Bell Helicopter,Textron Aviation Inc.,and Textron Systems, all businesses of Textron Inc., announced today their joint presence during Aero India 2015, February 18-22, at Air Force Station Yelahanka, Bengaluru.
"Our strong showing at Aero India is evidence of Textron's commitment to forge strategic relationships for coproduction and development in India," said Inderjit Sial, president and managing director of Textron India Private Ltd. "Textron's multi-industry approach and investment in research and technological advancements deem us a partner of choice. We are trusted by our customers, and we are here to help fulfill India's defense and aerospace requirements."
Subject matter experts will be available to discuss a broad range of aerospace and defense capabilities available at the Textron stand in Hall E (E3.7).
Bell Helicopter
Bell Helicopter will emphasize its latest military and commercial rotorcraft offerings.
The state-of-the-art
Bell 407GT
tactical light commercial helicopter is an ideal aircraft for armed reconnaissance surveillance, bringing together the Garmin G1000H™ flight deck with precision weapons capability. The aircraft offers a highly flexible and configurable modern weapons system to meet various mission and operational needs with the capacity to carry personnel inside a closed cabin.
The unarmed version of the aircraft, the Bell 407GT, will be on static display during show hours.
Bell Helicopter and Textron Systems recently announced an agreement establishing Dynamatic Technologies Limited of Bangalore as a single source supplier of major airframe assemblies for the
Bell 407GX
and 407GT over the next seven years. Both companies remain engaged in identifying additional business opportunities to further build on Dynamatic's Premier supplier capabilities as Bell Helicopter looks to invest and expand operations and product offerings in India.
Textron Systems
Textron Systems will have a selection of proven military and security solutions, including precision weapons, protection systems and unmanned aircraft systems.
In the area of weapon systems Textron Systems will exhibit its Sensor Fuzed Weapon (SFW™), a highly effective air-delivered area weapon – in the inventory of the Indian Air Force – designed to defeat an array of moving and fixed targets on land, at sea and in littoral environments, along with its advanced new G-CLAW™and Fury™ precision guided weapon systems. Also on display will be several protection systems: the Spider™ man-in-the-loop system consisting of sensors, communications and munitions; the Scorpion™ networked munitions system; and the flexible, easy to use MicroObserver® Unattended Ground Sensor system. In the area of unmanned systems Textron Systems will present the Shadow® Tactical Unmanned Aircraft System, utilized by the U.S. Army and Marine Corps ahttp://www.textronsystems.com/products/weapon-sensor/scorpionnd the militaries of Australia, Italy and Sweden, and the expeditionary Aerosonde® Small Unmanned Aircraft System, which offers proven multi-mission performance in both military and commercial land-and-sea based applications.
Location :

Yelahanka AFS

Bell Helicopter India
Bell 407GT
Bell 407GX Major Airframe Assemblies from India