Oregon Air Ambulance Returned from Middle East


Oregon Army National Guard Company G, 1-189th AVN returned from Middle East deployment. Operating 15 HH-60M from 6 locations in Syria, Iraq, Jordan and Kuwait completed over 180 combat medevac missions

US Army, April 03, 2018 - SALEM, OR Sgt 1st Class April Davis - The Oregon Army National Guard's aeromedical helicopter unit was welcomed home in a demobilization ceremony, March 4, 2018, at the Army Aviation Support Facility, in Salem, Oregon.

Nearly 70 Soldiers with Company G (Golf), 1st Battalion, 189th Aviation Regiment, returned from a deployment to the Middle East in support of Operation Inherent Resolve.

The unit conducted 24/7 medical evacuation (medevac) using HH-60M Black Hawk helicopters, providing critical lifesaving care to coalition forces supporting the fight to defeat ISIS in the Middle East.

In attendance at the ceremony to welcome the Soldiers home was Oregon Senator James Manning (SD-7, Eugene), on behalf of Governor Kate Brown; Oregon Representatives Rick Lewis (HD-18, Silverton), Mark Meek (HD-40, Oregon City), Ron Noble (HD-24, McMinnville); Sheronne Blasi, Acting Director of Statewide Veterans Services, ODVA; Maj. Gen. Michael Stencel, Adjutant General, Oregon; Brig. Gen. William Edwards, Land Component Commander; among other community and military leaders.

"Oregon has a lot to be thankful for and should be proud of each and every individual that was deployed," said Oregon Army National Guard Maj. Brady Phillips, company commander, G Company, 1-189th Aviation.

Oregon's G Company deployed an Area Support Medevac Platoon (ASMP), two Forward Support Medevac Platoons (FSMP) and nine Black Hawk helicopters.

The company was augmented by an FSMP from the Montana Army National Guard's C Company, 1-189th Aviation, and an FSMP from the Massachusetts Army National Guard's C Company, 3rd Battalion, 126th Aviation Regiment. These units combined to make up one medevac company under 2nd General Support Aviation Battalion (GSAB), 149th Aviation Regiment, from the Texas Army National Guard.

In total, G Company employed more than 100 Soldiers to operate 15 Black Hawk helicopters across six different locations spread throughout Syria, Iraq, Jordan and Kuwait.

"It was a unique deployment in the fact that we were operating at six different locations as a unit that is designed to be at four," said Phillips.

The unit flew more than 2,300 combat hours while executing more than 180 combat medevac missions, transporting more than 200 patients.

"Our flight hours were not as high as they have been on past deployments, however the missions were dynamic due to the length of flights we had to go on and the seriousness of the injuries for the people we treated," said Phillips.

Phillips said being National Guardsmen was advantageous to the unit's mission, as many of the flight medics have civilian careers as paramedics, nurses and other lifesaving experience that increased the survivability of their patients. Civilian-acquired skills also enabled their success while operating in remote locations.

"The key challenge was having to be self-reliant for a lot of the support functions, so when you weren't flying or performing medevac duties, you were teaming up to help make the overall camp work," said Phillips. "Our people were not only fliers, medics and maintainers, but also had other skills they put to use, such as IT, carpenter or electrician skills. They helped with setting up communications networks, building living quarters, running wire, or serving chow and helping out in the kitchen. It made the deployment go by really fast."

Meanwhile, another unique aspect of this deployment was happening on the home front as four Soldiers anxiously anticipated the arrival of their newborn babies back in Oregon. Chief Warrant Officer-2 Steven Huson's fifth child and Sgt. Peter Buffa's second child were born, and Chief Warrant Officer-2 Logan Bass and 1st Lt. David Sous became first-time fathers during the deployment.

Huson, a maintenance test pilot with G Company, already knew what to expect for both the deployment and the birth of his daughter, eight-month-old Eden Joy. This was the third deployment for the father of five (four girls and a boy) and his wife, Heather. He previously deployed to Iraq in 2003 as an engineer and to Kosovo with this medevac unit. He was able to come home for Eden's birth and spent a short visit with his family before heading back overseas for the duration of the deployment.

"It was a lot of work for my wife because she homeschools our kids, but we have pretty awesome kids who help her out a lot," said Huson. "Lots of prayer and open communication helped us get through it. And lots of grace."

Huson said the reason he stays in the Guard and continues to deploy is because he believes in the medevac mission.

"There's nothing better than to be able to save lives and help people out," Huson said.

Bass, a pilot with G Company, 1-189th Aviation, deployed when his wife, Carolyn, was three-months pregnant. He was unable to make it home in time for the birth because his daughter, Veda, came three weeks early with an emergency C-section.

"It's definitely something I wish he could've been there for, but I understand what he was doing over there," said Carolyn. "I was really lucky to have strong family support here at home to help me through it."

Bass was able to come home five days later to join his wife for a visit while Veda was still in the neonatal intensive care unit (NICU). Carolyn and now seven-month-old Veda are both healthy.

"It was pretty difficult, we had our series of challenges in the beginning," said Carolyn. "Logan's strength helped me get through it. His presence alone was enough. He kept up his strength for all of us, not just his family but also for his unit. I'm so proud of him. I feel lucky to have him."

Sous and his wife, Shelby, had a parallel experience to the Bass family, with the birth of their son, Isaac, two months later. Shelby was on bed rest and was admitted to the hospital several times before Isaac's birthday came. She gave Sous the play-by-play through messages and phone calls, struggling to find the right words so he could concentrate on his job and wouldn't worry too much.

"I knew that, no matter what, the baby and I would be taken care of and we would be fine," said Shelby. "It was harder for me thinking about him missing it and how sad that would be. And we didn't know the gender yet, so I wanted him to be there to announce if it was a boy or girl."

Sous was able to make it home in time – just barely. Isaac was seven weeks early, so the timeline they planned for his trip home had to change in the last minute.

"It was a rush to get back home, it was a little scary," Sous said. "It was a long two days of traveling because all I could think about was that I wanted to be there."

After a few weeks in the NICU, now five-month-old Isaac and mom, Shelby, are both healthy.

"It was hard doing it by myself for a couple months, but I would've much rather been in my position than his," she said.

Golf Company, 1-189th Aviation, has a long tradition of answering the call to duty for both state and federal missions. The unit conducts medical evacuations, search and rescues, as well as wild land fire suppression operations throughout the state of Oregon. This was the sixth deployment of the Oregon Army National Guard's medevac unit since 2002, and was the first deployment of G Company, 1st Battalion 189th Aviation since it re-flagged and changed it's name in September 2016. The unit has previously deployed to Bosnia for Operation Joint Forge 7, three times to the Middle East in support of Operation Enduring Freedom and Operation New Dawn, to Iraq during Operation Iraqi Freedom, and to Kosovo in support of Operation Joint Guardian.

Another platoon from this unit with Detachment 3, Golf Company, 1-189th Aviation, deployed in September 2017 for another one-year deployment to the Middle East.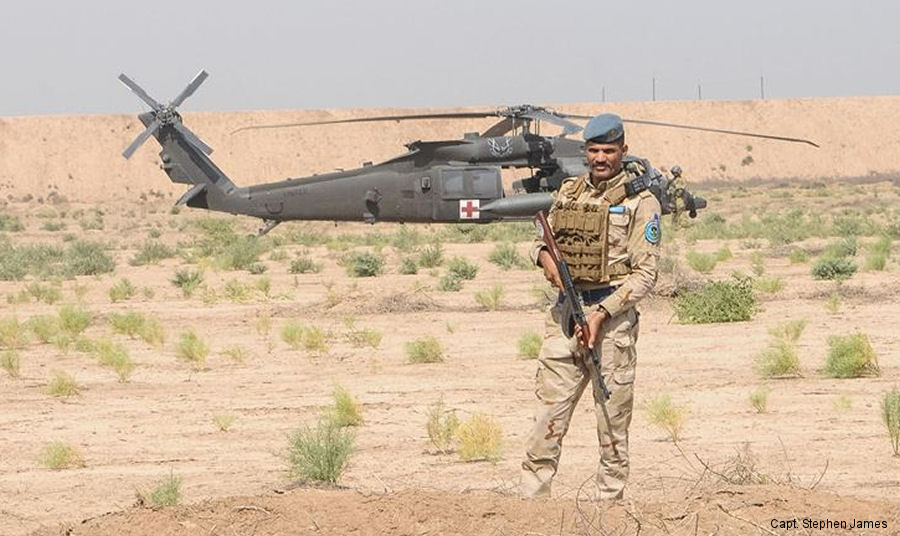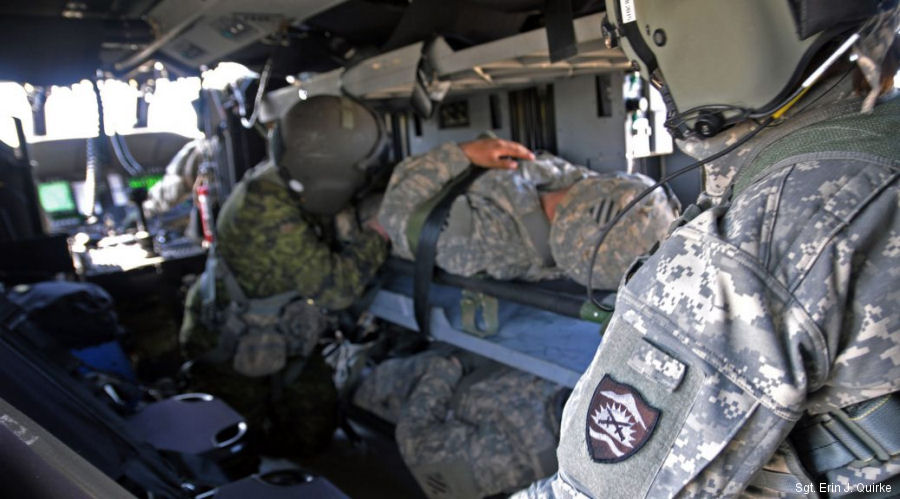 This article is listed in :


Oregon National Guard
US Army Aviation
Sikorsky HH-60M Black Hawk
Black Hawk in

US Army Aviation

McNary ARNG Field Heliport