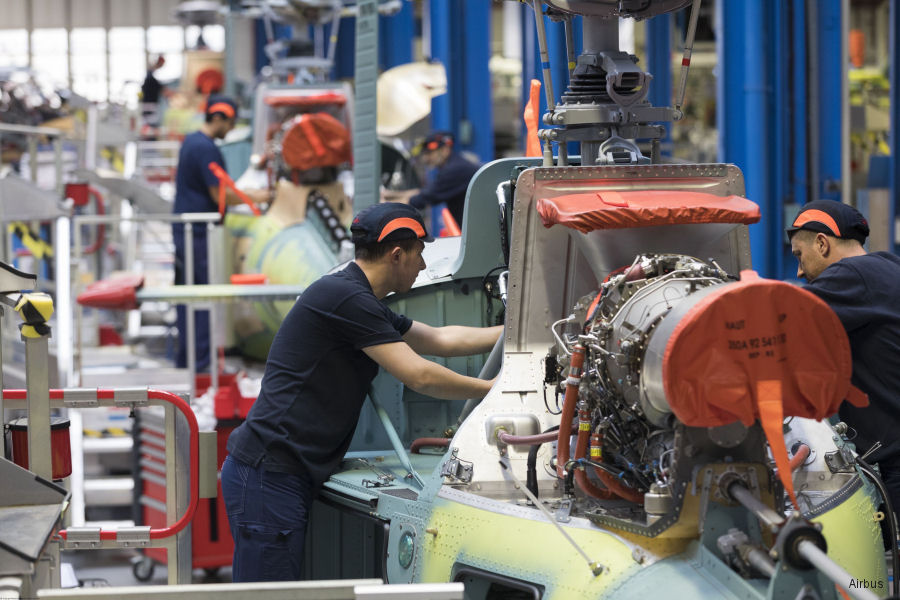 Airbus Helicopters, February 05, 2018
- Marignane - The European Aviation Safety Agency (EASA) and Airbus Helicopters have just implemented a new single Production Organisation Approval (POA).
This replaces previous national approvals from France, Germany and Spain by a single, integrated framework allowing for simplified industrial exchanges between Airbus Helicopters' manufacturing facilities and supporting the company's industrial strategy of site specialisation across Europe.
"The implementation of the single POA allows us to work as a truly integrated company, and ensures that our various sites are no longer considered as each other's suppliers from a regulatory perspective", said Christian Cornille, Airbus Helicopters Executive Vice-President Industry. "I would like to congratulate our teams and thank EASA for their support in achieving this milestone which will streamline certification processes associated to our manufacturing activities, create synergies and improve our competitiveness."
Production Procedures Across Various Countries

"A Single POA is of great value for Airbus Helicopters as it ensures continuity of its production procedures across its various European production sites and according to Europe's highest safety standards" said Ralf Erckmann EASA's deputy Flight Standards Director. "It is also a proof that EASA and the European National Aviation Authorities work hand in hand for the benefit of the European aviation industry and its customers."

Since June 2016, Airbus Helicopters is also operating under a single Design Organisation Approval (DOA) from EASA which has simplified and harmonized development processes and facilitated the implementation of an increased transnational approach to certification, including through the establishment of a unified airworthiness office within Airbus Helicopters.

About Airbus: Airbus is a global leader in aeronautics, space and related services. In 2016 it generated revenues of €67 billion and employed a workforce of around 134,000. Airbus offers the most comprehensive range of passenger airliners from 100 to more than 600 seats and business aviation products. Airbus is also a European leader providing tanker, combat, transport and mission aircraft, as well as one of the world's leading space companies. In helicopters, Airbus provides the most efficient civil and military rotorcraft solutions worldwide.
Airbus

Airbus Helicopters France

Airbus Helicopters Deutschland GmbH
Airbus Helicopters Germany

Airbus Helicopters España
Airbus Helicopters Spain
EASA
European Commission