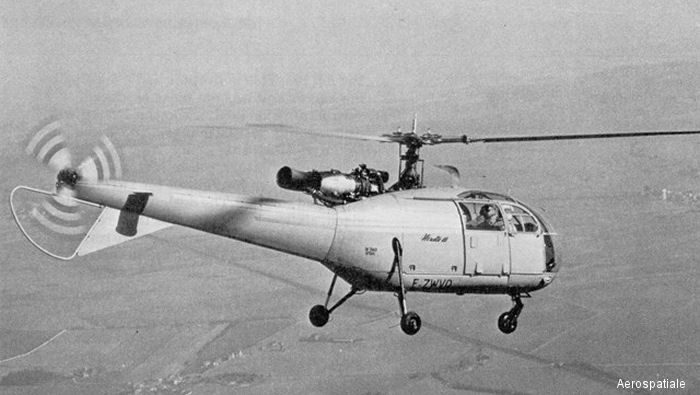 Aerospatiale, March 01, 1999 - Marignane, France - It was on February 28,1959 at Marignane, at the Sud-Aviation plant now known as Eurocopter, that the SA316B 'Alouette 3' made its maiden flight with Jean Boulet at the controls, assisted by Robert Malus.

A mythical machine, the Alouette 3 was following on the heels of the no less famous Alouette 2, the first turbine-powered helicopter in the world to go into production.

Boasting a wide cabin with 7 seats, the Alouette 3 was to reign supreme and unrivaled in its own market niche. Its novelty resided in the use of a Turbomeca Artouste 3 gas turbine that was greatly derated, i.e. that was utilized well below its nominal rated power of 880hp. Intended for high-altitude flight, it retained its full performance up to an altitude of 5000 meters and soon came to be called the 'St.Bernard of the air'. Its cabin was ideally suited to rescue and flying-ambulance operations. Later, under the designation SA319B, it was equipped with the Astazou 3, a less fuel-thirsty engine of identical power.

The Alouette 3, production of which ended at Marignane in 1979, was to have 1437 units built, to which must be added nearly 500 built under licence in India and Romania. Seemingly blessed with eternal youth — 893 are still flying — the Alouette 3 will have left an indelible mark on the extraordinary history of the helicopter.

No fewer than 142 customers in 60 different countries have placed, or continue to place, confidence in it. To date, Alouette 3s around the world have logged a total of more than 7 million flight hours.
Location :

Marseille Marignane
Aerospatiale Alouette III