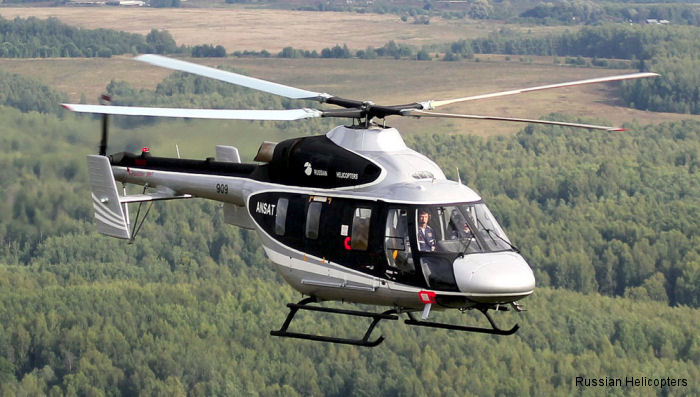 Russian Helicopters, May 22, 2015 - Moscow - Russian Helicopters (part of State Corporation Rostec) has signed two contracts to supply the modernised light Ansat passenger helicopter manufactured by Kazan Helicopters.

Under the agreements, signed at HeliRussia 2015, the first customers for five of the new aircraft will be Tatarstan-based Tulpar Helicopters and Vector Aviation Company.

"The niche for Russian-built light commercial helicopters was long the preserve of the Soviet Mi-2. Now Russian Helicopters has built the unique modern Ansat, which has numerous competitive advantages over other helicopters its class," Russian Helicopters CEO Alexander Mikheev said. "We are pleased that the Ansat has found its first customers, and look forward to expanding our order book for this helicopter with orders from foreign helicopter operators."

Tulpar Helicopters will receive three Ansats, with another two aircraft ordered by Vector Aviation Company. Both clients provide services including commercial helicopter and aeroplane flights, service and engineering support for aircraft, helicopter sales and leasing, operational support, design and production of VIP interiors and supplying aviation equipment.

The modernised Ansat is reliable and simple to operate, can operate in various climates and is suitable for outdoors storage. In December 2014 the Ansat with hydromechanical controls received additional type certification from the Interstate Aviation Committee's Aviation Register (IAC AR), allowing it to make commercial passenger flights.

Russian Helicopters has already presented the new Ansat to its traditional markets including countries across the CIS, South-East Asia, Africa and Latin America.

Kazan Helicopters produces the Mi-8/17 series of helicopters, in use in more than 100 countries around the world. The plant produces numerous modifications of these helicopters including for transportation, passenger, search-and-rescue, amphibious transport and many other uses. The Mi-38 is being readied for production. Since 1997 Kazan Helicopters has been a certified helicopter developer. Today the light twin-engined Ansat is in serial production.
Ansat in

Russian Helicopters

Kazan Helicopters
Russian Helicopters