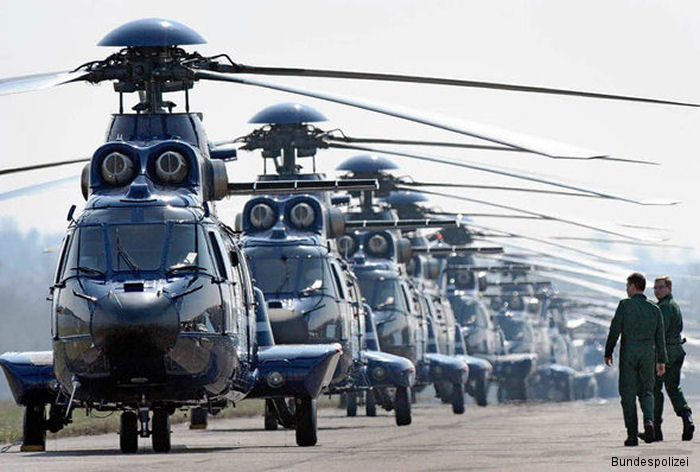 Heli-One, October 05, 2015 - Stavanger, Norway – The German Federal Police, Bundespolizei (BPOL), has selected Heli-One, the world's largest independent provider of maintenance repair and overhaul (MRO) services, to fully modernize their fleet of 18 Airbus Helicopters AS332L1 Super Puma aircraft through a NATO/NATO Support and Procurement Agency (NSPA) contract with proven EFIS and avionics upgrades from Universal Avionics and other suppliers.

To quickly respond and adapt to a variety of future Police and EU missions, BPOL needed to rapidly upgrade their AS332L1 fleet with current, reliable and affordable systems for the cockpit and the cabin.

"Heli-One used their extensive capabilities and experience in avionics, cockpit, cabin and navigation improvements to provide a comprehensive platform solution that will enable the fleet to return to service quickly and perform BPOL's critical services now and in the future", said Anthony DiNota, President, Heli-One.

The Electronic Flight Instrument System (EFIS) upgrade consists of twin EFI-890H Displays and Dual UNS 1FW Flight Management System (FMS) from Universal Avionics. In addition, a Barco multi-function display is installed together with a Euro Avionics moving map mission system (Euronav 7). These systems improve pilot awareness and offer the highest functionality, interface capabilities and flexibility for helicopter installation.

The modernization program has begun on one AS332L1 with the remainder of the fleet to follow in quick succession. The work will be completed at Heli-One's facility in Stavanger, Norway.

The 215,000 square foot facility is known for its expertise and experience in supporting the Super Puma platform for operations in Europe and around the world.

"Drawing on our 16 year relationship with BPOL, we have customized a service that will reduce turnaround time while maximizing reliability and mission readiness," said Kevin Charles, Senior Sales Director, Heli-One. "Universal Avionics' EFIS and Dual FMS are established, helicopter specific upgrades and will best equip BPOL to perform their vital work."

These EFIS and avionics upgrades are now available to all customers, with operational and maintenance training provided by Heli-One.

About Heli-One: Heli-One is based in Delta, British Columbia, Canada, and has MRO operations in Delta, Canada; Stavanger, Norway; Fort Collins, Colorado; and Rzeszow, Poland. Heli-One's is the world's largest independent helicopter MRO and hold certifications and expertise on a broad range of airframes and components from major helicopter and engine manufacturers, including Airbus, Sikorsky, AgustaWestland, Bell, Turbomeca, Pratt & Whitney and General Electric. Heli-One is a segment of CHC Helicopter, the operating company of CHC Group Ltd.
Super Puma/Cougar in

Bundespolizei
AS332 Super Puma in

Bundespolizei
Super Puma/Cougar in

Heli-One
UASC

Universal Avionics
State of Arizona
NATO Support and Procurement Agency
Upgrades for 20 German Federal Police Super Puma