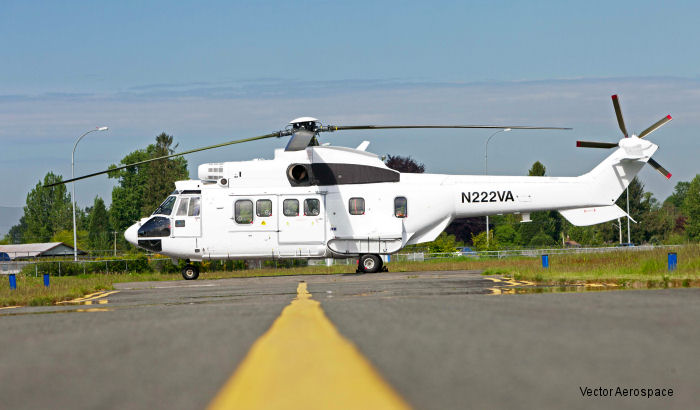 Vector Aerospace, May 11, 2015 - Vector Aerospace a global independent provider of aviation maintenance, repair and overhaul (MRO) services, is pleased to announce that it has added EASA certification to its Cockpit Voice and Flight Data Recorder (CVFDR) FAA STC applicable to AS332 C, L and L1 helicopters.

Vector's new CVFDR STC further enhances the mission capability profile of the venerable AS332L helicopter platform and is one of the only FAA and EASA approved CVFDR retrofit solutions available on the retrofit market. The CVFDR upgrade features a light-weight solid, low power consumption state-of-the-art CVFDR with an underwater acoustic beacon and a six year battery-life warranty. A digital flight data acquisition unit is also included as part of the system. The CVFDR is capable of recording over 25 flight data parameters with integrated optional Recorder Independent Power Supply (RIPS), requiring no additional wiring.

"Receiving EASA certification for our CVFDR STC allows us to expand our product offering across the world to markets in Europe, Australia and Africa," states Elvis Moniz, Vice President, Operations at Vector Aerospace's Langley, BC location. "This certification adds value to our already extensive STC portfolio for the AS332L platform and provides operators with a modern digital solution to replace obsolete CVFDR systems."

Other STCs that Vector offers for the AS332L platform include: Night Vision Goggle (NVG) compatible cockpit (FAA STC), Helicopter Emergency Egress Lighting (HEEL) System (FAA and EASA STCs), Dual Garmin NAV/COMM/GPS (FAA and EASA STCs, including HTAWS), and Satellite Tracking System (FAA STC), with plans to certify an Auxiliary Fuel Tank Upgrade and Saltwater Splash Deck STC in the near future. All of these STCs are designed to improve the functionality and safety of the AS332L platform.

Vector Aerospace holds approvals from some of the world's leading turbine engine, airframe and avionics OEMs. Powerplants supported include a wide range of turboshafts, turboprops and turbofans from General Electric, Honeywell, Pratt & Whitney Canada, Rolls-Royce and Turbomeca. Vector Aerospace also provides support for a wide range of airframes from Airbus Helicopters, Bell, Boeing and Sikorsky, its capabilities including major inspections and dynamic component overhaul, and offers full-service avionics capability, including aircraft rewiring, mission equipment installation and glass cockpit upgrades.
AS332 Super Puma in

Vector Aerospace

Vector Aerospace Component Services
Vector Aerospace
EASA
European Commission