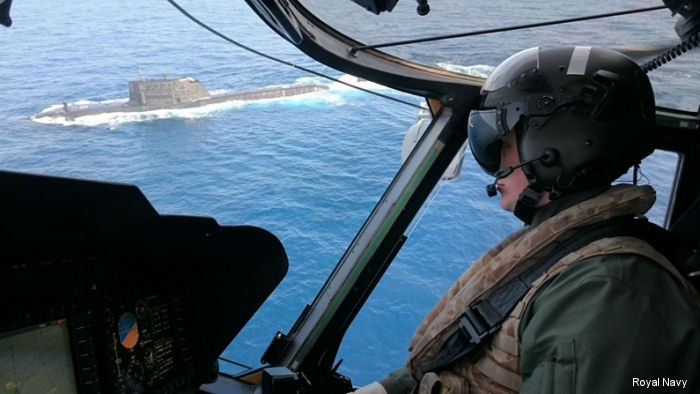 Royal Navy, March 09, 2016 - 814 Naval Air Squadron of Culdrose have returned triumphant from NATO's largest Anti-Submarine hunting exercise in the Mediterranean.

Over 60 Royal Navy personnel from 814 Naval Air Squadron (NAS), also known as the 'Flying Tigers', upped sticks for two weeks and relocated to the Italian island of Sicily.

Once there, they based themselves at Sigonella Naval Air Station, a joint Italian and US Navy base, along with squadrons from several other NATO nations.

814 NAS took two Merlin Mk2 Helicopters, which they flew across Europe over two days in order to participate in Exercise Dynamic Manta 16.

The Merlin Mk2 is the Royal Navy's specialist submarine hunting helicopter.

It has advanced Sonar and Sonics sensors, combined with many other features which enable it to locate and track submarines lurking beneath the waves and, if needed, attack them with its anti-submarine torpedoes and depth charges.

Exercise Dynamic Manta 16 was a large scale NATO Anti-Submarine Warfare exercise, involving, ships, submarines and aircraft from eight NATO nations, including the UK and USA.

Seven nations brought maritime patrol aircraft to assist in the hunt, as NATO submarines took turns to play the hunter and the hunted.

The difference for 814 was that all the other nations had large, long-range patrol aircraft and the UK had their advanced Merlin Mk2 helicopters.

This meant they had a much shorter time for each mission to find and attack the 'enemy' submarines as they had to return to refuel, often operating at 100 miles from the coast of Sicily.

Thankfully this was not a problem for the Tigers, who flew 15 successful missions during the exercise, finding a variety of different submarines and simulating attacks as they tried to evade.

Lt Tim Strickland said: "The squadron's engineers were essential to the exercise too – they maintained the aircraft for the entire exercise, and we flew almost 90 flying hours including the two day flights across Europe.

"They were working from a US loaned building at Sigonella, but maintaining the aircraft outside, under the watchful eye of the volcano, Mount Etna, which decided to behave herself and not erupt during their time there."

The Merlin crews were assisted during the exercise by a small team from the Royal Navy's Maritime Warfare Centre.

Their 'Tactical and Scientific' expertise was used to analyse each mission, utilising state-of-the-art bespoke mission replay and analysis systems. The crews then used this feedback in later missions throughout the two weeks.

The squadron was lead in the exercise by their Commanding Officer, Commander Brendan Spoors, who said: "Travelling to Sicily to participate in this exercise has allowed the UK to demonstrate its capability in Anti-Submarine Warfare.

"As well as practicing operating alongside our NATO partners, we have also proved to them our effectiveness in this role.

"Our contribution to the exercise was highly successful and I am extremely proud of the men and women who flew and maintained the aircraft during our time there."

There's no respite for the Tigers though, as the Squadron are already well into the planning process for their next exercise, operating from sea as early as next week.
Location :

Central Mediterranean


814 NAS

814 Squadron
Fleet Air Arm
Royal Navy
EH101 in

Fleet Air Arm
AgustaWestland Merlin HM.2