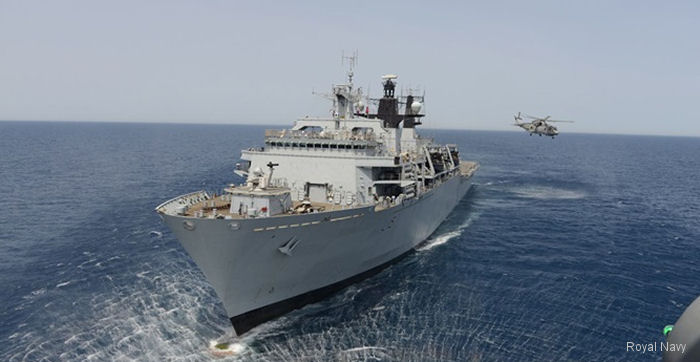 Tail Codes
H
1960/63
V
1963/67
H
1968/70
nicknamed the Flying Tigers

Originally formed on 1 Dec 1938 as a torpedo reconnaisance unit. After service in WWII, it disbanded and reformed several times with various fixed wing aircraft until it retired its Gannet AS.4s when it disbanded on 30 Sep 1959 at RNAS Culdrose.

Its association with rotary wing flying began at RNAS Culdrose as an anti-submarine unit on
1 Apr 1960
with 8 Whirlwind HAS.7s. After various exercises it departed for the Far East on
HMS Hermes
, returning in Apr 1961 and disbanding Sep 1961. It reformed as the third FAA front line Wessex HAS.1 unit in Nov 1961, initially with 5 HAS.1, ramping up to a complement of 8 by Jan 1962. The unit saw extended service in the Indian Ocean and the Far East. When shore-based it was deployed to Sembawang between Dec 1962 and Mar 1965 but carrier deployments were frequent, including 3 weeks on
HMAS Melbourne
during spring 1963 and to
HMS Victorious
during her 1963/64 East of Suez Carrier commission and section detachments were common (for example to
HMS Albion
for a week off Mombasa early in 1964 and a 2 Wessex detachment to
RFA Tidespring
in Spring 1964) returning to Sembawang for Aug 1966 and Apr 1967. 814 NAS returned to the UK on HMS Victorious in Jun 1967, to prepare for the introduction of the Wessex HAS.3

It was the first front line unit to form with 6 HAS.3 from the
700(H) Squadron
complement, in Aug 1967. Returning to the Far East, it had a further spell at Sembawang between Aug 1968 and Jan 1969, retaining Culdrose as its UK home base. When HMS Hermes went in to refit as a Commando Assault Carrier, the unit disbanded again in Jul 1970 at RNAS Culdrose.

Reformed on 30 Mar 1973 at
HMS Gannet
with a small number of
Sea King
HAS.1s, with which it undertook critical passive sonar trials during 1975. The Sea King HAS.2 was introduced in Nov 1977 and the unit was the first to have its airframes fitted with the Jezebel sonar equipment. It moved to
Culdrose
in Apr 1976 and conducted intensive passive sonar training. By the end of 1976, the unit had received nine airframes, followed by the replacement of some with HAS.2A conversions. When the
Falklands
conflict broke out, the unit was being equipped with the Sea King HAS.5. In Aug 1982, it embarked on HMS Illustrious (R06) for South Atlantic operations.
The unit was divided into Flights in spring 1986, with A Flt forming on 7 Apr for deployment on
RFA Fort Grange
a few days later until 31 Jul. Further improvements in capability followed when the Sea King HAS.6 was introduced in Oct 1992. 814 Squadron was disbanded after service in the Gulf, Bosnia and Kosovo, at RNAS Culdrose in Dec 2000.

One of the Navy's highly skilled and technically sophisticated submarine warfare squadrons has been designated as the first UK sqn to be equipped with the AgustaWesland Merlin

814 Squadron reformed again on 1 Mar 2001 with the Merlin HM.1 at RNAS Culdrose and became operational in Oct of that year.

For the Jul 2012 London Olympics, 814 NAS embarked
HMS Bulwark
for martime security duties around Weymouth. During Mar 2013, the unit deployed to Sicily for the NATO ASW
Exercise Proud Manta
. The HM.1 was retired in Nov 2014 and replaced with the Merlin HM.2.

A detachment of Merlin HM.2 was committed to Operation Weald in early May 2015 when /(2)66 and /(2)70 departed RNAS Culdrose for
Sigonella
, where they were temporarily based, using
HMS Bulwark
as their day time platform.

In a ceremony at RNAS Culdrose on 28 March 2018,
829 Squadron
decommissioned and merged with 814 Squadron. 814 NAS now operates all Merlins on Small Ships (
Type 45
and
Type 23
) and the
RFA
Fleet.

Models