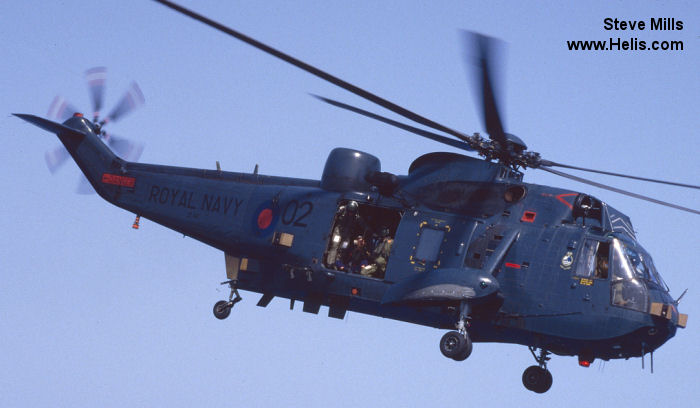 When an initial order for 60 Sea King
HAS.1
s was placed with Westland Aircraft Ltd by the UK Ministry of Aviation on behalf of the RN for £24 million in late 1966, it was the largest order for helicopters ever placed with a British company.

Approx 112 HAS type were in service by Oct 2003. First Westland built airframe was c/n WA630 (XV642) which flew on 7 May 1969 from
Yeovil
. At least 8 marks for the Royal Navy since that date, either as new build or rework on existing airframes.

The Sea King HAS.1 retained the
Sikorsky H-3
watertight hull, 5 bladed all metal main rotor and fixed tail wheel.
Wessex
HAS.3 radar/sonar and UK Gnome H.1400 engines. Initial production was of the HAS.1, 56 of which were delivered to the Royal Navy, (remaining 4 were the development machines).

By 1974, the
HAS.2
was designed. New build HAS.2 with improved Gnome H.1400-1 engines, increased fuel capacity, a 6 bladed tail rotor and air intake deflectors/filters. Order for 13 in Nov 1974 and 8 more in 1976. Internal improvements include a Marconi Acoustic Processing & Display suite. XZ570 ff 18 Jun 1976, all delivered by Oct 1979. The remaining 48 HAS.1s were upgraded at RNAY Fleetlands, and NASU
Culdrose
and known as
HAS.2A
; All front line Sea Kings were at HAS.2/2A standard by Jul 1978.

The Sea King
HAS.5
was developed from the HAS.2, beginning in Jan 1979 with major avionics update and introduced a Magnetic Anomaly Detector (MAD) housed in the starboard undercarriage sponson and winched away from the airframe for operations. f/f 14 Aug 1980, first 2 handed to RN on 2 Oct 1980. From 1980, 30 (new) Sea King HAS.5 were built with a Thorn-EMI (MEL) Sea Searcher radar, Plessey dipping sonar, Racal Orange Crop ESM, Jezebel passive sonobuoys and composite rotors to replace original all-metal ones. 35 HAS.2A conversions were rebuilt as HAS.5 in early 1980s.

Following the critical lack of an airborne radar picket during the Falklands campaign of 1982, the folly of relying on RAF Shackleton AEW.2s for out-of-theatre operations, after the 1978 retirement of the carrier-based Gannet AEW.3 by HM Treasury-led cuts was evident. Westland rushed two HAS.2A development airframes through an intensive programme between May and Aug 1982 to fit the Thorn-EMI Searchwater radar (as in the Nimrod) into an air-pressured, external, swivelled Kevlar housing (known as a dustbin) on the starboard side of the airframe, Cossor Jubilee Guardsman electonic warfare system was fitted and the internal observer stations were updated. The first airframe was available at the end of 1982. 10 Sea King HAS.2s were converted into
AEW.2As
.

The Sea King
HAS.6
(six new and 69 conversions from 1990, with Westland kits) operated from 1989 and feature improved airframe and tranmission, GEC-Marconi 2069 dipping sonar, further improved signal processing, internal-mount MAD, revised Racal Orange Reaper ESM and Gnome H1400-2 engines. Includes the GEC-Marconi AD3400 VHF/UHF secure speech radio. The HAS.6 was also the last version of Sea King to be used in the anti-submarine role, following its withdrawal from the front line in 2004. By Aug 2004, the Royal Navy had no effective, primary role anti-submarine helicopter, while the
Merlin
remained non-operational and is still grounded.

9 Sea King AEW.2As have been converted to
AEW.7
standard with Gnome H1400-2 engines, renamed Sea King
ASaC.7
and introduced in 2001.

Some low flying hours Sea King HAS.6s are having their anti-submarine sensors and signal processing stations removed to function in the main role of
Commando assault
with a secondary Carrier Onboard Delivery (COD). The Sea King
HAS.6C
was converted at DARA
Fleetlands
during 2004 and retains its main wheel sponsons but the undercarriage is fixed in the lowered position and an improved defensive package fitted. The first of type were issued in mid 2004.

---
Sep14, there are 7 Sea Kings for breaking up at the back of Arlington railway workshops at Eastleigh Hants with a load more to arrive

Years
Units
Base
2015/18
Palembang Flight asac.7
RNAS Culdrose

2015/16
848 NAS hc.4
RNAS Yeovilton

2014/18
Normandy Flight asac.7
RNAS Culdrose

2014/18
Okinawa Flight asac.7
RNAS Culdrose

2006/15
857 NAS asac.7
RNAS Culdrose
Camp Bastion
RNAS Culdrose
Camp Bastion
RNAS Culdrose

2006/14
854 NAS asac.7
RNAS Culdrose
RAF Northolt
Camp Bastion
RNAS Culdrose

2002/18
849 NAS asac.7
RNAS Culdrose

2001/16
HMS Gannet SAR Flight
Prestwick

1995/13
848 NAS hc.4
RNAS Yeovilton

1992/00
814 NAS
RNAS Culdrose

1992/98
706 NAS
RNAS Culdrose

1990/91
848 NAS hc.4
RNAS Yeovilton

1989/03
820 NAS
RNAS Culdrose

1989/01
810 NAS
RNAS Culdrose

1989/01
819 NAS
Prestwick

1988/95
772 NAS hc.4
Portland Heliport

1988/93
826 NAS
Boscombe Down
RNAS Culdrose

1988/89
824 NAS
Prestwick

1987/16
771 NAS
Prestwick
RNAS Culdrose

1985/93
819 NAS
Prestwick

1984/15
845 NAS hc.4
RAF Benson
Kandahar
Kandahar
Basrah International Airport
RNAS Yeovilton
RNAS Yeovilton
Divulje Barracks Helipad
RNAS Yeovilton
King Saud AB
RNAS Yeovilton

1984/03
849 NAS
RNAS Culdrose

1983/95
707 NAS hc.4
Aldergrove
RNAS Yeovilton

1983/90
810 NAS
RNAS Culdrose

1982/92
814 NAS
RNAS Culdrose

1982/84
824 NAS
RNAS Culdrose
RAF Gibraltar
Port San Carlos

closed 1984


RNAS Culdrose

1982
825 NAS
RNAS Culdrose
Port San Carlos

closed 1984



1981/98
706 NAS
RNAS Culdrose

1981/93
826 NAS
Boscombe Down
RNAS Culdrose
Port Stanley
RNAS Culdrose

1980/90
820 NAS
RNAS Culdrose

1979/13
846 NAS hc.4
RNAS Yeovilton
Kandahar
Basrah International Airport
BLMF - Camp Dragočaj
RNAS Yeovilton
Doha / Ad Dawhah
Silopi
RNAS Yeovilton
Dhekelia Strip
RNAS Yeovilton
Port Stanley
Pollock's Passage

closed 1982


Old House Creek

closed 1982


RNAS Yeovilton
BLMF - Camp Dragočaj

1978/90
706 NAS
RNAS Culdrose

1977/85
819 NAS
Prestwick

1977/83
824 NAS
RNAS Culdrose
RAF Gibraltar
Port San Carlos

closed 1984


RNAS Culdrose

1977/82
814 NAS
RNAS Culdrose

1977/80
820 NAS
RNAS Culdrose

1976/83
826 NAS
RNAS Culdrose
Port Stanley
RNAS Culdrose

1973/77
814 NAS
RNAS Culdrose
Prestwick

1973/75
737 NAS
Portland Heliport

1972/77
820 NAS
RNAS Culdrose

1971/78
819 NAS
Prestwick
RNAS Culdrose
AAC Ballykelly

1970/78
706 NAS
RNAS Culdrose

1970/77
824 NAS
RNAS Culdrose

1970/76
826 NAS
RNAS Culdrose
Tengah Air Base
RNAS Culdrose

1969/70
700 NAS
RNAS Culdrose