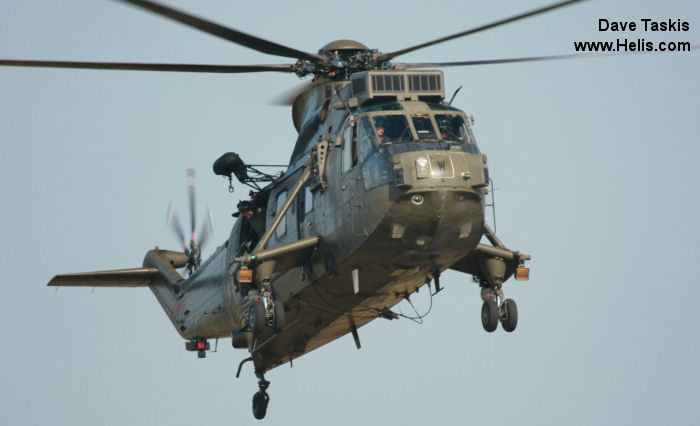 Formed on 1 Feb 1943 at NAS Quonset Point on Rhode Island, USA as a torpedo reconnaissance unit and subsequently served in the Indian Ocean and the Far East during WWII before it disbanded in Oct 1945.

It reformed with some of the
Whirlwind HAS.22
s from
706 Squadron
on 15 Mar 1954 at Gosport as the Royal Navys first front line anti-submarine warfare helicopter squadron. It embarked to
HMS Perseus
on 21 Apr and spent much of its time working up in and around the Mediterranean on various carriers from its shore base at Hal Far. It returned to the UK in Aug 1955 and disbanded at Lee-on-Solent in Oct 1955.

After reforming again as an anti-submarine unit in Nov 1955 at Lee-on-Solent, (still with the Whirlwind HAS.22), it also added the Whirlwind HAR.3 to its inventory. It exercised and eventually worked up in the Mediterranean with the
Royal Marines
Commando. On 6 Nov 1956, with specially modified Whirlwinds, 845 Squadron contributed to the first ever major helicopter airborne assault, as part of Operation Musketeer at Port Said. After returning to the UK, it updated to the Whirlwind HAS.7 during June 1957 at Lee-on-Solent but suffered desperate
engine unreliability
. Whilst aboard
HMS Bulwark
in the Indian Ocean, it was sent to Aden. During a deployment aboard
HMS Centaur
in Jan 1959, engine troubles (the curse of the Whirlwind HAS.7) caused the unit to be grounded. It returned to the UK and HMS Bulwark went off for refit as a Commando Assault Carrier. It disbanded at Culdrose in Apr 1959.

Reformed on 10 Apr 1962 with 12 Wessex HAS.1 at RNAS Culdrose as the first of the Commando Helicopter squadrons. It embarked on HMS Albion in Sep and deployed to Brunei in Nov 1962. Disembarked on 14 Dec 1962 for operations from
Brunei
. It relieved
103 Squadron
briefly at Kuching in Sep 1963, so they in turn could reinforce Labuan. In Feb 1964 it transferred to HMS Bulwark and incorporated 6 Wessex HAS.1s and 3 Hiller HT.2 from
706 Squadron
B Flt when they arrived in the Far East in Apr. 845 Sq operated successfully with British Forces in Brunei and later Borneo, returning to the UK in Sep 1965. During these operations, UK ground forces nicknamed the commando squadrons
Junglies
.

Re-equipped in Jan 1966 with Wessex HU.5 and sailed to the Far East again with HMS Bulwark in Aug 1966, picking up a liaison Wasp, returning to the UK in 1968. Transferred to HMS Albion (now out of refit) in May 1970 with 14 Wessex HU.5 and a Wasp and sailed for
Cyprus
Sep-Nov 1970. It disembarked HMS Albion in mid Feb 1971 after an Exercise in the Lofoten Islands (to be replaced in the
Albion Air Group
by
848 NAS
in Mar 1971). Operated in the Mediterranean in 1971 and spent time ashore at
RAF Luqa
, where the unit suffered a
minor disaster
on 31 Oct 1971 when a small tornado buzz-sawed through its aircraft park and damaged a number of its Wessex HU.5. 845 NAS departed Malta aboard HMS Bulwark on 11 Nov and arrived back in the UK in Dec 1971. On HMS Bulwark with 41 Commando RM for May-Jul 1972 WESTLANT deployment, disembarking 17 Jul 1972 for RNAS Culdrose.

Shortly after moving to
HMS Albion
on 22 Aug 1972, its home base transferred from Culdrose to Yeovilton in Sep 1972. Transferred to HMS Hermes in 1973 and sailed for the Mediterranean. During the 1974
Turkish
invasion of Cyprus, 845 NAS Wessex HU.5 from HMS Hermes airlifted 1500 people from the beaches around Kyrenia, with the Sea King HAS.1s of
814 Squadron
. In Apr 1976, it was reduced to 8 Wessex HU.5, increasing again when it absored
846 Squadron
in Sep 1977. From Oct 1977, 845 Sq operated a detatchment in Northern Ireland.

Took part in the
Falklands
Conflict with 12 Wessex. A Flt operated from
RFA Resource
which it joined in Rosyth, B Flt from
RFA Fort Austin
, C Flt from
RFA Tidespring
and both flights joined their ships at Ascension Island having been flown out by Heavylift Belfasts, D Flt from
Wideawake Base
on Ascension and E Flt from
HMS Intrepid
and also from HMS Invincible. Lost 2 Wessex from C Flt on South Georgia on 22 Apr 1982 and a further Wessex on 25 May when
mv Atlantic Conveyor
was sunk. Returned to UK in Jul 1982 but a detatchment deployed back to the Falklands and absorbed the Wessex of
847 Squadron
in Aug, returning in Dec 1982. There was a brief detachment to
RAF Leeming
in mid Mar 1983. Following their introduction in Jun 1984, 845 NAS retired its last Wessex for Sea King HC.4 at RNAS Yeovilton in 1986.

The unit detached 4 of its Sea Kings to Splyt on 11 Nov 1992, disembarking from
RFA Argus
on 19 Nov for a planned deployment until May 1993. Through various tours and various Flights, the unit was in the former Yugoslavia for c 8 years.

The unit detached at least nine Sea King HC.4 to Iraq in Jan 2003 aboard
HMS Ocean
and on 20 Mar led an assault on the Al Faw peninsula, initially with
USMC CH-46
support, to insert 40 Commando RM and then 42 Commando RM. After the second Gulf War, the unit stayed on initially at Az Zubayr port, and after a brief return home, at Basra International Airport from 2004. From spring 2007 the detachment intensified as
846 NAS was withdrawn in preparation for its deployment to Afghanistan. Its last mission in Iraq was on 17 Nov 2007 and the unit returned its aircraft to the UK on 24 Nov.

Joined 846 NAS in Afghanistan in Apr 2008, with rotating detachments until Nov 2011.

845 NAS detached 3x Sea King HC.4 on
HMS Illustrious
for her east of Suez deployment, when she was ordered from the Horn of Africa to assist in the
Typhoon Haiyan
relief operations between Nov and Dec 2013.

After handing over its 8 Junglie Sea Kings to
848 NAS
in May 2015, a period of training followed with the Merlin at RAF Benson. 845 NAS reformed on 9 Jul 2015 with the Merlin HC.3 of RAF
28 Squadron
and will remain based there until mid Jun 2016 before moving back to RNAS Yeovilton.

During Feb 2017, whilst B Flt was undertaking Arctic Training in Norway on
Exercise Clockwork
with the new Merlin, A Flt began a 5 month deployment on the French assault ship
FS Mistral
with 2 Merlin HC.3. A Flt visited
Ho Chi Minh City
during Apr 2017.

---
1964-65 whilst in Sarawak the unit operated three Whirlwind Mk7 aircraft. 845 Squadron were relieved by 848 Squadron operating Wessex Mk5 aircraft and thus they could be termed the last Junglies.

late 1971, Albion was accompanying Eagle, we spent Christmas at sea in the Indian Ocean after 826NAS joined 845NAS to sail up to evacuate the Brits from Bangladesh. Certainly wasnt operating off Cyprus

In this unit
Dates
1982-apr-20
1982-apr-22
HMS Intrepid(L11)
Embarked Wessex HU.5 XT449 / C and XT461 / W of 845 NAS E Flt for two days of working up. The Flight returned to Yeovilton before re-embarking on 26 Apr.