Satellite and aerial maps of Lee-on-Solent with nearby locations

Toggle Map









1917 to present

50° 49' 0'' N 1° 12' 0'' W
3nm WNW of Gosport, Hampshire, Lee-on-Solent, Hampshire, England
ICAO: EGHF
IATA:
Elevation: 32 feet
Opened in July 1917 as a seaplane base with a slipway into The Solent, conveniently situated close to the Naval Base at Portsmouth. The base gradually expanded around the slipway to support the fleet deployed flights and as a home for fixed wing landplanes. From an early RAF presence in 1918, in 1932 it became a Coastal Area HQ and developed further inland and opened as a fully fledged airfield in Oct 1934. In the rearmament imperative leading to World War 2, more hangars were built in 1938 and a perimeter track laid out by 1939. In May 1939, control was passed to the Navy and it was commissioned as
HMS Daedalus
. By 1942, the newly laid runways were already becoming inadequate for the higher performance and larger aircraft using the base and in 1943 they were extended and further hangarge provided.

As the nearby towns of Lee, Gosport and Stubbington expanded, they swallowed up potential expansion land that might have been used to support post-war fast jet operations and following the 1953
Coronation Fleet Review
the base essentially stagnated. A new life was breathed in, in 1955 when
RNAS Gosport
closed and its helicopters transfered down the road to Lee. It continued to be home to the RN Southern Communications Squadron (781 NAS) and it has hosted various support units such as the Accident Investigation Unit (AIU) and Air Engineering School (AES).

The old slipway was key to locating the unique Interservice Hovercraft Trials Unit at Lee in 1962 and it continued its evaluations until around 1977.

In June 1977 it also hosted the air component for the
Silver Jubilee Fleet Review
. Flag Officer Naval Air Command (FONAC) moved to
RNAS Yeovilton
and
781 Squadron
disbanded in the early 1980s and routine naval flying ceased in 1993. In Dec 1995 the AES moved to Gosport (
HMS Sultan
) and on 29 Mar 1996 the naval establishment closed and the base was declared surplus to requirements.

Old ICAO code EGUS
Search and Rescue operations began here in 1973 and continue under a civilian contract to the
HM Coastguard
. The Hampshire Police Air Support Unit moved here in 1985 and gliding continues from the base, although formally the airfield is disused.

List of units at Lee-on-Solent
| Years | Unit | |
| --- | --- | --- |
| 1988- | Solent District | AW189, AW139, S-61 H-3, |
| 1988 | 202 Squadron | Sea King, |
| 1957/96 | NATIU | Lynx, Wessex, |
| 1957/58 | 701 NAS | Whirlwind, Whirlwind, dragonfly, S-55 H-19, Whirlwind, |
| 1957 | 700 NAS | Whirlwind, |
| 1956/58 | 845 NAS | Whirlwind, S-55 H-19, Whirlwind, |
| 1955/56 | 845 NAS | S-55 H-19, Whirlwind, S-55 H-19, |
| 1955 | 845 NAS | S-55 H-19, Whirlwind, S-55 H-19, |
| 1955/58 | 705 NAS | dragonfly, Whirlwind, Whirlwind, UH-12B HTE-2, S-55 H-19, dragonfly, |
| 1947/48 | 771 NAS | R-4 Hoverfly , |
| 1943/45 | 829 NAS | |
| 1940/81 | 781 NAS | Wessex, Whirlwind, S-55 H-19, |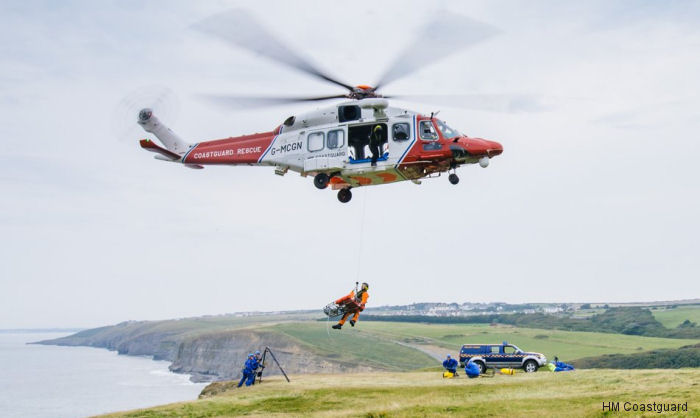 31-Mar-17 -

HM Coastguard helicopter base in Lee-On-Solent has started flying the AW189 helicopter for SAR operations. Operated by Bristow, bases Prestwick, St Athan, Lydd and Inverness will follow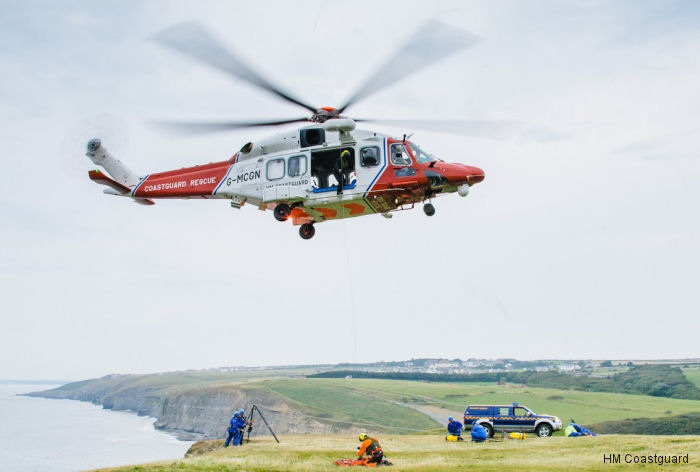 03-Jan-17 -

HM Coastguard first of two new AW189 helicopters for the Lee-on-Solent base. Will replace the current AW139 from April 2017
Operations at Lee-on-Solent