Tail Codes
GJ
1951/58
CU
1959/62
CU
1974/97
Formed from 447 Flight RAF with Swordfish. Disbanded at Lee-on-Solent in 1940. After a 4 month existence during early 1945, it reformed on 7 May 1947 with the Sikorsky R4 Hoverfly element from
771 NAS
, at RNAS Gosport as the Helicopter Fleet Requirements Unit. After experience with a
loaned S-51
during Jan 1949, operated the Dragonfly from Dec 1949 and during Jan and Feb 1951 conducted experimental ship landings aboard
RFA Fort Duquesne (A229). Sikorsky S-55s from November 1952, followed by British built Whirlwind HAR.1s and Hiller HT.1s in 1953. On 1 Feb 1953 the unit responded to a Dutch Government request to assist with relief from severe flooding in the
Netherlands
by despatching 5 Dragonfly. It became the Helicopter Training Squadron in November 1955 and moved to RNAS Lee-on-Solent.
Moved to RNAS Culdrose in January 1958. The Hiller HT.2 (introduced in 1962) was replaced by the Gazelle HT.2 between Mar 1974 and Mar 1975 and the Whirlwinds were phased out in two batches (4 departed on 5 Dec and 9 left on 17 Dec 1974). Following a flypast of 13 Hiller at the end of Mar 1975, they flew on to
RNAY Wroughton
for eventual disposal.
In April 1997, the tri-service Defence Helicopter Flying School was formed and 705 moved to RAF Shawbury as the Advanced Single-engine Rotary Wing squadron. Some Gazelles were transferring to the
RAF
and the Eurocopter Squirrel HT.1 was adopted.

---
1947-1948, I was an air mechanic engines during national service with 705 Squadron at HMS Siskin based at Gosport.

1953, Tony Wiles.I was a junior naval airman (airframes) 17 years old drafted to 705 Sqd 20Jan 1953 - Jan 1954 Trained at Siskin on the maintenance of S 55s. and Hillers. The Hillers arrived in crates and were were assembled in the hanger with many tense moments on their tests flights. In fact there were tense moments all over the place as all the chopper pilots were trained there. Most made it through but we had our share of incidents. There were also a couple of Fireflies we looked after as well as a couple of Moths. Stripping the Moths down to the bones and the reassembling to shiny new aircraft was a lot of fun. There were also a couple of torpedo bombers using the airfield for practise drops over the Solent. Whenever i could managed quite a few flights on anything i could get into. I was involved in a Mae west life jacket becoming obsolete. i think it was the C class. I volanteered to be rescued doing dry winch rescues on the airfield. they weren't using harnesses back then. To be rescued the winch hook was lowered and you simply put the hook through the two D rings stitched into the Maewest. I had already done a couple of lifts and and had heard some sort of tearing noise. I had checked things over but it soon became obvious I had not looked carefully enough. This time on my way up there was a very quick ripping sound and then I was on the ground. The fall was calculated by others that observed it, that I was 30 -40 feet up when I became airborne. It was certainly above the hanger as I could see the roof. You can imagine how quickly the chopper landed with people running across the airfield. But I was fine. Not a scratch or a bruise. Never worked that one out. In case you are wondering why i didn't grab the winch cable, the routine was to extend the arms with thumbs up to indicate that all was going well. I got that wrong. Like everyone else I have a million stories of time served in the Navy. Happy to swap anytime.

1954-1955, I was drafted to 705 squadron, I was a member of the ground crew at white waltham aerodrome, where the queens flight was stationed, where HRH the Duke of Edinburgh trained as a helicopter pilot, on the hiller ht1 and later in the year at bircham newton where he received training in ASR on the sikorsky s55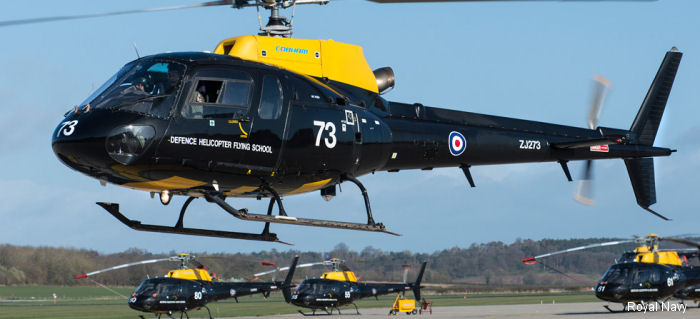 26-Sep-14 -

The squadron, part of the Defence Helicopter Flying School at RAF Shawbury in Shropshire, is where all RN pilots are put through their paces.
Models