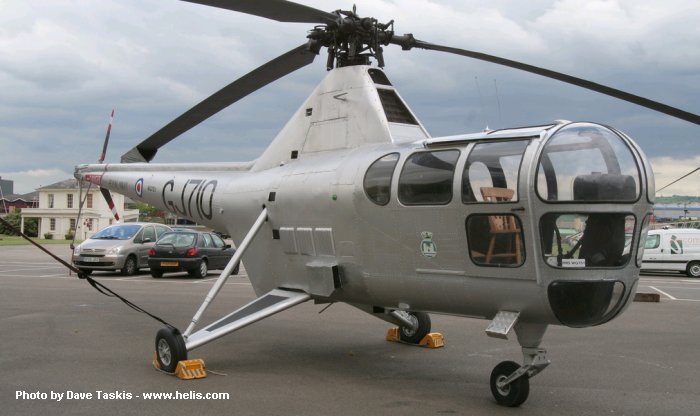 One of the six
Sikorsky S-51
s imported by Westland was chartered by the RN for trials on board
HMS Vengeance
in Jan 1949, while the Westland development programme continued. This was handed back in May 1949 and resulted in an order for 13 Dragonfly HR.1 (with wooden main rotors). First HR.1s came off the line in mid 1949 but were very sensitive to
centre of gravity
position. Between 13 Jan 1950 and Jun 1950,
705 Naval Air Squadron
received 12 Dragonfly HR.1 with the UK Alvis Leonides 50 engine, replacing the
Hoverfly
. Much work was done in developing Search and Rescue (SAR), plane guard and Small Ships technique.
The Dragonfly replaced the Sea Otter in the SAR role and it also served as a plane guard, during fixed wing carrier operations (replacing a Destroyer and around 250 souls in the role) recovering the crew in case of deck accidents. 1st SAR Dragonfly unit embarked on
HMS Indomitable
on 12 Jan 1951. 2nd SAR unit on
HMS Glory
from Apr 1951 and rescued downed pilots during the Korean War.
These were followed into service by another 58 Dragonfly HR.3 (with metal main rotors). They served at numerous Station SAR Flights and aboard the UK carrier fleet. RNAS
Lossiemouth
(HMS Fulmar) was the 1st shore station to equip its
SAR Flight
with Dragonfly in Mar 1953. 15 RN shore stations and 9 RN carriers operated SAR Flights during the 1950s.
The Dragonfly HR.5 was an improved Royal Naval variant with a more powerful Alvis Leonides 5/231 engine, better communication equipment and instrumentation, introduced from 1953 (after lessons learned from the
Dutch floods
) by conversion of 25 existing HR.1 and HR.3 airframes, some converted at
RNAY Donibristle
. In some ways, the Dragonfly had a
second wind
in Fleet Air Arm service, as several were re-issued to Carrier SAR Flights (eg
WP495
) during the period that the
Whirlwind HAS.7
was being re-worked to solve its initial engine problems.
There was a single Dragonfly planeguard:
on HMS Eagle (R05) between 1952 and 1959
on HMS Albion (R07) & HMS Centaur (R06) from 1954 to 1960
on HMS Bulwark (R08) 1955-1958
on HMS Ark Royal (R09) from 1955 to 1960 and
on HMS Hermes (R12) from 1960 to early 1962.
705 NAS operated Dragonfly types until its last HR.5 was retired in Mar 1962. The last Dragonfly HR.1 were retired from BRNC Flight at
Plymouth
in Jun 1967. Total of 71 HR.1, HR.3 and HR.5 were built, the last being delivered in Sep 1953. Overall, the Dragonfly served the RN with reliability and distinction for 17 years.

Plans for 18 further Dragonfly HR.3s (WP505-WP510 and WV933-WV944) were cancelled by the RN.

C/N
Mod
Built
ID In this Org
In other Org


wa/h/008
hr.1
1949
VX595: Spent time in storage variously at Fleetlands, Gosport and P+

VX595: HR.1 ff 18 Jun 1949, rotor development airframe at Yeov+


---

Assignments at AFEE Beaulieu Jul and Nov 1949, and Jan +


---

conv HR.3 at Yeovil by 1953


---

conv HR.5 at RNAY Donibristle from Nov 1956 to Jun 195+


---

VX595: to RAF Museum store at Henlow / 29, by Aug 1974, still +

wa/h/009
hr.1
1949
VX596: 705Sq Jun 1950, 705Sq/710-GJ by Jul 1951; Warrior Flt Nov 1+

wa/h/010
hr.1
1949
VX597: Built as HR.1 ff Oct 1949. 705Sq by Jan 1950, Indomitable SA+

- VX597: Open storage at Blackbushe by ; sold to Yateley Commerc+

wa/h/013
hr.1
1949
VX598: del RN as Dragonfly HR.1

wa/h/021
hr.1
1950
VZ962: ff 18 May 1950 and del RNAS Gosport 13 Oct 1950. 705Sqn by N+

VZ962: To Cornwall Aero Park by Jul 1981 (marked /912-CU) and +


---

- VZ962: to British Rotorcraft Museum W-s-M by , still Dec 1993.+

wa/h/022
hr.1
1950
VZ963: ff 14 Jun 1950, dd 3 Oct 1950 Gosport to 705 Sq;RFA Fort Duq+

wa/h/023
hr.1
1950
VZ964: ff Aug 1950. 705 Sq by Jan 1951; shipped to Far East aboard +

wa/h/024
hr.1
1950
VZ965: hr.3 conv HR.3 at Ilchester Mar 1953; Albion Flt/901-Z Sep 1954 t+

wa/h/033
hr.3
1952
WG663: dd May 1952 as HR.3 to RNAS Gosport. To HMS Campania Jun 195+

wa/h/034
hr.3
1952
WG664: dd May 1952 as HR.3 to RNAS Gosport. To HMS Campania Jun 195+

wa/h/035
hr.3
1952
WG665: HMS Warrior SAR Flt by Dec 1953, ditched on take-off, off Ko+

wa/h/037
hr.3
1952
WG667: 901-CU ff 5 May 1952, del to Gosport 13 May 1952; Sent to Far East +

wa/h/039
hr.3
1952
WG669: HR.3 705 Sq/700-GJ by Aug 1952 to Holland 2 Feb 1953 for flo+

wa/h/040
1951
WG670: dd to RN, soc to Blackbushe open storage.

- WG670: to Historic Aircraft Museum, Southend c . Damaged by fi+

wa/h/041
hr.3
1952
WG671: 705Sq/702-GJ Jul 1952 until c Aug 1953

wa/h/047
hr.3
1952
WG709: 709-GJ 901 922-FD 977-C 982-FD to 705 NAS mid Oct 1952

wa/h/049
hr.3
1950
WG718: HR.3 Del RN

- WG718: Stored at Long Marston from early , until Jul 1995.


---

Spares use by Yorkshire Helicopter Preservation Group J+

wa/h/050
hr.3
1952
WG719: ff 19 Sep 1952 as HR.3 Hal Far SAR Flt/901-HF by Jan 1953.

- G-BRMA: To Weston-super-Mare Apr 1976, for British Rotorcraft +


---

- WG719: pictured as WG719 in bare metal finish at Internationa+

wa/h/053
hr.3
1952
WG722: ff 16 Oct 1952, dd 9 Dec 1952 Gosport. To Malta in HMS Indom+

wa/h/055
hr.3
1952
WG724: 932-LM HR.3 built at Yeovil. ff Oct 1952, del RN 17 Nov 1952.

wa/h/058
hr.3
1952
WG748: ff 10 Nov 1952. dd as HR.3 to Gosport 1 Dec 1952, 705Sq, fro+

wa/h/059
hr.3
1952
WG749: ff Nov 1952 as HR, dd Dec 1952 to RNAS Gosport. Lossiemouth +

wa/h/061
hr.3
1952
WG751: ff Nov 1952; 705Sq/710-GJ by Mar 1953; Yeovilton Stn Flt/948+

- WG751: Feb 1968 to Wisbech until c Jul 1972; Aug 1972 to scrap+


---

Chatham Historic Dockyard; Moved between several scrap+


---

Jun09 pictured at the Chatham Historic Dockyard ( The w+


---

Sep16 still at Chatham Historic Dockyard


---

Feb19 still at Chatham dockyard. Rotor has been removed+


---

Oct19 still at Chatham dock yard. Rotor fitted.

wa/h/062
hr.3
1952
WG752: del RN Dec 1952; 728 Sq / 903 by May 1953; Ark Royal SAR Flt+

- WG752: Sold to CCF at Alleyns School, Dulwich Jun 1970, still +


---

To IWM Duxford Dec 1985, until c Aug 1991.


---

To Aviodome Museum, Schipol by Sep 1991

wa/h/064
hr.3
1952
WG754: 912-CU RN Dragonfly HR.3 d/d 15dec52; conv to HR.5; 15jul97 picture+

wa/h/066
hr.3
1952
WH990: ff 26 Jan1953, dd RN 13 Feb 1953

wa/h/067
hr.3
1952
WH991: 917-GN ff 4 Feb 1953 as HR.3, dd 24 Feb 1953 to RN at Gosport. To H+

wa/h/068
hr.3
1953
WH992: 16 Feb 1953 first flew at Yeovil; Del Mar 1953 to Gosport

wa/h/069
hr.3
1953
WN492: 934-LM Feb 1953 flew at Yeovil on 25 Feb; del Gosport 19 Mar 1953; +

wa/h/070
hr.3
1953
WN493: del Mar 1953 to Gosport as HR.3; 705 Sq / 703-GJ by Sep 1954+

wa/h/071
hr.3
1953
WN494: Mar 1953 ff at Yeovil; Apr 1953 del RN at Gosport; May 1953 +

wa/h/072
hr.3
1953
WN495: 707-GJ 711-GJ to Donibristle until late Mar 1955.

wa/h/073
hr.3
1953
WN496: Apr 1953 to Ford SAR Flt / 981-FD until c Mar 1954; c Apr 19+

wa/h/074
hr.3
1953
WN497: Mar 1953 first flew Yeovil; Apr 1953 del Gosport; Jul 1953 t+

wa/h/076
hr.3
1953
WN499: HR.3 ff 21 Apr 1953, Illustrious SAR Flt May 1953

Torbay Aircraft Museum WN499: Torbay Aircraft Museum Jun 1971, /-Y still there 1974, +


---

to Caernarfon Airworld by still Apr 1996, in poor cond+


---

Yorkshire Helicopter Preservation Group Jun 2006. Still+

wa/h/077
hr.3
1953
WN500: Indomitable SAR Flt by Jul 1953; 705 Sq/704-GJ by Sep 1953; +

wa/h/078
hr.3
1953
WP493: ff May 1953 as HR.3 and dd May 1953 to RNAS Gosport. Lossiem+

wa/h/079
hr.3
1953
WP494: 11 May 1953 first flight at Yeovil; del Jun 1953 to Gosport.

wa/h/080
hr.3
1953
WP495: ff 20 May 1953 as HR.3 at Yeovil; Del to Gosport

WP495: sold to Anglo Diesel Co Jun 1964


---

RAF Dragonfly HR.3 f/f 20may53; 14jul58 conv HR.5; feb+


---

to King's School CCF, Wimbledon


---

displayed at Warnham War Museum by Mar 1976


---

- G-AJOV: preserved at Royal Air Force Air Museum, Cosford


---

to Morayvia Sci-Tech museum, Kinloss 27 Jul 2017, re-pa+


---

still at Morayvia but painted as WP495 / 915-LM by date+

wa/h/082
hr.3
1953
WP497: To AHU Sembawang in HMS Perseus by Sep 1953; HMS Warrior SAR+

wa/h/083
hr.3
1953
WP498: dd Jul 1953 to RNAS Gosport as HR.3. 4 month loan to RAN abo+

wa/h/086
hr.3
1953
WP501: 903-HF RN d/d Aug 1953; 728Sq / 903-HF Hal Far Station Flt, still A+

wa/h/087
hr.3
1953
WP502: 902-BY 904-LM 983-B to Lossiemouth Stn Flt as /904-LM, subsequently to /902-LM.

wa/h/088
1953
WP503: to CAA Fire School Stansted by

- WP503: to Humberside Aviation Museum in Jun 1976, wearing /901+


---

to Bomber County Aviation Museum , until 1996.


---

Sunk in lake at Capernwray Diving Centre, Lancs by Apr +

wa/h/089
hr.3
1953
WP504: del Sep 1953; Illustrious SAR Flt by Oct 1953, rotors struck+

- WP504: To Anglo Diesel co.. To Blackbushe by road Apr 1965 for+