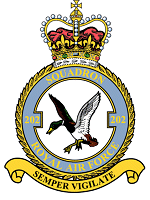 Originally formed as 2 Squadron, Royal Naval Air Service (RNAS) on 17 Oct 1914, it was redesignated 202 Squadron on 1 Apr 1918 when the RAF was created. It has variously been a specialist bombing, flying boat and weather reconnaisance unit during its service life.
Rotary wing operations began on 29 Aug 1964 when it was reformed from
228 Squadron
, and took over its Whirlwind HAR.10 in the SAR role at RAF Leconfield. Various detachments have been made around Britains coast and after the Sea King HAR.3 was introduced in Jul 1978, the Whirlwinds were retired in Nov 1979. The Wessex HC.2 was issued in Nov 1982. In early 2004, 202 Squadron provided SAR services from A Flt at RAF Boulmer (EGQM), D Flt at RAF Lossiemouth (EGQS) and E Flt at RAF Leconfield (EGXV) with Sea King HAR.3As.

D and E Flt were relieved of their SAR responsibilities on 31 Mar 2015, when the service was assumed by Bristow from the
MCA Inverness
and
MCA Humberside
bases (respectively), the next day.

On March 2018 designated as the maritime and mountains training Squadron of the Defence Helicopter Flying School (DHFS) and re-equipped with the Jupiter HT1 (Airbus H145)