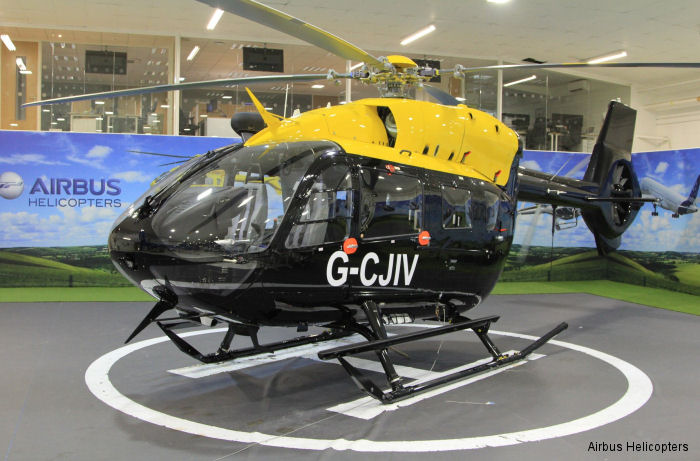 Ascent
, a joint venture of Lockheed Martin and
Babcock
, is the Training Service Partner responsible for delivering the United Kingdom Military Flying Training System (
UKMFTS
) program in partnership with the UK MOD.
Ascent awarded contract to Airbus Helicopters to supply a fleet of 29
H135
(to be called Juno) and 3
H145/EC145T2
(named Jupiter) helicopters to meet the rotary-wing training requirement.
In January 2020, four more H145 Jupiter were ordered with an additional simulator.
In November 2023 due to
NMH
delays were revealed plans to acquired at least six
Jupiter HC.2
to be operated in
Brunei
and
Cyprus
More News ...


C/N
Mod
Built
ID In this Org
In other Org
20215
2020
G-RNGS MoD LTPA (Long Term Partnering Agreement) for BUTEC (British Underwater Test and...

G-RNGS: Airbus UK May20, test serial D-HADY
G-RNGS: QinetiQ from May20

20309
2020
ZM496 DHFS UKFMTS Jupiter HT.1

G-CLKI: Airbus Feb20, test serial D-HADR

20310
2020
ZM497 DHFS UKFMTS Jupiter HT.1

G-CLKO: Airbus UK Feb20

20312
2020
ZM498 DHFS UKFMTS Jupiter HT.1

G-CLKP: Airbus UK Mar20

20313
2020
ZM499 DHFS UKFMTS Jupiter HT.1

G-CLKS: Airbus UK Mar20

20111
2016
ZM500 00 DHFS UKFMTS Jupiter HT.1 /00

G-CJIV: Airbus Helicopters UK from 11nov16
arrived at RAF Shawbury

20123
2017
ZM501 DHFS UKFMTS Jupiter HT.1 /01, pictured

G-CJIZ: Airbus Helicopters UK Feb/Mar 2017, test serial D-HADM
G-CKGE: Airbus Helicopters UK Mar/May 2017

20133
2017
ZM502 DHFS UKFMTS Jupiter HT.1 /02

G-CJRW: Airbus Helicopters UK Mar/Jun 2017