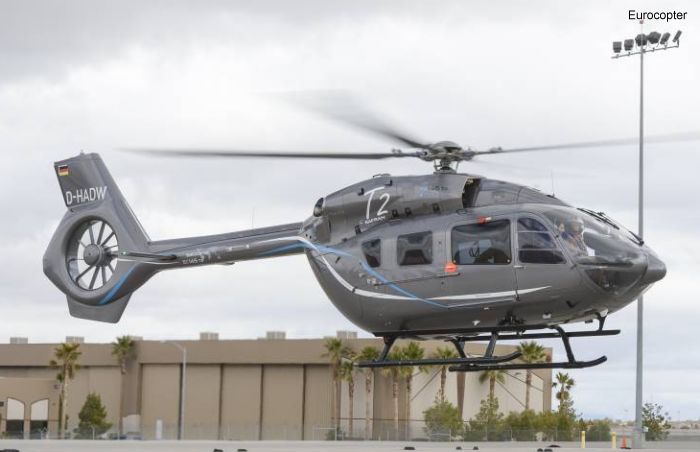 Immediately noticeable for its new tail boom with the
Fenestron
, the 4-bladed BK117D2 /
EC145T2
( originally known as
X5
) has greatly improved performance capacity, particularly in single-engine operation and a newly developed avionics system known as
Helionix
with a four-axis autopilot and a satellite-based navigation that assumes many tasks for the pilot. First flight June 26, 2010.
In February 2015 the EC145T2 was renamed as
H145
. Military variants known as
H145M
In November 2017, Airbus delivered the 150th H145/H145M to HTM of Germany.
In March 2019, was announced the
BK117D3
with a 5-bladed main rotor. The EC145T2 became retrospectively known as
H145D2
Model
Year
History
H145M
2014
The Bk.117D2M is the military variant of the EC145T2, named LUH SOF ( Light Utility Helicopter, Special Operations Forces ) EC645T2. Renamed ...

H145 MB
2015
First unveiled at Helitech 2015, is an exclusive Mercedes-Benz Style VIP version on the H145, which offers higher performance, increased flight s ...

ACH145
2018
The ACH145 is the VVIP variant of the EC145T2 customized by Airbus Corporate Helicopters with customer specific needs. It is the successor of t ...

H145 / BK117D3
2019
First announced at Heli-Expo 2019 in Atlanta, the Bk117D3 is based on the EC145T2 / Bk117D2 with its Safran Arriel 2E engines, full authority di ...