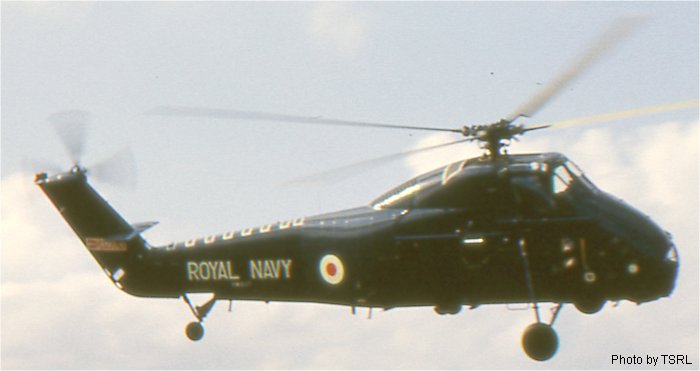 Produced at Yeovil from late 1959, the Wessex
HAS.1
was the major RN ASW platform between 1961 and 1967. It was last used in the ASW role May 1969. It remained in the training role at RNAS Culdrose until 9 Aug 1979. Excluding prototypes, 136 HAS.1s ordered, with a few completed on the line as HAS.3. 94 HAS.1s were either not converted or not available to be (eg wfu or w/o).

The Wessex
HU.5
was a development of the HAS.1, replacing its single Gazelle engine with a pair of coupled Gnome turbines The HU.5 introduced the AS.12 wire guided, anti-ship missle and GPMG door guns. In 1964, the more powerful Wessex HU.5 replaced the HAS.1 as a Commando Support Helicopter. The HU.5 was itself replaced by the
Sea King HC.4
between Dec 1979 - Oct 1986 as a Commando Support Helicopter. The HU.5 was re-tasked for Search and Rescue operations and was eventually withdrawn from RN service on 31 Mar 1988.

The Wessex
HAS.3
was a much improved ASW aircraft over the HAS.1. It featured a 1600shp Gazelle Mk 165 engine with a much safer, compressed air starting system, the Type 195 sonar, a better Flight Control System and an external radome (the Camel's Hump) behind the rotor head. Some were on the line as HAS.1s and completed as HAS.3s. In total 42 HAS.1 conversions at
Yeovil
between 1966 and 1969 (?), excluding the 3 prototypes. The Wessex HAS.3 was in front-line service between Aug 1967 and Dec 1972, when it was replaced by the
Sea King
HAS.1 in the ASW role. Two were still in use on County Class Destroyers (
HMS Antrim
&
HMS Glamorgan
) in the
Falklands
in 1982.

Wessex last codes:
846 Squadron were double codes starting with V (Victor) i.e VE, VL, VK etc.
845 squadron was allocated Y (Yankie) as their Squadron code but they never wore it, so XS514 eg was known officially as (Y)L, but just carried L.
707 Squadron were W (Whiskey) later Z (Zulu) after 1982.
848 Squadron re-formed and took W (Whiskey) for the Falklands / Malvinas conflict in 1982. (Basically all the 707 Squadron aircraft became 848 Squadron overnight along with a few extras)
847 Squadron
were formed for the 1982 conflict and took the code X (X-Ray)
---
845 Sqdn did trials with the wire guided missile which I believe was a French design while en route through the Mediterranian Sea towards the Suez canal immediately before the Borneo confrontation. I was aircrew on the HAS.1 at that time in the dual role of Radio/radar mechanic (LREM(A)) and volunteer aircrew, C.Hollins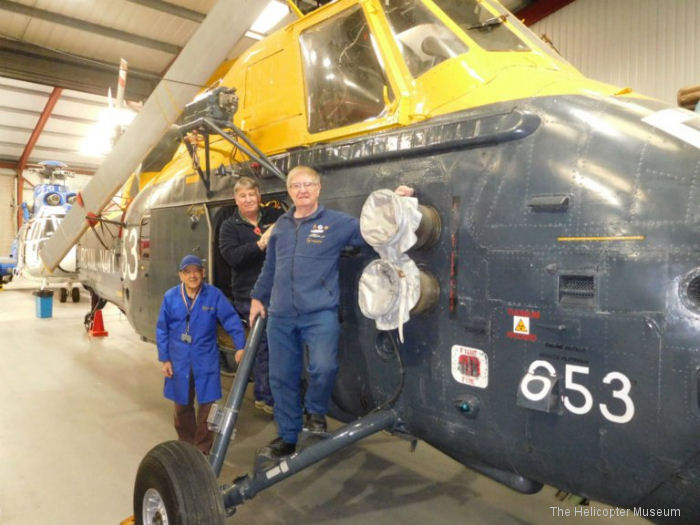 Restored Wessex Goes on Display, 29-Nov-16 : The Helicopter Museum at Weston-super-Mare completed a seven-year project to restore the 66-year-old former Royal Navy Wessex serial XM328