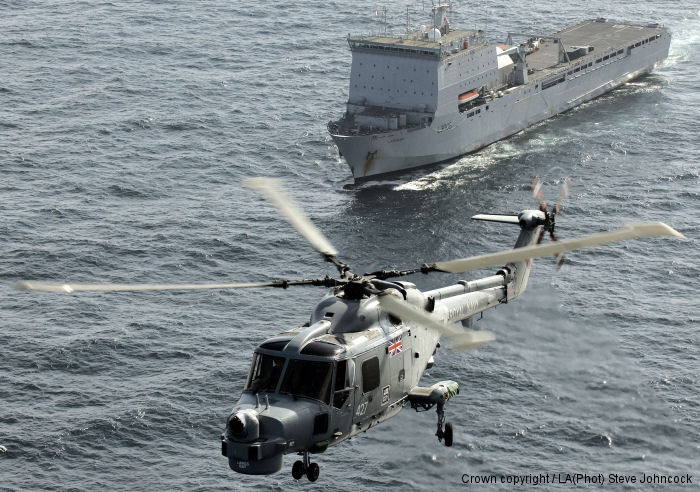 Tail Codes
A
1959/61
R
1961/63
C
1963/64
R
1965/66
815 Squadron formed at RNAS
Worthy Down on 9 October 1939, equipped with 12 Fairey Swordfish torpedo bombers. It led a major airborne torpedo strike against the Italian fleet at Taranto Harbour in 1940 and repeated the success at Matapan in 1941. It reformed in 1947 from
744 Squadron and operated in the anti-submarine role. The Squadrons last fixed wing aircraft was the Gannet, disbanding at Culdrose in mid Jul 1958.

815 Squadron reformed at RNAS
Eglinton
initially with 12 Whirlwind HAS.7 in Sep 1958 but after
trouble
with the HAS.7 engines replaced them with HAR.3 from Jan 1959, until it moved to
Portland
in mid-Apr, eventually disbanding in Aug 1959 to become
737 Squadron
. Reformed 8 Sep 1959 at Culdrose with Whirlwind HAS.7 as ASW unit. After a Far East tour on
HMS Albion
from Feb 1960, it disbanded again in Dec 1960.
On 4 Jul 1961, the Squadron recommissioned at
RNAS Culdrose
as the first front line unit to equip with Wessex HAS.1s (after the success of
700(H) Squadron
) and after initialy difficulties with engines, participated in operations in East Africa and the
Indonesian
coast. Embarked in
HMS Ark Royal
from Nov 1961 (with a detachment to
HMS Victorious during Dec 1961) to Dec 1963 (where it had been disembarked in preparation for Operation Nutcracker). During 1964 on
HMS Centaur
, it provided support against disturbances in
Aden
(with 45 Commando
Royal Marines
from 24 May 1964 in the Radfan) while temporarily detached to Khormaksar between 22 May and 25 Jun, and in Tanganyika (now Tanzania). After a final deployment with Wessex HAS.1 on HMS Ark Royal (between Jun 1965 and Sep 1966), the unit disbanded at Culdrose in Oct 1966.

A plan to reform the unit with Sea Kings was abandoned in favour of
826 Squadron
and it was almost 15 years before 815 Squadron re-commissioned at
RNAS Yeovilton
in Jan 1981 with the
Lynx
HAS.2, taking on the role as the headquarters and support Squadron for small ships Lynx Flights from
702 Squadron
. It moved to
Portland
in Jul 1982 and during the 1980s was involved in the South Atlantic, the
Armilla Patrol
and relief operations off Lebanon, Aden and the Carribean. As the
Wasp
was being phased out service, some of the units Lynxes were transferred to
829 Squadron
, to share the load in Sep 1986 and again in Apr 1988. Support for Lynx Flights was conducted jointly with 829 Squadron but when the two units eventually amalgamated to save cost, 815 Squadron became the largest helicopter squadron in the World on 27 Mar 1993.

In the lead up to the absorption of 700(L) Squadron in Jul 1992, the Lynx HAS.3 had been introduced into service. This was followed in 1995 by the Lynx HMA.8 and after an absence of nearly 17 years, the unit moved back to
RNAS Yeovilton, with the closure of Portland in Mar 1999.

The unit made history in Nov 2012 when it deployed ex-
HMS Liverpool
Lynx of 217 Flight, aboard the
Marine Nationale
FS Surcouf
, until Mar 2013. Signed Memorandum of Understanding with ROK Navy
627 Helicopter Squadron
aboard
HMS Daring
on 19 Dec 2013.

In this unit
Dates
1982-nov-29
1983-mar-24
HMS Minerva(F45)
Deployed to South Atlantic from HMNB Devonport on 29 Nov, with Lynx HAS.2 XZ698 / 424-MV embarked. Returned 24 Mar 1983 and Lynx flown off to Portland on 25 Mar.