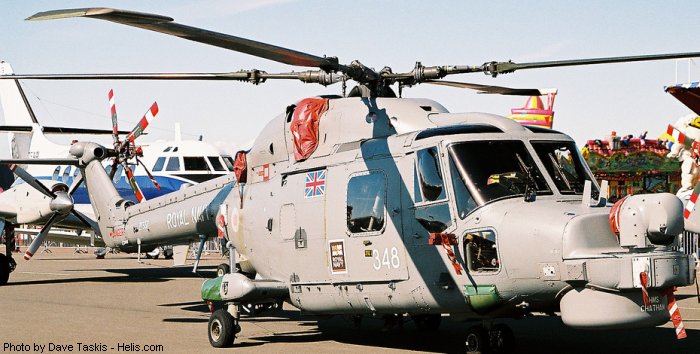 An anti-surface and anti-submarine helicopter specifically designed and tuned to operate from frigates and destroyers of the Fleet, has recently been updated to the Mk8 standard.. Each autonomous flight (Approx 25 in number) comprises a pilot, an observer and a team of 8 maintainers. They embark in their ship whenever it sails. The home base for all seaborne Lynx moved in 1997 from
RNAS Portland
to
RNAS Yeovilton
.
The attack/utility
AH Mk 7/9
version is operated in support of the Royal Marines in conjunction with the Aerospatiale Gazelle AH 1s

60 HAS.2 + 31 HAS.3 new build airframes
65 HMA.8 upgrades

The Lynx HAS.3 was retired from FAA service in a ceremony at RNAS Yeovilton on 1 Apr 2013.

After 4 decades and 490 k flying hours the Lynx last flight took place March 31, 2017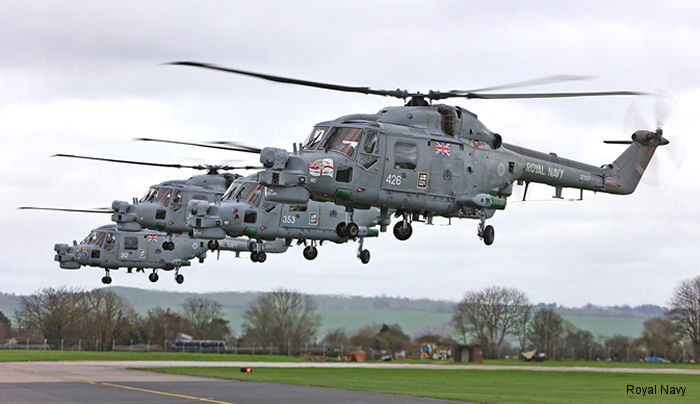 Royal Navy Retired Lynx Helicopter, 24-Mar-17 : 815 Naval Air Squadron held a ceremony to say goodbye to the Westland Lynx helicopter, mainstay of operations by Royal Navy around the globe since the late 1970s
First Aid Ground Training, 15-Feb-16 : a Royal Navy decommissioned Lynx helicopter has arrived at HMS Raleigh to add realism to First Aid training

Final UK Lynx Helicopter Depth Overhaul, 07-Dec-15 : After 37-year support, Vector Aerospace held a ceremony to commemorate the last Depth maintenance event to be completed on a UK Armed Forces Lynx helicopter. Lynx being replaced by Wildcat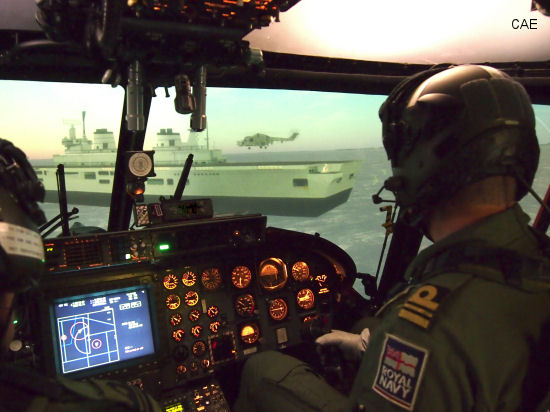 Royal Navy Lynx Mk8 simulator upgraded, 22-May-13 : CAE announced today at the International Training and Education Conference (ITEC), Europe's leading showcase for military simulation and training, that the Royal Navy's Lynx Mk8 full-mission simulator located at Royal Navy Air Station (RNAS) Yeovilton is now in-service and ready-for-training following a major visual system upgrade.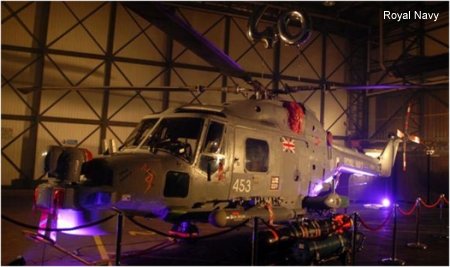 Hangar party at Yeovilton to celebrate 40 years of the Lynx, 19-Dec-11 : The home of the Lynx helicopter was turned into a glitzy nightclub as 700 Fleet Air Arm personnel and their families celebrated 40 years of the fabled aircraft. Royal Naval Air Station Yeovilton – home to four Lynx squadrons – converted 13 Hangar for a Christmas hangar party to mark the deeds of the Lynx community past and present.