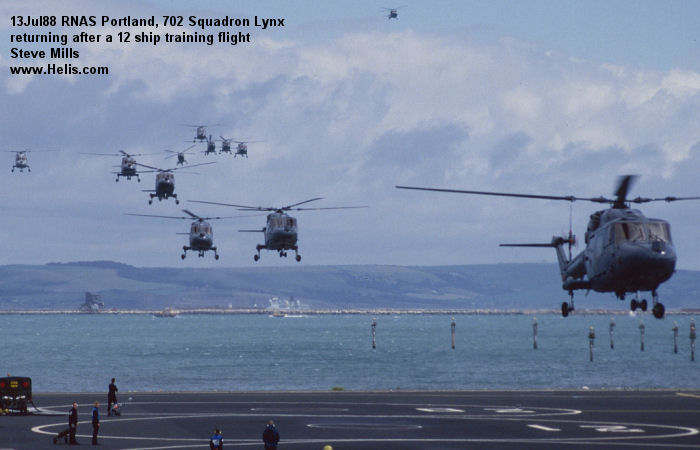 Tail Codes
VL
1978/82
PO
1982/99
VL
1999/14
From its original formation on 15 Jul 1936 as 702 (Catapult) Flight, until it was disbanded in 1948, 702 Naval Air Squadron operated a variety of fixed wing aircraft types from a number of bases. In 1949, 702 Squadron was re-formed and became the Royal Navys first jet aircraft Squadron. Later that year, operating the Sea Vampire and Meteor T7, the Squadron went on to achieve the worlds first carrier night jet landings. In 1952, the Squadron was renumbered 736 and its fixed wing days came to an end.

On 3 Jan 1978, 702 was again re-formed, this time as a rotary wing Squadron at RNAS Yeovilton in Somerset, from
700L Squadron
, the remains of the Lynx Intensive Flying Trials Unit, to become the Lynx headquarters and training squadron. Equipped with the Westland Lynx helicopter, it had two main purposes. The first was the responsibility for training all Lynx aircrew and maintainers; the second, was parenting the Royal Navys frigate and destroyer fleet with Lynx Flights. On 1 Jan 1981, the ships flights parenting duty became the responsibility of
815 Naval Air Squadron
. On 19 Jul 1982, 702 Squadron moved to Royal Naval Air Station Portland (HMS Osprey) where it operated successfully for over eighteen years before returning to their present home at RNAS Yeovilton in Jan 1999, with the closure of RNAS Portland. It disbanded in July 2014 at RNAS Yeovilton, as
825 Squadron
formed from 700(W) and 702 Squadrons

---
I joined 702 Naval Air Squadron in 1978. It was based at RNAS Portland and operated Wasp aircraft. I left there in 1980 when it was still operating Wasp

This Squadron is listed as being active at HMS Godwit, Shropshire during WW2. Godwit was the FAA pilot training establishment and closed shortly after the war ended.

Years
Models
1978/14
Lynx