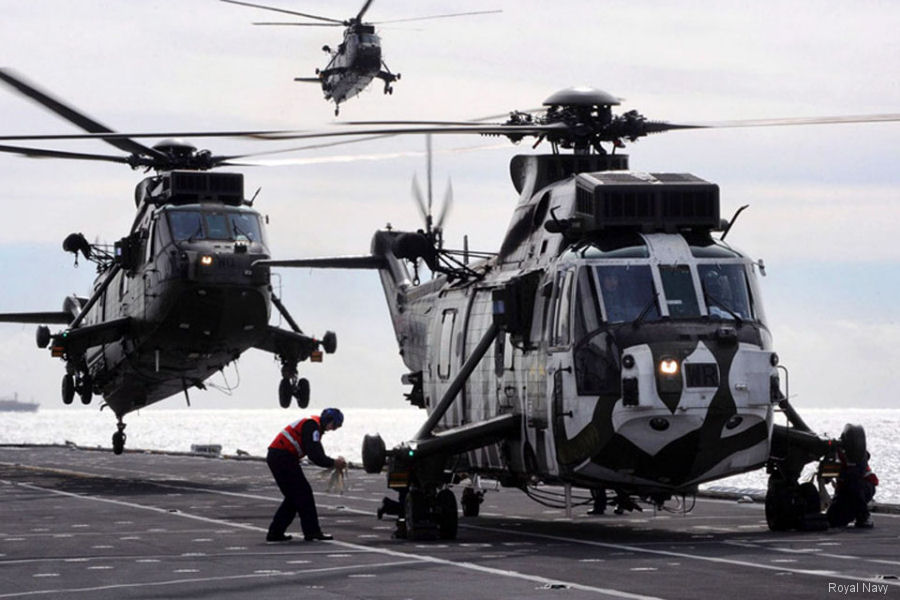 Formed at Quonset Point, USA in Apr 1943 as a TBR Avenger unit. Returned to UK on the Attacker Class HMS Ravager (D70) in Jul 1943 and eventually embarked on HMS Tracker in Jan 1944 for convoy duty off
Gibraltar
. It joined 15 Group RAF Coastal Command at Limvardy, when the ship was damaged in Jun 1944. The squadron embarked on HMS Trumpeter (D09) in Jul 1944 for operations off Norway, mine-laying till Sep 1944. From December, the squadron operated from HMS Trumpeter or Hatston until May 1945 when the fighter flight was disbanded. After VE Day the squadron was due to join HMS Illustrious (4th Carrier Air Group), but plans changed and it became 751 Squadron to conduct trials. It disbanded in Sep 1945 at Machrihanish.

846 NAS reformed in May 1962 as the second Commando Squadron, initially with 6 Whirlwind HAS.7s, increasing to 12 by mid Aug. After working up, it embarked on 2 Nov 1962 for the Far East on
HMS Albion
. The Squadron operated in
Aden
and
Seria
in Brunei (disembarking on 14 Dec 1962), then joined
HMS Bulwark
for Singapore, where it disbanded in Oct 1964.

On 29 Jul 1968 the squadron was reformed at RNAS Culdrose with 5 Wessex HU.5 flying at various times from HMS Albion, HMS Bulwark and HMS Hermes (R12), including the first cold weather arctic trials in
Norway
during 1969. It disbanded on 17 Dec 1975 at RNAS Yeovilton.

Reformed in Oct 1978 at RNAS Yeovilton with 12 Wessex HU.5. The Sea King HC.4 was introduced to the unit in Dec 1979 and the last Wessex was replaced in Oct 1981. It detached a 2 airframe flight to
HMS Bulwark
during Jan 1980 for exercises in the western Atlantic. The unit was heavily committed to the 1982 Falklands conflict. 846 NAS was the only front line unit operating HC.4s at the start of the campaign with 9 airframes from
HMS Hermes and the remaining 3 aboard
HMS Fearless.
A detachment of 3 Sea King HC.4 embarked on
RFA Reliant
was deployed during Jan - Mar 1984 off
Lebanon
during its civil war, supporting British forces of BRITFORLEB and eventually evacuating them and civilians from Beirut.
Between 1990 and 1992, the Squadron was involved in the Gulf War, during
Operation Granby in support of allied ground forces during the six week ground campaign and in northern Iraq for humanitarian missions.

During Jan 1993, 846 NAS embarked
HMS Ark Royal
and made its first deployment to the Adriatic as part of UN attempts to bring peace during the break-up of the former
Yugoslavia
.
846 NAS embarked its Sea King HC.4 on
HMS Ocean
and deployed to Sierra Leone during Operation Palliser, in support of
42
Commando, Royal Marines.

Deployed to Banja Luka on 25 Jun 2002 with 3 Sea King, to replace a Dutch contingent, until Nov 2002. C Flt was transported to Bosnia in
RFA Fort Rosalie
in Aug 2004 to relieve
845 NAS
until that Oct. Later, the unit was replaced in its Bosnian UN peacekeeping support by Army Air Corps detachments at Banja Luka Metal Factory in Mar 2005. In Jul 2006, the unit deployed to
RAF Akrotiri
in support of Operation Highbrow (qv), returning by the end of the month. In Sep 2006, as part of pre-theatre deployment training for Afghanistan, 3 Sea Kings were airlifted from
RAF Brize Norton
to RAF Akrotiri for hot and high training in the Cyprus mountains.

D Flt deployed to Afghanistan towards the end of Nov 2007, following extensive work up from Sep 2006. Its Sea King HC.4s having been the subject of hot and high modifications (including Carson main blades, improved avionics and reverting to a 5 bladed tail rotor) prior to departure. The unit returned to the UK during Nov 2011.

Decommissioned in Mar 2013 as part of drawdown of Sea King from Commando Helicopter Force, in preparation for receipt of Merlin, forecast for Sep 2014. Reformed Sep 2014 at RAF Benson to receive first of the Merlin HC.3, handed over from RAF
78 Squadron
. On 26 Mar 2015, 846 NAS moved back to RNAS Yeovilton, with 6 Merlin HC.3 flying in. The homecoming was officially celebrated by a Merlin flypast on 12 May.

---
1964, I served in 846. We were based near Tawau, Borneo. This fact seems to have been missed in the history of the Squadron.Does anybody else remember this or am I the only survivor? -

1981, 846 deployed two Sea Kings in on the HMS Hermes to the Carribean and Florida

846 NAS did not deploy aboard HMS BULWARK on 2 Nov 1962 or disband in the Far East in Oct 1964. 846 NAS (Whirlwind Mk7 aircraft) deployed in HMS ALBION in late 1962 to the Far East and Squadron aircraft flights were frequently deployed in such places as Brunei, Kuching and Labuan during the confrontation with Indonesia during the lead up to the creation of Malaysia to which, incidentally, Singapore declined to join, establishing,instead, it's own nation -