Tail Codes
A
1958/59
R
1959/60
E
1964/68
BL
1969/79
N
1980/85
Originally formed from 450 Flight in Apr 1933 as a Fleet Spotter unit but it became an Anti-Submarine unit during WWII when it served with distinction, disbanding in Mar 1946. Further commissions came and went and it disbanded once again in Dec 1957, bringing its history as a fixed-wing unit to a close.

820 Squadron was the second anti-submarine helicopter unit to form in Jan 1958 with Whirlwind HAS.7 (largely ex
845 NAS
machines) at RNAS Eglinton for only 3 to 4 months. The first HAS.7s experienced a series of engine problems and whilst in the Far East, engines were swapped over. The unit disbanded at Sembawang on 8 May 1959, when the HAS.7 was grounded. Once HAS.7 operations were resumed, it reformed in the UK at RNAS Culdrose in Nov 1959, still with Whirwind HAS.7s, where it disbanded again in Oct 1960. It re-emerged with Wessex HAS.1 at Culdrose in Sep 1964 and deployed in
Dec 1964
to the Far East via the Indian Ocean on
HMS Eagle
, finally returning in Jun 1968.

During May 1969, the Wessex HAS.1 was phased out for 4 of the more capable Wessex HAS.3, which deployed with
HMS Blake
(C99) and the occasional Fleet Tanker auxiliary over the next few years. In Dec 1972, the Sea King HAS.1 replaced the Wessex in the anti-submarine role and spent Sep 1974 to Jun 1975 embarked on HMS Blake. These in turn were updated by the Sea King HAS.2 in Jan 1977 and the short-lived HAS.2A in Jan 1979, prior to transferring to
HMS Hermes
(R12) in Jan 1980.

It disembarked from HMS Hermes to
RNAS Culdrose
in Mar 1980 and replaced the HAS.2As with the
Sea King HAS.5 in Nov 1980 in time to work up with
HMS Invincible
, embarking in Feb 1981. The Squadron was involved in intensive flying in the
South Atlantic
, operating briefly from San Carlos during Jun 1982 and returned to Culdrose on 18 Sep 1982. After a brief Far East tour, the unit returned to the UK in Mar 1984 when HMS Invincible developed mechanical difficulties.

Further deployments followed, including the transfer to HMS Ark Royal (R07) during early 1986 for later deployments to the Far East and
Australia
. On 10 Jan 1991, it embarked
HMS Ark Royal
with 10 Sea Kings to patrol the Mediterranean gateway to the Suez Canal during the Gulf War. The unit was a key player during 1993 in the NATO intervention in Bosnia and then transferred to
HMS Illustrious
in Autumn 1994, followed by service in the Gulf during late 1998. The
Merlin
HM.1 was cautiously introduced as a single Flight from Sep 2001 and dual operation with the Sea King HAS.6 continued until Mar 2003 when the Sea King was finally retired after recovering embarked flights (such as
RFA Fort Austin
), leaving 820 Squadron to become a Merlin only unit, officially from Sep 2003.

During the 2014
Ebola virus outbreak
in West Africa, the unit embarked 3 Merlin HM.2 in Oct, on
RFA Argus
and departed
Falmouth
for
Sierra Leone
. The three disembarked from RFA Argus in Mounts Bay for RNAS Culdrose, on 6 Apr 2015.

Departed from RNAS Culdrose on 27 Apr 2021 to join
HMS Queen Elizabeth
in HMNB Portsmouth, as part of
Carrier Strike Group 21
for her first Indo-Pacific deployment. Four Merlin HM.2 and three Crowsnet Merlin embarked.

---
I was the L.A.M A/E looking after Wessex 64
XS126
.I had many trips ashore to the RAF base in Aden in her.I left the Eagle just after the
Beira patrol
to fly home to the UK.Sad to see how 64 ended up I hope she was fixed up and flew again. Many happy memories of 820 and many happy memories of those runs ashore especially fabulous Hong Kong. Alf

1965-1966, I was a Steward with 849D Flight, Gannets HMS Eagle and witnessed the three incidents and attended the burial of the two brave men it was so sad and will always be with me I was only 17 at the time and this was my first commission v sad. I remember the sad incident very well as I was off duty and watching the flying when this happened. Especially the loss of life of the officers whom I must have served during my duties in the Ward Room. Imagine my shock when I saw it again the next day. At least this time there were no fatalities. I also remember the Scimitar incident. Stephen J Beck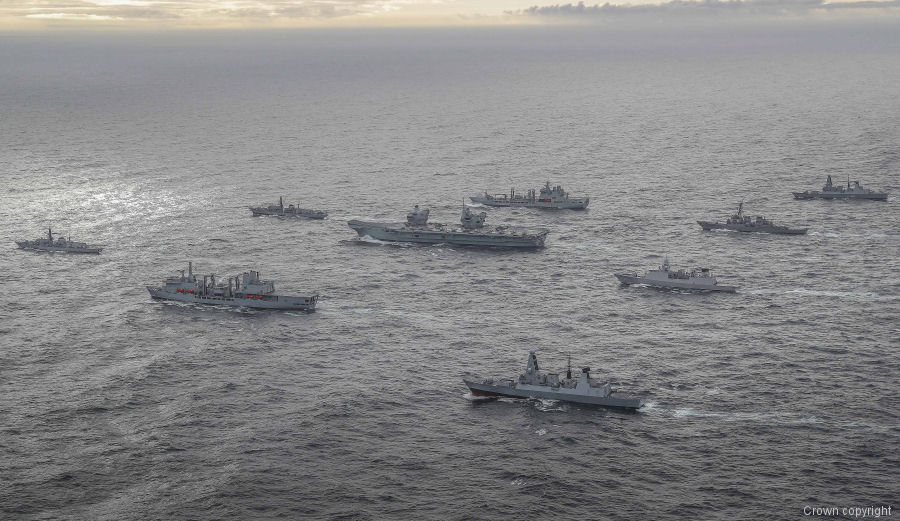 UK Carrier Strike Group to Visit 40 Countries, 28-Apr-21 : #AsiaPacific UK's Carrier Strike Group led by HMS Queen Elizabeth and including USS The Sullivans (DDG-68) and Dutch HNLMS Evertsen (F805) will cover 26,000 nautical miles in their maiden deployment to the Asia-Pacific region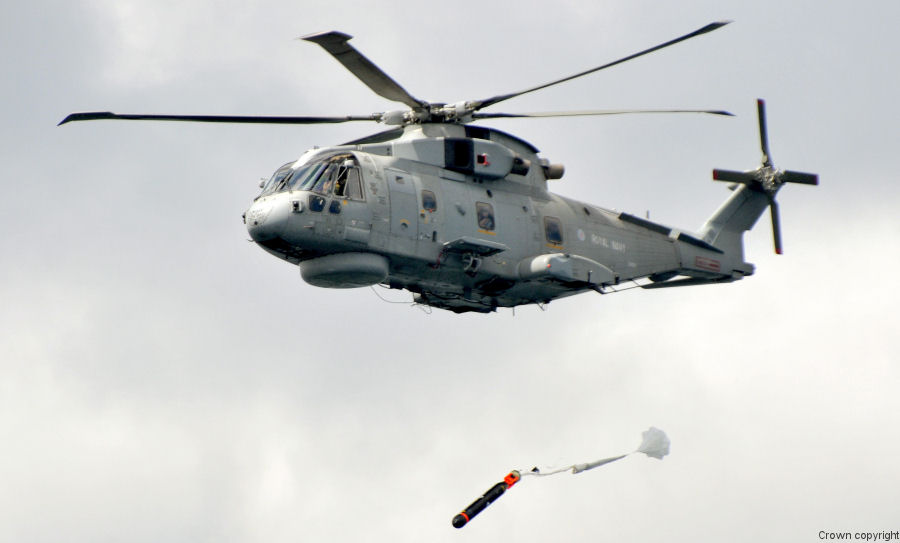 Merlin Launched Sting Ray Torpedoes, 27-Apr-21 :

#torpedo Royal Navy Merlin helicopter from 820 Naval Air Squadron based at Culdrose launched dummy Sting Ray torpedoes ahead of their deployment to the Asia-Pacific aboard the aircraft carrier HMS Queen Elizabeth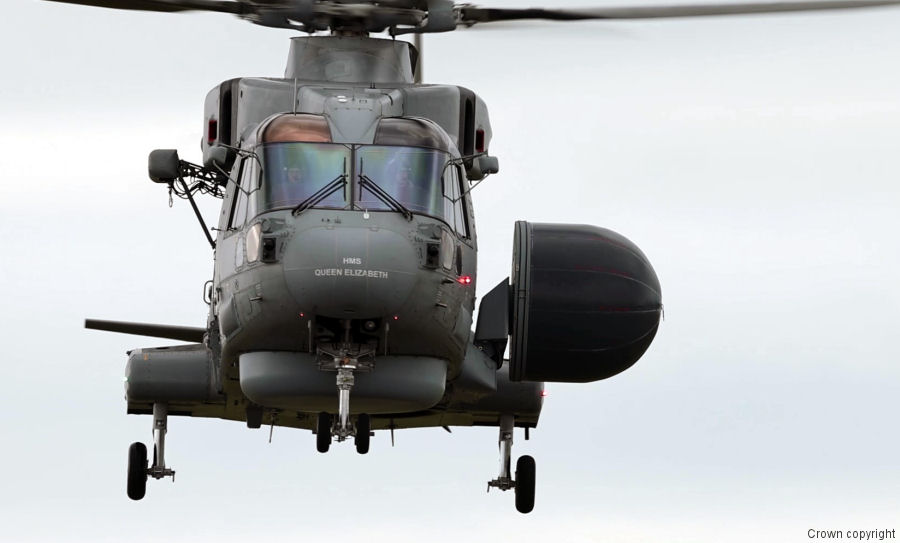 Crowsnest Enters Service in Royal Navy, 25-Mar-21 : #Crowsnest The first of the new generation Airborne Early Warning (AEW) helicopter for the Royal Navy was delivered to 820 Squadron. The Merlin ASaC (Airborne Surveillance and Control) will make maiden deployment aboard HMS Queen Elizabeth this year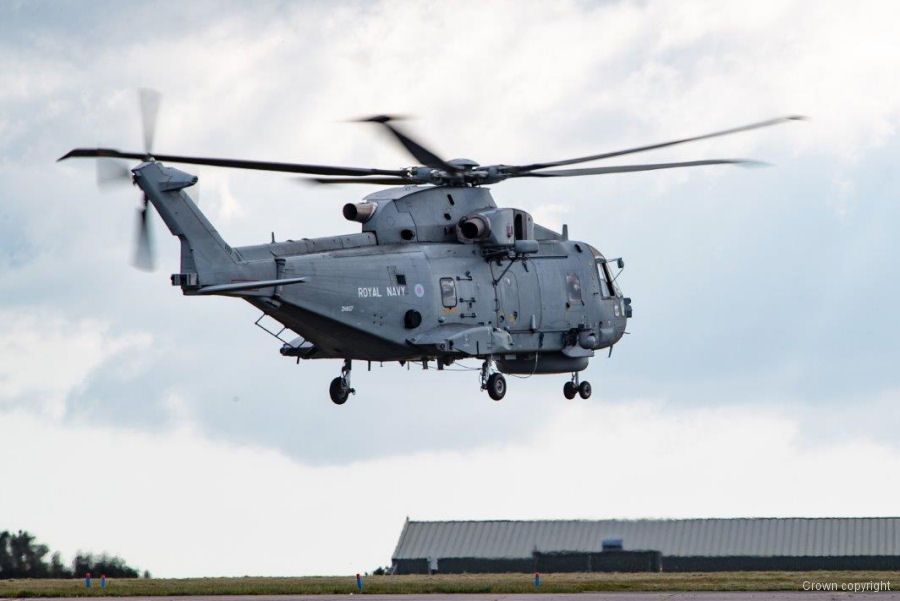 Royal Navy Helicopters Supporting the NHS, 06-Apr-20 : #coronavirus Royal Navy's Merlin helicopters from 820 Naval Air Squadron supporting the National Health Service (NHS) throughout the UK during the Coronavirus pandemic by acting as flying ambulances and transporters flying supplies and personnel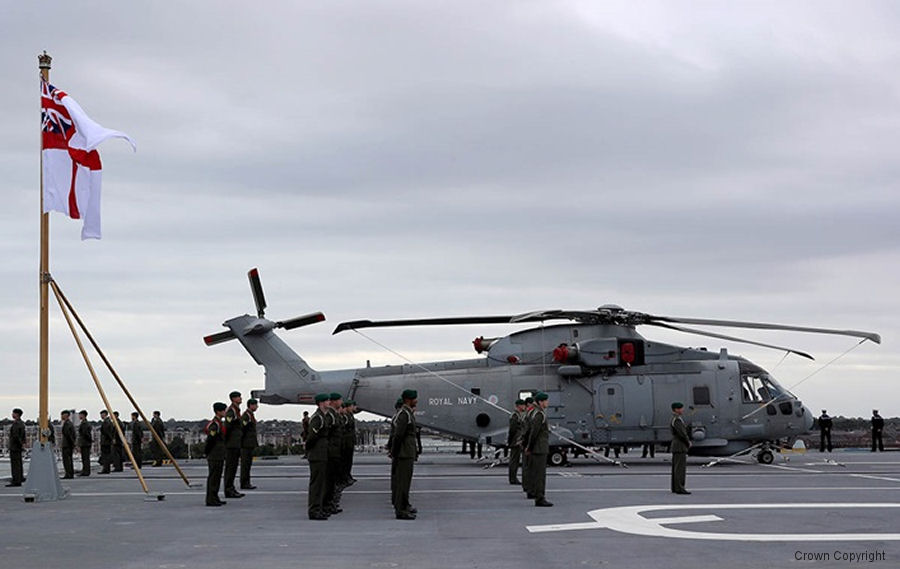 Merlin Mk4 Deck Quals on HMS Queen Elizabeth, 20-Aug-18 :

#westlant18 Royal Marine assault helicopters Merlin Mk4 from 845 Squadron will train with 42 Commando on HMS Queen Elizabeth as first step of Exercise West Lant 18, her first F-35 deck operations