848 Naval Air Squadron was formed at Quonset Point (Rhode Island),
USA
on 1 Jun 1943, working up with Avengers for torpedo bombing and reconnaissance. After action during D-Day it served eventually with the Pacific Fleet. After the end of the Pacific war, it disbanded at Devonport, near
Plymouth
on 31 Oct 1945.

It became a helicopter unit when it reformed at RNAS 
Gosport
with ten
Whirlwind
HAR.21s on 29 Oct 1952, where they worked up before a period of Far East service, delivered via
HMS Perseus
. On 8 Jan 1953, the squadron performed the first carrier based disembarkation when if flew off near Changi Point to
RNAS Sembawang
. 5 Whirlwind
HAR.1
were added to the strength in Oct 1954 and the unit continued to serve until disbanded on 18 Dec 1956.

It achieved further distinction as the first officially recognised Commando support unit when it reformed at RNAS 
Hal Far
with the Whirlwind HAS.22 on 14 Oct 1958 from C Flight of
728 Squadron
, when it operated in Cyprus in support of 45 Commando,
Royal Marines
. By Mar 1960, now re-equipped with the initially disappointing
Whirlwind
HAS.7 from a further re-formation at RNAS
Worthy Down
in 1959, it deployed on an almost around-the-world assignment on
HMS Bulwark
. Still on HMS Bulwark, it operated around Kuwait in Jul 1961.
It re-equipped with 18
Wessex
HU.5 during May 1964 and relieved
845 Squadron
at
The Gaat
with this more powerful version in Jun 1965. By Aug 1967 one of a very few
Wasp
HAS.1s joined the strength for liaison duties until Jul 1973. While sailing for the Far East embarked on
HMS Albion
, it took part in
Operation Magister
until 29 Nov 1967 off Aden. During Mar 1969 while at Sembawang, the squadron passed 8 of its Wessex to the reformed
847 NAS
. Embarked 12 of its Wessex on HMS Albion in Mar 1971. In May 1971 it arrived in the Far East again (having disembarked from
HMS Albion
on 22 May for HMS Simbang), it re-absorbed 5 Wessex HU.5 from
847 NAS
on its disbandment. While still embarked on HMS Albion, the unit was part of the contingency arrangements during the late 1971 Indo-Pakistan war, disembarking for Culdrose on its return on 20 Jan 1972. It moved its UK base from Culdrose to Yeovilton during Dec 1972. After further Far East, Mediterranean and West Indies missions, the unit disbanded at
RNAS Yeovilton
on 31 Mar 1976.

To provide a much-needed increase to the troop lift capability during the South Atlantic campaign, the Squadron was hurredly reformed for short service from parts of
707
and
772 Squadron
s with the Wessex HU.5 on 17 Apr 1982. It went south in detachments; A Flight on
RFA Regent
,
RFA Olna
shipped B Flight, C Flight was on
RFA Olwen
and the ill-fated D Flight on the
mv Atlantic Conveyor
, which was sunk on 25 May. This transport arrangement probably spoke more of the lack of strategic sea-lift than for a desire to spread the risk, by dispersing the units airframes and personnel.  The unit disbanded again after an eventful period of operations on 30 Nov 1982, back at RNAS Yeovilton.

As a further international crisis loomed, 848 Squadron was again recalled, this time reforming with six
Sea King
HC.4 at Yeovilton on 16 Nov 1990 to see service in Operations Desert Shield and Desert Storm in the Middle East. It returned to the UK aboard
RFA Argus
on 17 Mar with
846 NAS
, disembarked to RNAS Yeovilton on 3 Apr and disbanded again on 19 Apr 1991.
The unit was reformed in Mar 1995 by renumbering
707 NAS
and taking on the Maritime Counter Terrorist role.

Decommissioned on 19 Dec 2013 following training of final
Junglie
crews. Reformed in May 2015 at RNAS Yeovilton with Sea King HC.4 from
845 NAS
, before introduction of
Merlin HC.4
into Commando Helicopter Force. Flew a
Farewell to the Junglie Sea King
on 21 Mar around the south west of England and decommisssioned on 23 Mar 2016 in a ceremony at RNAS Yeovilton.

---
1965/66 848 sq also had a flt of 4 a/c based at Bario in the highlands, I was there, also in early 65'there was a flt in Aden later moved to Borneo, in all there were 4 flts 'D' Flt normally on board or Sembawang but personnel rotated as req'd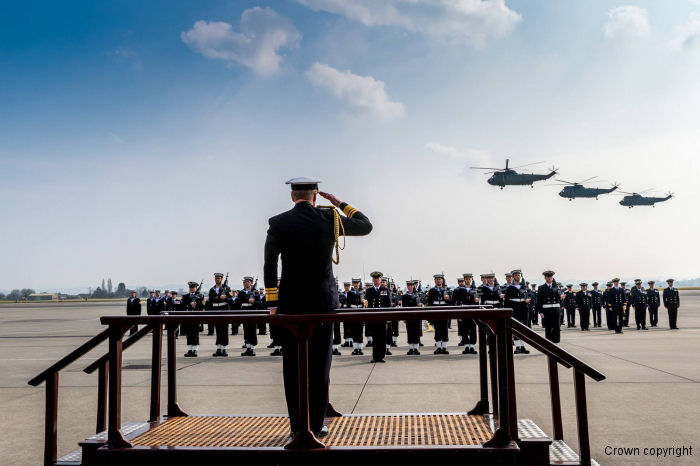 24-Mar-16 -

Royal Navy Fleet Air Arm decommissioned 848 Naval Air Squadron and retired the Junglie Westland Sea King HC.4 with a ceremony at RNAS Yeovilton
Models