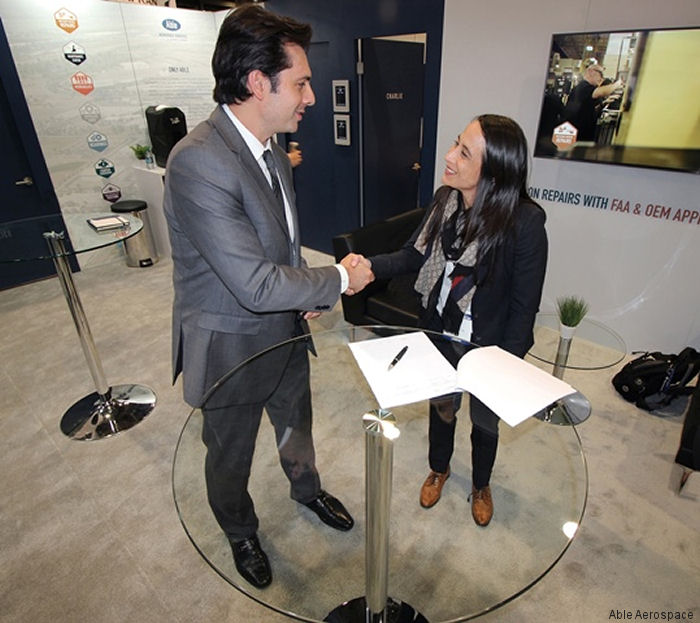 Able, March 01, 2018 - MESA, Arizona Guatemala-based Aeroservicios Ave, S.A. (AVESA) has selected Able Aerospace Services, a Textron Inc. company, as its exclusive provider for component repair, overhaul and exchange services.

The relationship establishes AVESA as Able's newest global customer, creating improved in-country product availability and cost savings for AVESA customers operating light and medium Bell Helicopter platforms in Guatemala and Central America.

With the agreement, AVESA will gain direct access to Able's dynamic component inspection, repair, overhaul and OEM-approved replacement parts, as well as one of the world's largest advanced exchange pools for the Bell Helicopter platform.

"AVESA – like Able – is committed to providing the very best products and support to its customers," said Able Aerospace Services General Manager Gabriel Massey. "This was apparent from our earliest discussions with AVESA, and is something we are eager to continue to develop as we bring our full catalog of repair, overhaul, parts and exchange capabilities to this very active rotor-wing market."

"Our efforts have always started and ended with our clients," said AVESA President Sophia Valdez. "New relationships with respected partners like Able put us in the best position in our history to serve current AVESA customers and earn the business of new helicopter owners who are in need of a more streamlined and cost-effective approach to their aftermarket maintenance."

AVESA has served the Guatemalan and Central American aviation industry for more than 30 years with an experienced team, robust industry certifications and status as Central America's only Bell Helicopter approved Customer Service Facility (CSF).

Able is an approved Bell Helicopter Service Center, with broad aftermarket maintenance and support capabilities including FAA approved repairs, exchanges and in-house specialized services ranging from electroplating, chemical processing, machining and grinding to NDT testing, hydraulics and bearings services. All in-house work is completed by a collaborative staff of mechanics, engineers, DER experts and customer service specialists, from Able's 200,000-square-foot headquarters located at Phoenix Mesa Gateway Airport in Mesa, Arizona.

About Able Aerospace Services: Able Aerospace Services is a leading supplier of component MRO, approved replacement parts and completion services. With headquarters and maintenance facilities on the Phoenix-Mesa Gateway Airport (KIWA) in Mesa, Arizona, Able's products and services support almost 1,500 commercial and military fixed- and rotor-wing aviation customers in more than 60 countries. Able combines 32 years of aviation experience with a staff of approximately 400 employees to accomplish its mission: To safely reduce aircraft operating costs by providing resourceful component repair, overhaul and approved replacement parts solutions. Able is an approved Bell Helicopter Service Center and certified by numerous airworthiness authorities including the FAA, EASA, ANAC, CAAC, JCAB, DGCA and others.

Able Aerospace
State of Arizona

Guatemala